Description
Something we regularly hear from our parents is "I'm so glad phones and social media weren't as prevalent when I was a teen".
We KNOW the impact that technology, video games and social media can have on the teenage brain. We KNOW the challenges they bring.
But HOW do we navigate something we have never dealt with ourselves?
Join us in starting the conversation on how to support your teens in today's society when we host David Gillespie on Wednesday 12th June.
David is a best-selling Author, Speaker, and Social Entrepreneur & during this seminar, David will cover content from two of his books; Sweet Poison and Teen Brain and their relevance to raising teenagers and supporting their bodies and their brain in today's society.
About David Gillespie
David Gillespie a father of six, a recovering corporate lawyer, a former co-founder of a successful software company and the author of eight bestselling books. One of these books is Sweet Poison, a bestselling book published in 2008 about how we are all poisoning ourselves with sugar. That book is generally credited with starting the current wave of sugar awareness in Australia.

He followed Sweet Poison up with 4 more books about nutrition and diet. Having upset the dietetics industry by writing about stuff in which he has no qualifications, he then turned his focus to something else he is unqualified to write about, education, in his 2014 work, Free Schools.

Detouring briefly back to nutrition in his 7th and 8th books (Eat Real food, 2015 and the Eat Real Food Cookbook 2016), his latest target is Psychology. In 2017, he released his much-anticipated book on surviving contact with psychopaths in the workplace and at home, Taming Toxic People, and then this year wrote Teen Brain, a book about how teenagers are uniquely susceptible to addiction and why that is a very big problem in an age where addictive screen time is the norm for every single teen.



SEMINAR TOPICS
Sweet Poison:

The #1 Bestseller, Sweet Poison exposes one of the great health scourges of our time and it's relevance to parenting and raising teenagers. David will also offer a wealth of practical and accessible information.
The Teen Brain: Why Screens are making your teenager depressed, anxious, and prone to lifelong addictive illnesses - and how to stop it now.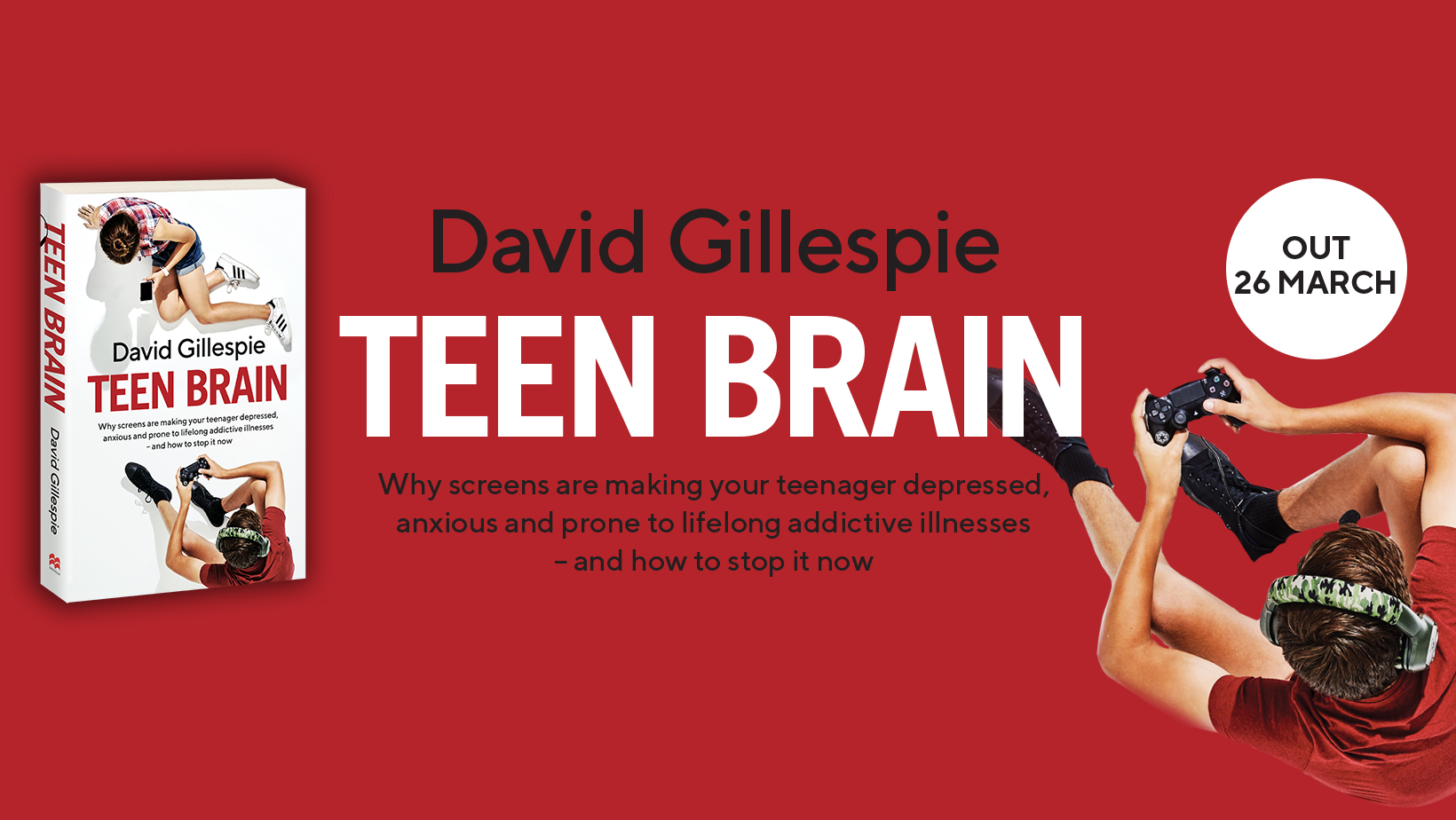 Excerpt from Teen Brain
I started researching this book because two mothers of teenagers told me to. My wife, Lizzie, said she was barely able to get through a conversation with another mother of teens without hearing about a child in counseling or on medication for anxiety and depression. Then my publisher, Ingrid, said exactly the same thing. Both of them felt something wasn't right. This wasn't how they grew up. They felt something was going on in the world of teenagers that was being hidden by the happy selfies on Facebook and Instagram, and they both wanted me to start digging to see if their hunches were right.
Before I started, I really wondered why I was bothering. Surely, I thought, everything that could possibly be written about parenting teens had already been done, and done better than I could ever do. Sure, there seemed to be more fuss in the media about teens overusing their phones, but I put that down to the perennial intergenerational problem of 'teens these days'. Yes, it was a minute-by-minute fight in our house to keep the kids away from their school mandated iPads. And yes, the presence of those devices in the house had introduced a whole new level of sneaky behaviour and teen angst. But I put all that down to normal growing pains.
Then I started reading the research on the significant changes in reward pathways in adolescence. I wondered why I'd seen nothing much in the press about that well established biological reality. And I wondered why I saw even less about why that might be a problem in an age when billions are being spent by tech companies to encourage teenagers to become addicted to their products.
I knew software is engineered to addict. When it comes to non-business-related software, addictive products sell. Non-addictive products die a fast death. This is especially the case when every product in the category is 'free'. I'd worked long enough in the industry to know how product management and marketing work. But I didn't know that teens are particularly susceptible to addiction.
I knew it was always a struggle to prise a screen from our teenagers' hands, but I tended to have a vaguely dismissive, 'What harm can it really do?' approach. And yes, I felt devices in schools were a significant distraction likely to impair performance, but I had no sense of how uniquely destructive to teen wellbeing they could be.
In short, I was happy to drift, uncomfortably, through allowing teen access to devices and accept, uneasily, the assurances that while they might be distracting, it was for the best or at least would do no permanent harm. That was until the union-of-the-mothers-of-teens told me to have a good hard look at it. In a nutshell, here's what I found:
The biology of puberty makes the teen brain uniquely fragile. It makes teens susceptible to addictions that can last for life and usher in mental illness.

Parenting is much more permissive and parents need to harden up to save their kids.

Unfettered access to screens is driving an epidemic of addiction, depression and anxiety, the likes of which we have never witnessed before.
What I found was frankly terrifying. In less than a decade we've totally changed the future of the human race, and we've done it without so much as a backward glance. Think that's an overreach? Bear with me while I explain.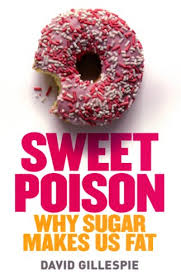 SWEET POISON
David Gillespie was 40kg overweight, lethargic, sleep-deprived and the father of four, with twins on the way. He knew he needed to lose weight fast, but he had run out of diets – all had failed. After doing some reading on evolution (why weren't our forebears fat?), David cut sugar – specifically fructose – from his diet.
He immediately started to lose weight, and kept it off. Slim, trim and fired up, David set out to look at the connection between sugar, our soaring obesity rates and some of the more worrying diseases of the twenty-first century, and discovered some startling facts in the process.
Sugar was once such a rare resource that nature decided we didn't need an off-switch – in other words, we can keep eating sugar without feeling full.
In the space of 150 years, we have gone from eating no added sugar to more than a kilogram a week.

You would need to run 7km every day of your life just to not put on weight as a result of eating that much sugar.

Two decades ago 1 in 14 adult Australians were obese; that figure is now 1 in 5.

The 'natural' sugar in one glass of unsweetened fruit juice per day for a year is enough to add just over 2.5kg your waistline.

The more sugar we eat, the more we want. Food manufacturers exploit our sugar addiction by lacing it through 'non-sweet' products, such as bread, sauces, soups and cereals.
FAQ
The Seminar will be held in the Judith Cottier Theatre (See map below).
Getting There: There will be parking available, however due to other events that may be happening at the school it may be limited. There is also a bus stop directly located at the front of the school, Bus 67, 68 and 950 leave Wellington St, East Bound.