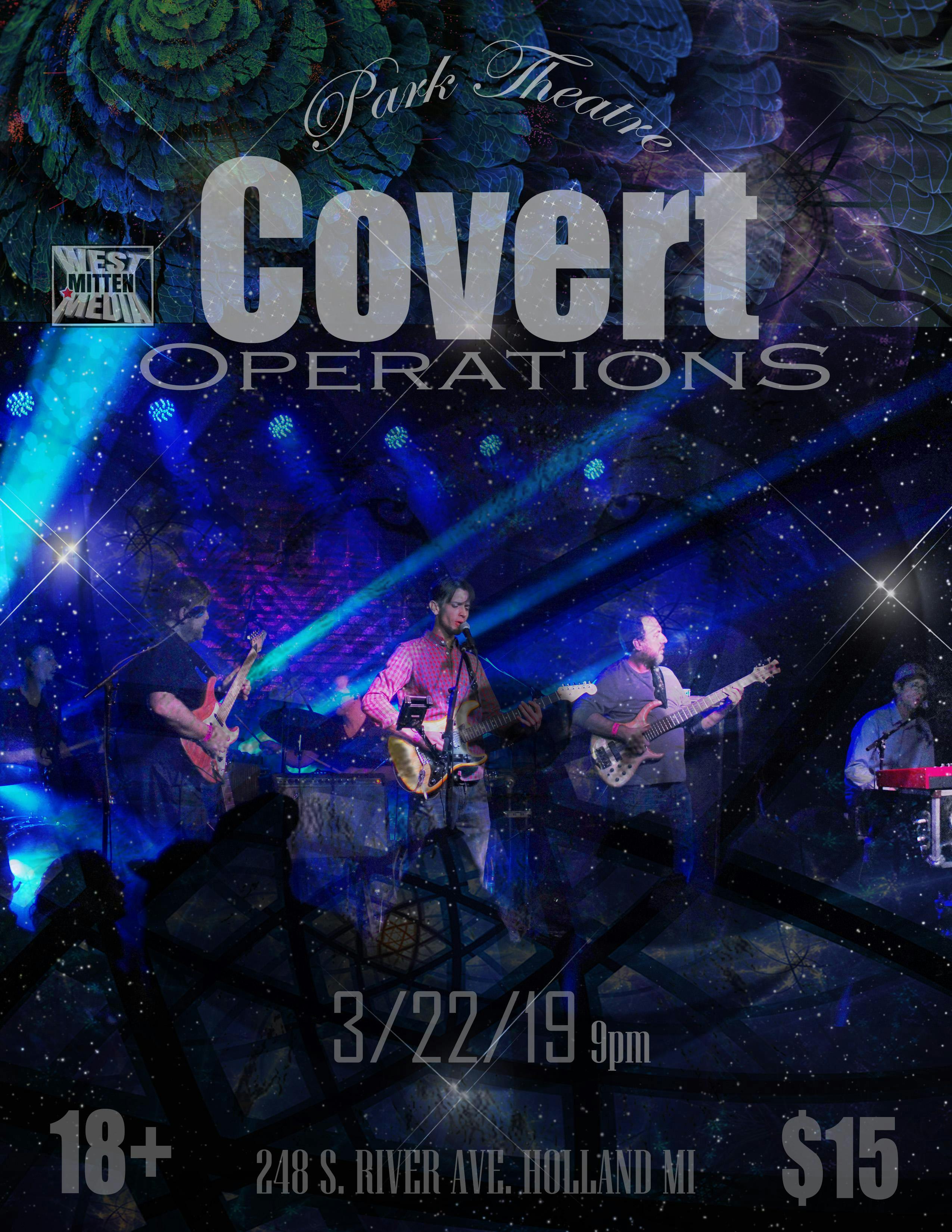 About this Event
Park Theatre & West Mitten Media present:
An Evening with Covert Operations
March 22, 2019
Doors: 8:00pm - Show: 9:00pm
Tickets: $10 in advance, $15 day of show
All Ages - 16 and under must be accompanied by an adult.
Covert, the exciting musical collective based out of Flint Michigan, continues to work hard at establishing themselves as heavy contenders in the healthy music scene happening in Michigan and throughout the Midwest. Covert's music is Rock and Roll shaped with the help of influences from Rock, Blues, Bluegrass, Jazz, Gospel, Soul and Reggae; with lyrics and vocal harmonies crafted and intertwined within the melodies. They play lengthy sets, no two ever being the same, with improvisation and segues that keep those in attendance dancing on their toes. Covert's growing and loyal fan base continue to help spread the music, and plays a vital role to their live performance. A Covert show is a place for people to come together in song and dance in what may best be described as a celebration of life.
Covert Productions, the half that is responsible for Covert's sound and light has been chosen by promoters in Michigan, Illinois, Kentucky and Indiana for festivals ranging from 500-5,000 in attendance. Clients include Buttermilk Jamboree, Michigan Peace Fest, Dunegrass, Quarry Breakdown, Hoodilidoo, End of Summer Love In, Hash Bash, Monroe Street Fair, Melon Kamp, GLCC, Dope Logo Fest, Camp Terrapin, Whippersnap Music Festival, Michigan Rock & Brew, Wuhnurth Music Festival and many more.
Thank you for taking the time to read about Covert. Please head on over to www.CovertBand.com for even more specific information on the band, links to music and shows, merchandise and the latest news.