Location
Cross Campus
820 Broadway
Santa Monica, CA 90401
Description
An evening with venture capitalist Brad Feld to discuss his new book Startup Communities
Thursday, December 13th, 7:00 PM to 9:00 PM
You'd be hard pressed to find an individual who has made as big a contribution to startup culture and thought leadership as Venture Capitalist and blogger, Brad Feld. Join us at Cross Campus for a discussion with Brad as he takes us through his new book, Startup Communities.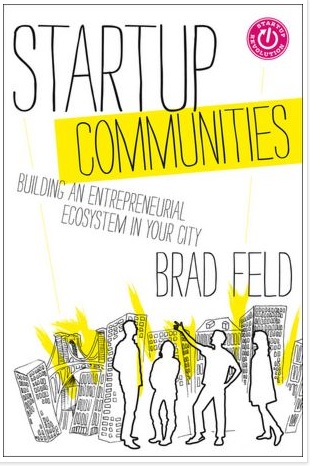 "Startup communities" are popping up everywhere, from cities like Boulder to Boston and even in countries such as Iceland. These types of entrepreneurial ecosystems are driving innovation and small business energy. Startup Communities documents the buzz, strategy, long-term perspective, and dynamics of building communities of entrepreneurs who can feed off of each other's talent, creativity, and support.
Event Program

7:00 - 7:30pm - Guests arrive, networking, beer, wine & appetizers
7:30 - 8:30pm - Discussion with Brad, including Q&A
8:30 - 9:00pm - More networking
Registration includes refreshments and a copy of the book ($26.95 on Amazon).
Speaker Bio
Brad Feld is one of the managing directors at Foundry Group, a venture capital firm that invests in early stage software / Internet companies throughout the United States. Brad currently serves on the board of directors of BigDoor, Cheezburger, Fitbit, FullContact, Gnip, MakerBot, MobileDay, Modular Robotics,
Oblong,Orbotix, SEOMoz, Standing Cloud, and Yesware for Foundry Group. Previously, Brad was an executive at AmeriData Technologies after it acquired Feld Technologies, a firm he founded in 1987 that specialized in custom software applications. He is also the co-founder of TechStars, a mentor-driven accelerator, author of several books and blogs, and a marathon runner. He holds Bachelor of Science and Master of Science degrees in Management Science from the Massachusetts Institute of Technology.
Supporters