Description
Meet Beth Macy, author of the widely acclaimed and bestselling books Truevine and Factory Man. Based in Roanoke, Virginia for three decades, her reporting has won more than a dozen national awards, including a Nieman Fellowship for Journalism at Harvard.
Ms. Macy comes to Bowling Green Monday, April 1 to discuss her most recent book, Dopesick.
An instant New York Times bestseller, Dopesick charts the devastating opioid crisis in America: "a harrowing, deeply compassionate dispatch from the heart of a national emergency" (New York Times) from a bestselling author and journalist who has lived through it.
A book signing follows Ms. Macy's talk. Books available to purchase from the Friends of the Library.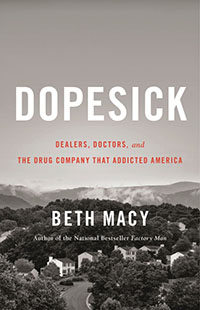 Event FAQs
The event is free, should I bring my ticket(s) for it with me? Yes, please bring a printed or electronic copy of your ticket(s) to the event.
Is there assigned seating? No. Seating is by general admission.
Will books be available for purchase at the event? Yes. Copies of select titles by Ms. Macy will be sold by the Friends of the Library. Checks or cash only, please.