About this Event
Many of us find ourselves wandering through our lives asking deep seeded questions like:
What is my purpose?
Why am I here?
Am I on the right path?
We've become so removed from our land and have lost the majority of our ancient traditions that leave us feeling lost and without direction. Many of our rights of passages have been stripped from our culture.
This is why plant medicines have made an incredible resurgance from deep within the jungle to our mainstream awareness. Plants are our allies, they come bearing knowledge and wisdom and are here to support us. When working with these messenger compounds in a respectful, ceremonial setting they offer teachings and lessons we've been longing for.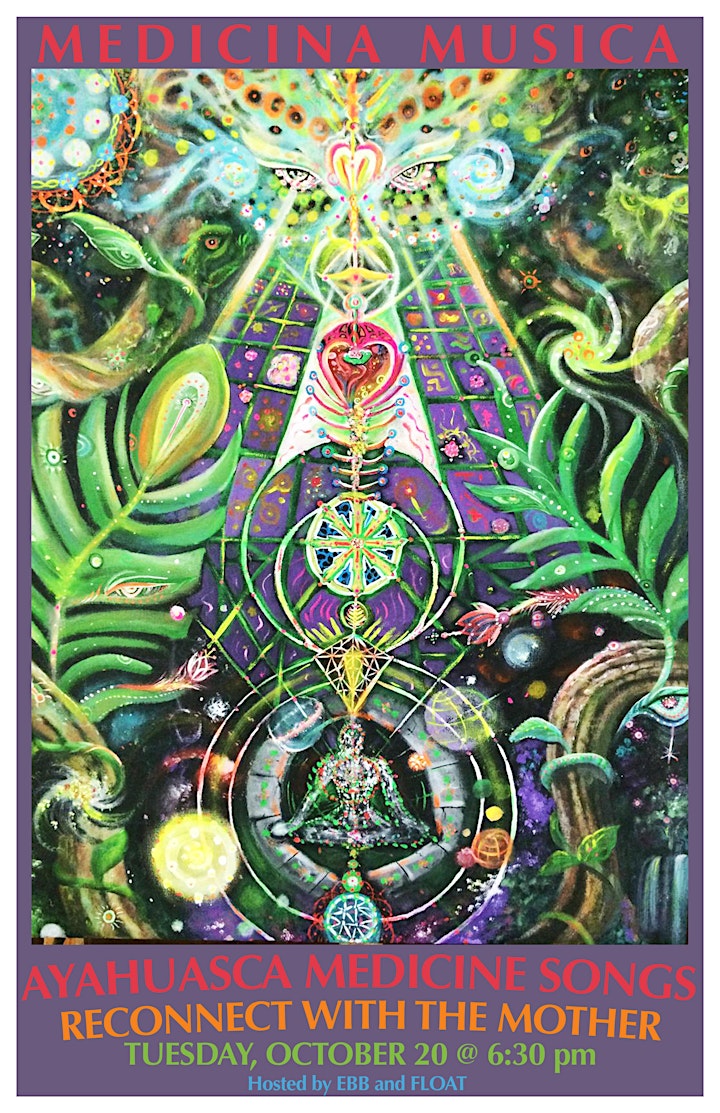 PLANT MEDICINE DISCUSSION + Q&A
If you're plant medicine curious, we invite you to join us for an opportunity to discover more about the spirits of the plants that are here to support and guide us to explore the boundaries of our reality.
We're honored to have our shamanic teachers, Kevin + Carol Johnson, join us for a philosophical discussion around ayahuasca and the beautiful, benevolent spirit of nature that lies behind it.
SOUND HEALING + MEDICINA MUSICA
Kevin + Carol will open the space with a powerful Holographic Sound Healing and offer some prayers and Icaros to begin the event. Sound plays a vital role during traditional ayahuasca ceremonies. The intention and vibration of sound is used to move and direct energies during ceremony. Icaros, healing medicine songs, are sung to help the medicine move though you.
EVENT DETAILS: 
6:15PM – Doors open
6:30PM – Holographic Sound Healing + Medicina Musica
7:00PM – Medicine Talk + Q&A
8:00PM – Refreshments & connection and extended Q&A opportunity
PREPARATION: 
Please bring your own medication pillow and blanket
Yoga mat or any extra blankets/pillows as desired
Bring a note pad & pen to journal any insights or answers you receive
Wear comfy clothes as you'll be invited to lay down for the sound healing
Parking is available in the Gravity garage for a small fee
Tickets are transferrable and non-refundable, if you cannot attend you can give your ticket to another person.
Kevin + Carol Johnson
Kevin is a public speaker, giving presentations on floatation tanks, consciousness, shamanism, plant medicines and psychedelics. He has been featured in several magazines and periodicals, and has appeared on many popular podcasts including; "Tangentially Speaking" with Christopher Ryan, "The Duncan Trussell Family Hour", "The Warrior Poet" with Aubrey Marcus, "Not Just Paleo" with Evan Brand, and "Fat Burning Man" with Abel James.
Carol is the owner of Zero Gravity Institute, a Reiki Master, a Holographic Sound Healer and a shamanic practitioner.
DISCLAIMER:
Despite countless anecdotal reports and scientific studies attesting to the benefits of this sacred plant medicine, ayahuasca is still illegal in the U.S.
There will be no medicine served on this evening. This is a great opportunity to bring family, friends, or anyone who is curious about this profound, often mysterious medicine.