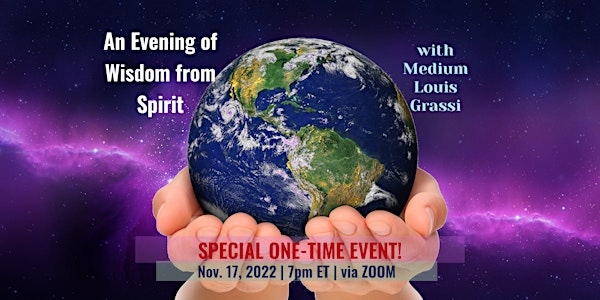 An Evening of Wisdom from Spirit | Channeled Forecasts & Live Readings
Join Medium Louis for this one-of-a-kind spiritual experience on Zoom!
Refund Policy
Contact the organizer to request a refund.
Eventbrite's fee is nonrefundable.
About this event
This event has been a long time coming...
For the past year, Spiritual intuitive Louis Grassi has been channeling wisdom from various guides, teachers, and loved ones in Spirit. Curiously enough, he decided to keep track of this mystical insight by writing everything down. And now, he has accumulated so much information that he wants to share these messages with the world!
We live in an ultra fast-paced, totally chaotic world, and it feels like it's only becoming more hectic. Oddly, however, it seems like the challenges coming up are being experienced more collectively, on a bigger scale. Take a look at the pandemic, for instance. That affected everyone quite severely. As a result, it makes any sort of special insight feel more valuable... necessary, even.
Join Louis for this wonderfully unique, spiritual event. He will cover all of the predictions he's received from Spirit, pertaining to everything, from technological advancements, politics, societal changes, even celebrities! He will then provide live psychic-medium readings and answer questions related to anything & everything metaphysical! Towards the end of the event, Louis will share the universal channeled message meant for the whole group, on behalf of the ascended masters!
So, this is going to be one awesome, multi-faceted spiritual experience. Don't miss this one-of-a-kind virtual workshop! (This is definitely an event where you'll want to take notes!)
DISCLAIMER: Information, communication, and/or consultations with Medium Louis Grassi (or any other participating mediums) are for educational, spiritual and entertainment purposes only. In addition, psychic, mediumship, and/or Akashic Records readings never take the place of professional services including but not limited to: medical, legal, financial, business and/or psychological. All sales are considered final; due to the energy exchange, we cannot offer refunds. RECORDING: The recording of the event is the sole property of Medium Louis Grassi; attendees do not have permission to privately record or share any replays publicly. In addition, the ticket fees only cover admittance to the event. In the case of a recording being provided, it is a purely complementary service, and it is not guaranteed. It is not to be shared, and may only be kept for commemorative purposes. We will never share or divulge your private information at any time.