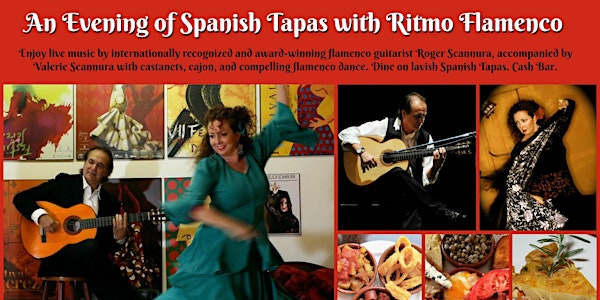 An Evening of Spanish Tapas with Ritmo Flamenco
When and where
Location
Shelburne Curling Club 110 O'Flynn Street Shelburne, ON L9V 2W9 Canada
Description
Troupe-Adore presents An Evening of Spanish Tapas with Ritmo Flamenco
Enjoy live music by internationally recognized and award-winning flamenco guitarist Roger Scannura, accompanied by Valerie Scannura with castanets, cajon, and compelling flamenco dance. Dine on lavish Spanish Tapas. Cash Bar. Doors open at 6:45pm. Tapas served from 7pm onward. The entertainment begins around 7:45pm with questions welcome after the performance.
Tapas selections include: Spanish Shrimp, Tortilla Española Bites With Romano, Puff tapas Rolls With Prosciutto and Fig Preserves, Tortas de Aceite, Higos con Miel y Queso, Albondigas With Spicy Tomato Sauce, Mojo Picon Pork Skewers, Gambas al Ajillo, Garlic and Parsley Grilled Squid, Buñuelos de Bacalao, Cured Swordfish With Mushrooms, Mushroom and Ham Croquettes, Apple and Romano Crostini, Marinated Octopus, Prosciutto Wrapped Plums, Alcachofas al Ajillo, Tortilla Española, Marinated Olives, Almendras al Pimentòn, Jamon, Romano Cheese and White Anchovies, Chorizo, and Paella.
Roger Scannura Flamenco Guitarist/Composer
Roger Scannura is an internationally recognized and award-winning flamenco guitarist and a leading exponent of Nuevo Flamenco. Scannura was born on the history drenched island of Malta. His early schooling began at the Franciscan Monastery of St. Theresa where he was tutored in European history and fine art restoration. He has been immersed in music since early childhood and mastered the techniques and nuances of flamenco guitar while under the auspices of Pepe Habichuela and other gypsy masters. Scannura is the founder of the Toronto based music and dance company Ritmo Flamenco which was founded alongside his wife, Artistic Director Valerie Scannura in 1995. He has composed and released 8 CD's of music spanning genres of flamenco and his music has been featured in both film and television. Besides touring in concerts and festivals throughout the world, highlights of his career have been performing for dignitaries like the Prime Minister of both Malta and Canada and for celebrities such as Sting and Russell Crowe. More information about Roger can be found at www.rogerscannura.ca
"a gifted composer whose music is as beautiful as it is haunting" The Globe and Mail
"rarely is flamenco guitar played so eloquently with just the right amount of passion and grace" 20th Century Guitar Magazine
Valerie Scannura
The Ritmo Flamenco Dance & Music Ensemble was formed in 1995 by Valerie Scannura (Artistic Director, Choreographer, Dancer) and Roger Scannura (Music Director, flamenco guitarist). Since then, she has performed in concerts and festivals worldwide. A graduate of the National Ballet School's Teacher Training Program, she began her studies in flamenco in Toronto before travelling to Spain to further absorb ideas and training methods at various centers such as Madrid, and Jerez de la Frontera. The mandate of Valerie's company is to create original concepts that weave in and out of various dance forms while working closely with music director Roger Scannura. Her work has received praise by critics and arts presenters and she has spearheaded many projects for the company as well as continuing to teach in her Toronto studio and in eastern Ontario at the Quinte Ballet School of Canada. Proving that flamenco is bred in the bone, her daughter Anjelica is Co-Artistic Director of the company and is a successor of her work as she is an award-winning choreographer and Valerie's artistic partner. More information at www.ritmoflamenco.net
Ritmo Flamenco is one of Canada's foremost flamenco dance companies and have received accolades for their brand of flamenco that refuses to be formulaic. Along with Artistic Director Valerie Scannura and their troupe of musicians and dancers they have performed in festivals, private functions and self-produced concerts in Canada, the US, Mexico, Spain, Malta and the Middle East.