Join EPIC for an evening of solidarity with Iraqi youth, civil society activists, poets, and artists pressing for genuine reforms in Iraq.
About this event
If you are unable to attend or wish to make an advance contribution, please donate here.
The Iraq Action Fund provides support to nonviolent civil society activists, youth organizers, and human rights defenders who are pressing for genuine reforms to Iraq's political system. In close coordination with the Iraq Health Access Organization (IHAO), a portion of the fund will be dedicated to assisting volunteer medics treating the immediate needs of injured protesters. The remainder will provide technical assistance, training, advocacy, and other forms of support in close consultation with civil society organizations, human rights defenders, and key youth organizers to support the calls for government reform.
PANEL MEMBERS:
Erik K. Gustafson (Moderator)
Erik is Executive Director of Enabling Peace in Iraq Center (EPIC), an organization he co-founded in 1998. Witnessing the consequences of the 1991 Gulf War during and after his service in the U.S. Army has fueled a life-long passion for peacebuilding, human rights, and humanitarian advocacy.
Dr. Bilal Wahab, Scholar and Political Analyst
Bilal is the Nathan and Esther K. Wagner fellow at The Washington Institute where he focuses on governance in the Iraqi Kurdish region and in Iraq as a whole. He has taught at The American University of Iraq-Sulaimani (AUIS) where he established the Center for Development and Natural Resources.
Omar Al-Nidawi, EPIC Program Manager and Iraq analyst
Omar develops and oversees EPIC's research and monitoring initiatives, including the weekly Iraq Security and Humanitarian Monitor (ISHM) and the organization's current field work in Ninewa, Iraq.
Rasha Al Aqeedi, Iraq analyst and Editor-in-Charge at Irfaa Sawtak.
Rasha is a Robert A. Fox Fellow at the Foreign Policy Research Institute and the Editor-in-Charge of Alhurra's Irfaa Sawtak ("Raise Your Voice"), an interactive news site that encourages young people in the Middle East to be part of the debate on extremism and the root causes of terrorism.
Wasna Dabbagh, Tahrir Square Eyewitness.
Emigrating from Baghdad, Iraq to the United States in 2006, Wasna is a practicing orthodontist in Pennsylvania. Moved by the protests in Iraq, she recently traveled to Baghdad and spent four days in Tahrir Square, witnessing and documenting the creativity, art, culture, and community of the protest movement.
Due to limited space, you must be registered with a ticket and arrive before 6:30 PM to guarantee your place in the event.
Non-ticket holders will be placed on a "wait list" and admitted into the event starting at 6:30 PM. Doors will close when capacity is reached.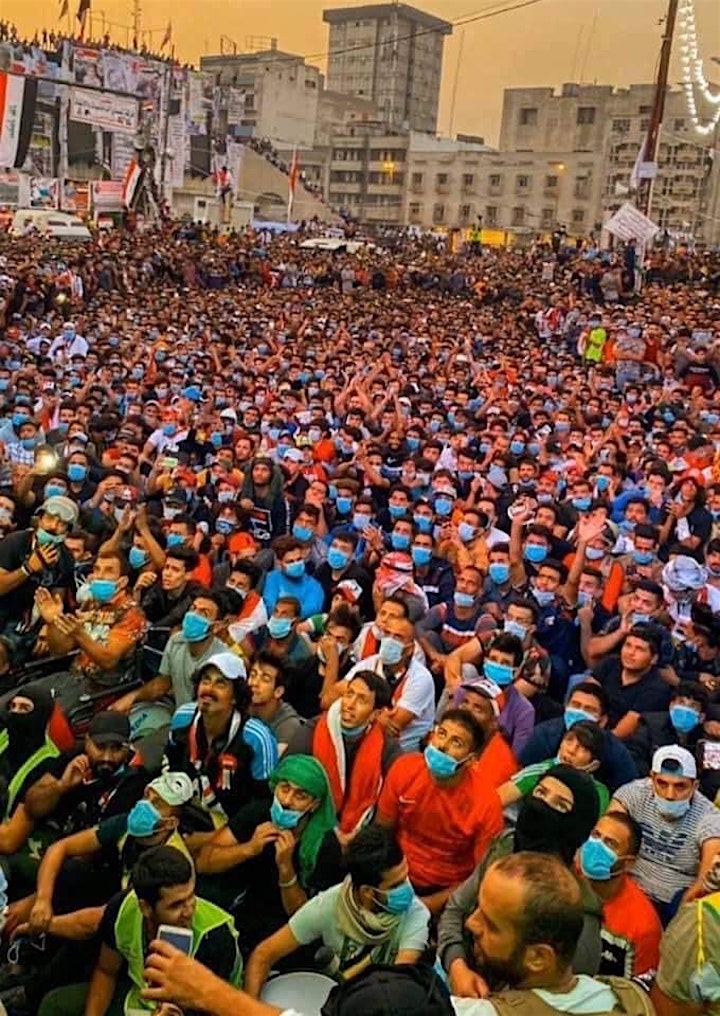 More information about our organization: Founded in 1998, the Enabling Peace in Iraq Center (EPIC) is a 501(c)3 non-profit organization dedicated to the advancement of peace and human rights in Iraq. EPIC works directly with civil society leaders and communities in Iraq to provide relief to vulnerable populations, monitor the crisis to better inform public policy, and enhance understanding of Iraq's story. From DC-based advocacy to field work in Iraq, every day we work to realize EPIC's vision of a safe and prosperous Iraq in which all citizens live free from want and fear, and with dignity.