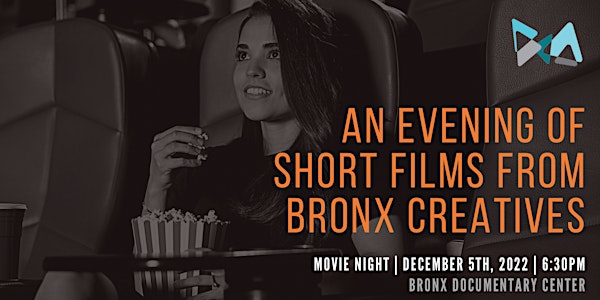 An Evening of Short Films from the Bronx
Come see 6 short films and meet the directors for a Q&A afterwards! Sponsored by the Bronx Council on the Arts.
When and where
Location
Bronx Documentary Center 614 Courtlandt Avenue Bronx, NY 10451
About this event
Join Bronx-based creatives for an evening screening of 6 short films, followed by a Q&A with the directors afterwards! Sponsored by the Bronx Council on the Arts.
Details
*As per New York City requirements, you must show proof of vaccination at the door. Masks are encouraged.
6:30pm Doors open
7:00pm Screening Starts
8:15pm Q&A with the Directors
Location:
Bronx Documentary Center
614 Courtlandt Ave.
Bronx, NY 10451
About the Films
Look Like You by Snigdha Kapoor (filmed in the Bronx) - 13 mins.
An estranged birth mother, Tara reckons with her choices when her eight-year-old biological son struggles with his identity after being bullied at school for being 'different' from his white parents. Being a brown, queer birth mother who still experiences othering herself, Tara finally finds a connection with her son. Through this process, they find acceptance in each other's lives.
Maggie in the Attic by Kim Krohn (features two Bronx-based actors) - 15 mins.
This slice-of-life dramedy is about a woman whose life is falling apart. She's back at her parents, going through a divorce and she just can't get it together. Then, she accidentally locks herself in the attic!
Off Duty by Shetal Shah (Bronx-based director) - 9 mins.
During a quiet afternoon, a Muslim American woman's life is interrupted when she meets a pregnant homeless woman. When the police arrive, things quickly escalates and not everything is as it seems. OFF DUTY is a powerful and timely story by award-winning director and actor, Shetal Shah.
In This Life by Bat Sheva (Bronx-based director) - 11 mins.
Grief is unavoidable and universal; a painfully physical experience in which language is often inadequate and where words are often unable to convey loss or to comfort it. In five acts, this film illustrates the stages of grief, exploring the language of loss through dance, narrative scenes, and performance art, conveying the complexity of grief in the often wordless way it impacts all our lives.
After every major loss, we must grieve for the person we used to be, for the future we thought we'd have. The journey to accept this new version of ourselves is often fraught with rage and pain as we shed our old skin to make way for the new. This film is about that journey.
Veronica by Tanya Perez (Bronx-based writer/actor) - 11 mins.
VERONICA's seemingly perfect life is thrown into chaos when she realizes that in order to be her most authentic self, she must become someone else...literally.
Ladylike teaser by Taylor Coriell (filmed at the Bartow-Pell Mansion Museum in the Bronx) - 4 mins.
A post-Gilded Age buddy comedy about two young society women who disguise themselves as men to sneak into The Players in Gramercy Park to meet their hero, Sarah Bernhardt, on her 1911 visit to New York City. A lot can change in one night—especially the very definition of "ladylike".
About the Creators
Snigdha Kapoor (Look Like You) is an India-born, New York-based filmmaker who focuses on stories that challenge the convenient categorization of narratives around gender norms, sexuality, and immigration. Her work has screened at Academy Award-qualifying festivals and featured in Shorts TV, Delhi Art Gallery of New York, Oyster Magazine, Brown Girl Magazine, and the Chilean Film Catalog. She is currently developing a feature adaptation, LOOK LIKE YOU, which is shortlisted at Sundance, Austin Film Festival, and Define 1497 Lab.
Kimberly Krohn (Maggie in the Attic) is a writer director based in the Philadelphia suburbs. She has a B.A. in English Literature from Bryn Mawr College, and earned a Masters Degree in Directing from The School of Visual Arts in NYC. Maggie in the Attic is her first short film.
Shetal Shah (Off Duty) has worked at The Early Show (CBS), The United Nations and Blacksides, Inc. She was the co-creator and host of the show, InScene, for ARY TV. She got her start as a director and producer with Python/Aquarius Productions where she honed her skills creating music videos and commercials. As an actor, Shetal is an award-winning actress and Maggie Flanigan Studios/LAByrinth Theater Master Class graduate. Favorite Film and TV credits include: Arya (2005 SAMA, Best Actress), Loins of Punjab Presents, The Daily Show, and VH1 Denmark. Favorite theatre credits include: Truth Be Told (EST), Acquittal (Theatre Row), and select readings with Second Stage Theatre, Cherry Lane Theatre, Intar Theatre, and the Indo-American Arts Council. Shetal is also a performance poet, having performed at Lincoln Center, Nuyorican Poets Café, and the Bowery Poetry Club. www.shetalshah.com
Bat-Sheva Guez (In this Life) is an award-winning director who weaves dance and magic into visually compelling, character-driven stories. Guez has directed over 20 short films and screened in festivals worldwide including the Hamptons International Film Festival, the Rhode Island International Film Festival, the Newport Beach Film Festival, the Brooklyn Film Festival and more.
She was a finalist for the SCREENCRAFT SCREENWRITING FELLOWSHIP, the recipient of the JT3 ARTIST AWARD for Screenwriting & Directing and has been awarded screenwriting residencies by NEW YORK STAGE AND FILM, the Lighthouse Film Festival and the Nostros Screenwriting Retreat in Tuscany.
Her film, IN THIS LIFE, won BEST EXPERIMENTAL FILM at the Brooklyn Film Festival and BEST MUSICAL at the Rhode Island Int'l Film Festival, and played to a sold out theater at Lincoln Center's Dance on Camera Festival. It has screened at 14 festivals and is touring college campuses including Santa Monica College where it played to an audience of four hundred. The film is currently available on broadcast and online on ALL ARTS. It has received press and accolades from NY Times, LA Review of Books, Forbes, and others.
Her film, BEHIND THE WALL, won 8 awards including among others, BEST DIRECTOR at the Art of Brooklyn Film Festival, BEST SHORT FILM at the Moondance Film Festival and the Panavision Grant for BEST CINEMATOGRAPHY at the Rhode Island International Film Festival. The film went on to screen at 28 festivals and screenings worldwide. Dance Magazine called it: "The Genre-Defying Dance film you didn't know you needed in your life."
She is a co-producer on the feature documentary, BEING BEBE, which premiered at the TRIBECA FILM FESTIVAL and has received distribution from OutTV.
Guez directs branded content for clients like Lincoln Center, JP Morgan, Conde Nast, Pfizer, and other brands. She is currently in the financing phase of a magical-realism feature film entitled, And How She- and a darkly gothic, anti-romance tale called Lovella.
Taylor Coriell (Ladylike) A redhead who hails from Kentucky, TAYLOR CORIELL (she/her) is a New York-based actor, writer, and award-winning filmmaker. She was a Semifinalist for Script Pipeline's 2021 TV Writing Competition, a Finalist for Catalyst Content Fest's 2019 Live Pitch Competition, and a two-time Semifinalist for the 2017 & 2018 Sundance/YouTube New Voices Labs. The first season of her digital series, You're The Pest, received a spot in Big Vision, Empty Wallet's Kickstart Diversity incubator, and made a highly successful run of the 2018/2019 international festival circuit, collecting awards and nominations for Best Acting, Best Ensemble, Best Writing, Best Comedy, and Best of The Fests along the way. Taylor also originated the role of Pam Beesly in the Off-Broadway hit The Office! A Musical Parody in NYC where she finished her year long run in the Keds-of-honor right before *whispers* the pandemic. You can check out her other recent writing, directing, and producing projects at www.taylorcoriell.com. On an unrelated note, Barack Obama follows Taylor on Twitter (no, for real).
Tanya Perez (Veronica) Born in NYC, raised in the South, Tanya Perez is a Latinx, performer, writer & filmmaker specializing in short-form comedy. Perez has excelled as a creator on both stage and screen and her stand-out work has received many awards and mentions. She has appeared on several networks and streaming series like Orange Is the New Black & Jessica Jones. Her comedy short, Peep Show, was a finalist at the 'Women in Comedy HBO Insider Competition.' With over 22 screenings globally, her film, Veronica, won 'Best Actress' at Story Mode Shorts Festival, 'Best Screenplay' and 'Best Actress' at Outlanta Con, and 'Best Latinx Short' at IndieFest. Perez also received an 'Audioverse Award' nomination for her audioplay, Rincon. She is a featured writer on the upcoming audio narrative The Light Ahead produced by Naomi McDougal Jones and is a member of Latinx Playwrights Circle & Brown Girls Doc Mafia.
This program is made possible by the Bronx Council on the Arts.
A pioneering advocate for cultural equity, the Bronx Council on the Arts (BCA) nurtures the development of a diverse array of artists and arts organizations and builds strong cultural connections in and beyond The Bronx.
We seek to strengthen the cultural ecosystem of The Bronx by nurturing its artists and arts organizations, and by serving the field at large and the public through programs that build connections, provide resources, and advocate for equitable practices.