An Evening of Reflection by Fr. John Berg, Superior-General, FSSP

Thursday, May 2, 2013 from 6:30 PM to 9:00 PM (EDT)
Event Details
The families of Coetus Fidelium of Charlotte 
joining together with
Rev. Timothy Reid, Pastor of Saint Ann Catholic Church
are pleased to welcome
an Evening of Reflection offered by
Very Rev. Fr. John Berg, Superior-General
Priestly Fraternity of St. Peter (FSSP)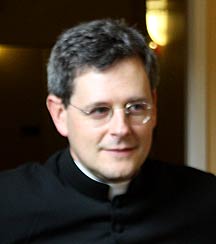 Reflection Topic:
"Ephesus, Vatican II, & the Year of Faith."
 
Thursday, May 2, 2013
Saint Ann Catholic Church
3635 Park Road
Charlotte, North Carolina 28209
 
Father Berg will give a reflection on the topic "Ephesus, Vatican II, and the Year of Faith."  This talk will compare different aspects of two ecumenical councils [Council of Ephesus and the Second Vatican Council] in light of the Year of Faith.  Fr. Berg will also discuss various issues related to the Mass and Traditions of the Church, and will accept questions following the reflection.
The schedule for the evening will be as follows:
Ø  6:30 to 7:00 p.m. – Exposition of the Most Blessed Sacrament
Ø  7:00 to 7:30 p.m. – Joyful Mysteries of the Rosary, followed by Benediction
Ø  7:30 to 9:00 p.m. – Reflection: "Ephesus, Vatican II, and the Year of Faith."
Ø  Reception immediately following in the Monsignor Allen Center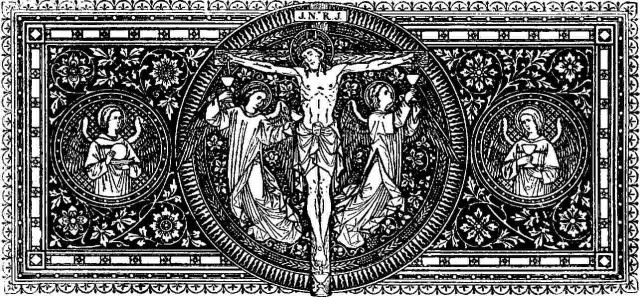 Biography: An American, Father Berg serves as the Superior-General of the Priestly Fraternity of Saint Peter and resides at its' General House in Fribourg, Switzerland.  Father Berg studied philosophy at Saint Thomas Aquinas College (California, USA) and theology at The International Seminary of St. Peter in Wigratzbad (Bavaria, Germany). Father Berg holds a degree in theology from the Pontificia Università della Santa Croce in Rome. Prior to his election as Superior-General, he served as chaplain of the largest FSSP apostolate in North America, in Sacramento (California, USA). He was later named professor and was given responsibilities for admissions at Our Lady of Guadalupe Seminary (Denton, Nebraska). Fr. Berg speaks English, French and Italian.
The Priestly Fraternity of St. Peter (FSSP) is a Society of Apostolic Life of Pontifical Right canonically established by Pope John Paul II in 1988. The particular charism and mission of the Fraternity is to offer the Sacred Liturgy, including the Holy Mass and the Divine Office, as well as the sacraments, in all of their traditional solemnity, according to the Latin liturgical books of 1962. The Fraternity's name denotes their thanksgiving, filial love, and loyalty to the Supreme Pontiff, who encourages their growth, as well as the brotherly unity in Christ which their priests strive to have characterized in their life and work.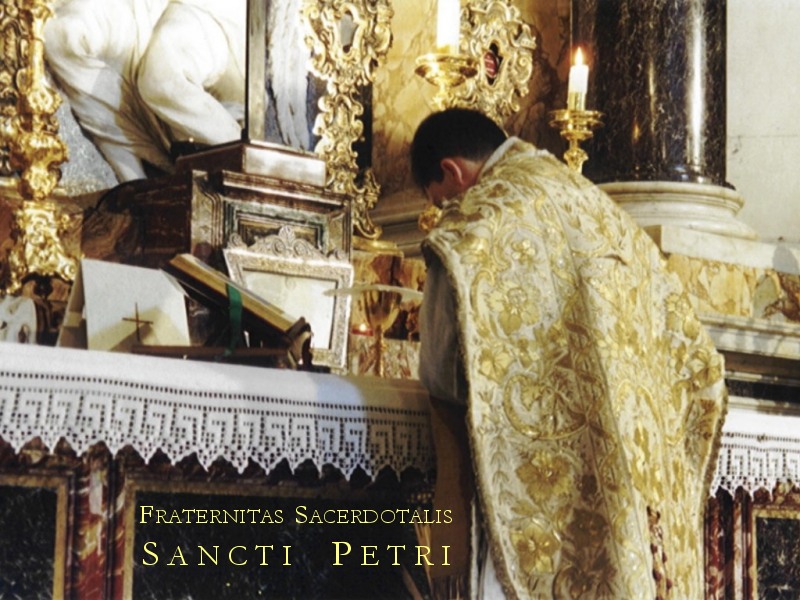 Ø  A good will offering will be collected at the end of the reflection, with proceeds donated to the FSSP Seminary Burse.

Ø  For more information, please contact Chris Lauer cslauer@gmail.com.
When & Where

Saint Ann Catholic Church
3635 Park Rd
Charlotte, NC 28209


Thursday, May 2, 2013 from 6:30 PM to 9:00 PM (EDT)
Add to my calendar
Organizer
The Charlotte Latin Mass Community
The Charlotte Latin Mass Community (CLMC) was origionally founded in 2011 under the name Coetus Fidelium (Latin for: Stable Group of Faithful) with the aim of providing spiritual and material support for the Traditional Latin Mass in Charlotte North Carolina.
For additional information please contact Chris Lauer at: charlottelatinmasscommunity@gmail.com
An Evening of Reflection by Fr. John Berg, Superior-General, FSSP