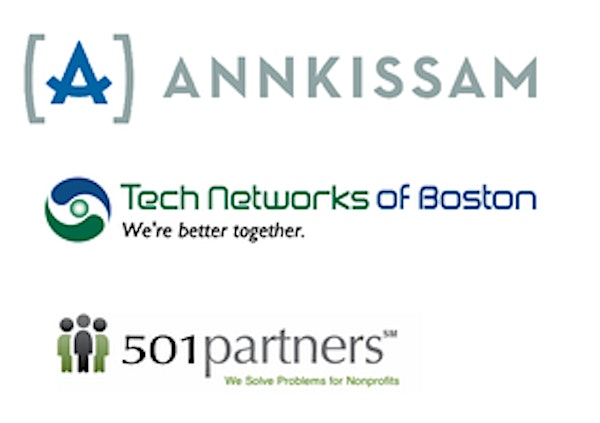 An Evening of Pro Bono, Sales-Pitch-Free Tech Consultations for Nonprofits (03/31/2015, Cambridge Innovation Center)
Date and time
Tuesday, March 31, 2015 · 6 - 8pm EDT
Location
Cambridge Innovation Center, 5th Floor Havana Room 1 Broadway Cambridge, MA 02142
Description
Annkissam, Tech Networks of Boston, and 501Partners are hosting an evening of pro bono technology consultations in a salespitch free setting at the Cambridge Innovation Center, and would like to invite employees of local nonprofit organizations to take advantage of this opportunity to obtain assistance that is free of charge and has no strings attached.
A team of nonprofit technology mavens have volunteered their services for the evening; nonprofit professionals will be able to receive brief one-to-one consultations on a variety of topics. We strongly encourage you to solicit second, third, and even fourth opinions at this event!
Here's a sample of the topics on which consultations will be available:
Assessing custom software services

Assessing software products

Cloud-based solutions

Constituent relationship management (CRM)

Data analytics

Data and organizational culture

Data-driven web applications

Database design

Database implementation

Database development

Decision support

Donor management solutions

Ethical issues for information and communication technologies

Evaluation/performance management software

Geographic information systems

Hands on tech support

Identifying free and low cost technology resources

Network administration / network engineering

Operational IT planning

Project management / project implementation

Salesforce for nonprofits

Secure remote access

Solutions for collaboration among nonprofit organizations

Strategic database planning

Strategic technology planning

Usability / user experience
Participation in this event is free of charge for employees of nonprofit organizations. Food and drink will be provided for all.
Please note that this event is by invitation only, and that you must have a confirmed registration in order to participate. We hope that you will register and join us!
P.S. In order to prevent slack time for our mavens and overcrowding, we are asking you to sign up to arrive at either 6:00 pm or 7:00 pm, but not to sign up for both.

About the organizer
Our Values:

Quality is the foundation of our work; our goal is that every customer, staff member, vendor and partner has a positive experience with Annkissam.

Honesty is expected in all dealings. Our commitment to honesty with each other fosters an environment of continuous improvement at Annkissam.

Kindness manifests itself in respect for others, a helpful attitude, and even in common courtesies such as "please" and "thank you."

Our Services:
Annkissam provides operations and technology consulting, primarily for nonprofits, helping organizations to improve the way they work through improved processes and systems.
Our Products:
We have a variety of products to help nonprofit organizations manage their information, including:
Habitat: A modern knowledge management system designed to help capture tacit knowledge and equip the next generation of nonprofit leaders with the wisdom of their more experienced colleagues


HTSgo: Replacement software for the discontinued EVSpc/EVScall software from MassHealth, HTSgo uses the same real time data interface used by large providers, supporting thousands of checks per day


AFC Home: A platform specifically designed for the data and reporting needs of Massachusetts Adult Family Care programs
  ...along with many products that you can learn more about at our website.