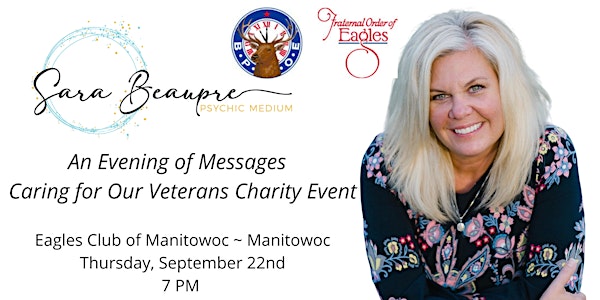 An Evening of Messages from Spirit ~ Caring for our Veterans Charity Event
An Evening of Messages from Spirit ~ Caring for our Veterans Charity Event
When and where
Location
The Eagles Club of Manitowoc 823 Hamilton Street Manitowoc, WI 54220
About this event
CARING FOR OUR VETERANS CHARITY EVENT
Join Sara for an Evening of Messages from Spirit while supporting our Veterans. All ticket sales for this event will be donated to The Eagles Club of Manitowoc and The Elks of Manitowoc. We look forward to seeing you on September 22nd at 7:00 PM.
THE ELKS STAND FOR THE FOLLOWING ~ The Order spends more than $80,000,000 every year for benevolent, educational, and patriotic community-minded programs in such fields as benefitting special needs children, sponsoring Elks National Foundation scholarships, scouting, athletic teams, veterans' works, a national "Hoop Shoot" free-throw contest involving more than 3 million children, physical and occupational therapy programs and patriotic programs.
THE EAGLES STAND FOR THE FOLLOWING ~ The F.O.E. donates more than $10 million a year to local communities, fundraisers, charities, and more. As part of its philosophy, the F.O.E. gives back 100 percent of monies raised in the form of grants. Fundraisers are conducted for eight major charities, including kidney, heart, diabetes, cancer, and spinal cord injury funds, a children's fund, a memorial foundation, and the Golden Eagle Fund.
Known as one of the most talented, kind-hearted psychic mediums in the Midwest, Sara Beaupre will, without a doubt, blow you away as she connects with a loved one(s) in Spirit during this LIVE EVENT.
Sara has a rare ability like no other to bring forth messages involving real-time events and conversations that have literally occurred hours before recipients have arrived at her events, proving that loved ones are alongside us in the present.
"I absolutely love doing live events! It's such a great opportunity for people to see how I work with loved ones in the Spirit world. Mediumship is a sacred communication between the living and the departed through their love for one another. It is my honor and my privilege to be able to help people heal after the passing of a loved one."
XOXO,
Sara Beaupre
*Doors open at 6:30 pm, and the event begins at 7:00 pm.
*Everyone is guaranteed to receive healing energy work when they walk through the door. Sara creates a sacred space at every venue and has PHENOMENAL energy healers continuously sending healing energy to those who attend her events.
*Your ticket only guarantees entrance to the event, not a personal message.
*Seating is general admission.
*By purchasing a ticket to this event, you give Sara permission to communicate with you and your loved one(s) in Spirit.
*There are no refunds granted after the purchase of a ticket.
*For any questions regarding this event, please email sarabeaupre9@gmail.com.
This event is rated "E" for everyone ages 16 and older.