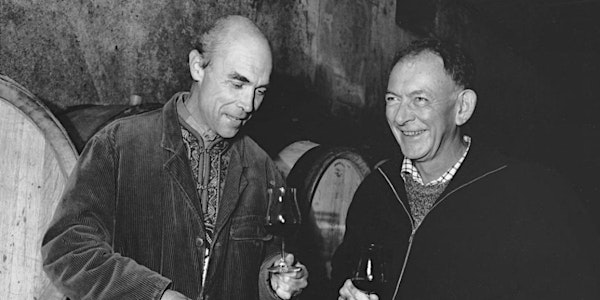 An Evening of Kermit Lynch wines with Joanie Bonfiglio
Kermit Lynch Imports Tasting with West Coast Director Joanie Bonfiglio!
When and where
Location
Doe Bay Wine Company 109 North Beach Road #d1 Eastsound, WA 98245
Refund Policy
Contact the organizer to request a refund.
Eventbrite's fee is nonrefundable.
About this event
Please join us for a very special evening of wines from acclaimed Berkley importer Kermit Lynch. We will have several tables set up outside Doe Bay Wine Company and Voyager and we'll pair bites with the wines. Special guest Joanie Bonfiglio, an old friend who previously worked with the wines of Neal Rosenthal, will be joining us from California as well as Daniel Soloff who represents the wines here in Washington. This promises to be a fun and educational evening. Wines will be available for purchase. Tickets will be limited and will likely sell out. You can read more about Kermit in the article below:
"To many, Kermit Lynch is the mortal version of wine God. Thanks to his masterfully discerning taste in European wines, numerous U.S. consumers have refined palates that can distinguish varietals even down to the harvest year.
He is quite possibly the world's most popular wine importer; sampling thousands of wines each year from France and Italy and bringing back only small number to the States. His following is cult-like; many wine consumers refuse to purchase bottles without his name printed on the backs. Winemakers swoon at the thought of being chosen by Lynch as his selections have turned numerous tiny vineyards into household names.
This success didn't come easily for Lynch; it is something he's been working for since the early '70s, when he first opened his wine shop on San Pablo Avenue in Berkeley, Calif. Along the way, he's written two books, Adventures on the Wine Route and Inspiring Thirst, both to widespread acclaim.
Today he splits his time between Berkeley and Provence, France and is still active in the daily operations of his business. Here he talks about his beginnings, growing his business and offers advice for entrepreneurs.
Katie Morell: Could you tell me about your background?
Kermit Lynch: I grew up in San Luis Obispo, Calif., and flunked out of Fresno State. After that, Cal Poly let me in despite my grades. I moved to Berkeley in 1962 and earned a degree in English from San Francisco State. I paid for college by selling shoes.
KM: How did you decide to open a wine store?
KL: Well, in 1972, I was not earning a living fronting a rock 'n' roll band and wine had become a hobby. After trying and failing to get a job at a wine shop, I borrowed $5,000 from my girlfriend and opened my own shop. It took off and took me with it.
KM: What challenges did you face when opening your store?
KL: My biggest challenge was a lack of money and no credit. The business had to grow organically. Luckily, my girlfriend fed me.
KM: What attracted you to importing?
KL: I was traveling to taste in Germany, France, Spain and Italy, and the more I traveled the more I was attracted to France and Italy. I decided to specialize and follow my passion, so I dropped everything but French and Italian wines. At first I had to piggyback my selections in the shipping containers of other importers. But once I could afford to ship a full container, I applied for an import permit.
KM: How often did you travel when you started importing and how did you decide which wines to import?
KL: I was taking two-week buying trips about three times per year at first. I found my kind of wines in the cellars of wine makers. I searched for leads in books, restaurants, word-of-mouth and just tasted, tasted, tasted.
KM: Do you have any regrets about wines that you passed up along the way?
KL: I do, but not many. For some reason, right from the start, I've had a lot of confidence in my palette and my selections.
KM: How were you able to grow your store and import wines at the same time? Did you have a business partner?
KL: No business partner. When I could finally afford an employee, I decided to do what I wanted to do and to delegate authority. There was no other choice, given the amount of work I was doing overseas.
KM: What is one of the biggest challenges you've faced while importing wine?
KL: Learning French. I did learn it informally, down in the wine cellars, so my vocabulary is still rather limited.
KM: Looking back on your career, what advice would you give yourself in 1972?
KL: I would encourage myself.
KM: Who is one of your biggest mentors?
KL: The writer Richard Olney was very important to me. He listened to each wine, so to speak, without preconceptions and tried to understand what it had to say. He opened me up to the diversity available in the wine world, taught me to open up my mind to the glories of diversity and not to judge all wines by the same standards.
KM: You have a tremendous following. What is the secret to your success and have you ever worried about competitors?
KL: One of the factors in my success was starting to write a monthly brochure to explain to my customers why they would enjoy the wines that arrived. Many of them were unknown in the States, so a simple catalog didn't inspire thirst.
I wrote Adventures On The Wine Route in 1988, and evidently explained how I do what I do. Suddenly I had a lot more competitors. I can't blame them—it's not a bad métier—and I admire most of my competitors.
KM: What does the future hold for your business? Will your children take it over?
KL: My son is 21 years old, just out of Cornell, speaks French and Italian, tastes well, and just went to work in my Berkeley shop. He might find it a satisfying way to spend his time and make a living. My COO is Dixon Brooke. He's one hell of a wine man, and I hope he assumes a permanent role in the business. My daughter is 24 years old and writing about music, wine, and food in NY and loving every minute of it.
KM: What advice can you offer to budding wine entrepreneurs?
KL: I'd give them the Dylan line: Don't follow leaders, watch yer parkin' meters.