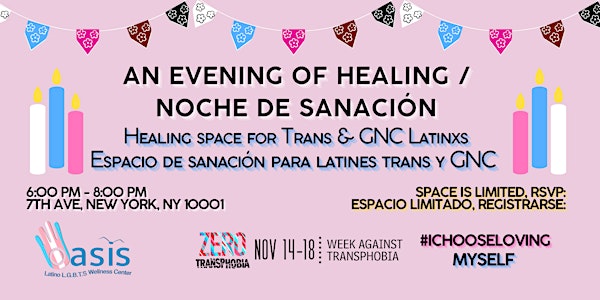 An Evening of Healing with Oasis // Una Noche de Sanación con Oasis
We will create a healing space for Trans and GNC Latine's in NYC. // Crearámos un espacio de sanación para Trans y GNC Latine en NYC
When and where
Location
Oasis Wellness Center 330 7th Ave New York, NY 10010
About this event
On Tuesday, November 15, the Oasis Pride Community Center will host an evening of healing in accordance with Zero Transphobia 2022.
This year the Zero Campaign is calling for an end to transphobic hate violence through our continued theme of "I Choose Loving…" for the Week Against Transphobia, November 14-18th.
For more information, check out: oasiscenter.nyc/zero
Xelestiál Moreno-Luz (pictured below) will lead us in a workshop, "Our Stories, Our Right". Participants will engage in a short photo production session using Polaroid cameras, to engage in a group storytelling project. Xelestiál will present her own art practice, community work samples, theory, and future projects to empower participants to create their works.
This event is open to Latine's and people of color who identify as gender-non-conforming, gender queer, or transgender.
Dinner provided.
Participants will receive a 50-dollar digital AMAZON gift card.
Space is limited.
Please register and let us know your access needs as soon as possible.
--
El martes 15 de noviembre, el Oasis Centro Comunitario del Orgullo organizará una velada de sanación de acuerdo con la campaña de Zero Transfobia 2022.
Este año, la Campaña Zero pide un fin a la violencia de odio transfóbico a través de nuestro tema continuo de "Yo Elijo Amar..." para la Semana contra la transfobia, del 14 al 18 de noviembre.
Para obtener más información, visite: oasiscenter.nyc/zero
Xelestiál Moreno-Luz (en la foto de abajo) guiará este taller, "Nuestres historias, nuestre derecho". Participarán en una breve sesión de fotografía con cámaras de Polaroid, para crear un proyecto grupal de narración de historias. Xelestiál presentará su propia práctica artística, muestras de trabajo comunitario, teoría y proyectos futuros para empoderar a les participantes a crear sus propias obras.
Este evento está abierto a latines y gente de color que se identifiquen como no conformes con el género, género queer o transgénero.
Se brindará la cena.
Les participantes recibirán una tarjeta de regalo digital de AMAZON valorado en 50 dólares.
El espacio es limitado.
Regístrese y háganos saber sus necesidades de acceso lo antes posible.