Description
Offset Warehouse and Neal's Yard Remedies would like to invite you to an evening of creative indulgence!

Offset Warehouse is delighted to be teaming up with Suprina Hilaire, independent consultant at Neal's Yard Remedies, to bring you the opportunity to spend some time relaxing, crafting and being pampered. So, if you love fabulous, sustainable fabrics, eco beauty and being creative this is the evening for you!
What can you look forward to?
Over the three hours, you'll learn how to hand embroider and construct a one-off, totally unique and eco-conscious wash bag. Offset Warehouse will provide the fabrics, threads, trimmings, written instructions and anything else you need, and their experts will be on hand to help and give advice.
But what use is your beautiful new wash bag without some organic treats to fill it? So Suprina is adding two delicious Neal's Yard products for each person to take home: an organic facial wash and either their award-winning Wild Rose Beauty Balm or a bottle of luxurious Geranium & Orange Foaming Bath.

In addition, there will be lots of Offset Warehouse fabric samples for you to have a good rummage through, and Jaime, our resident fabric whizz, will be able to tell you all about designing and sewing with organic and sustainably-sourced products. If you'd like to order any fabrics, you can take advantage of a special 10% discount on the night.

Throughout the evening, Suprina will be offering one-to-one consultations, showing you the Neal's Yard products that would best suit your skin type. She'll also be bringing along an additional range of beauty products which you can test and purchase on the night.
Drop in and stay as long as you can or feel free to join us for the whole evening. Once the workshop has finished, you're very welcome to stay on and chat. The Hollywood Arms will be open until 11.30pm so there's no need to rush off.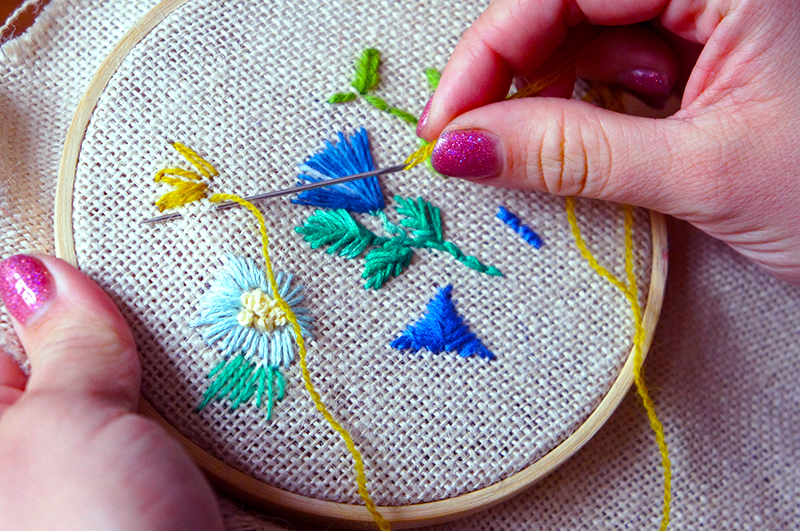 What will it cost?
In order that we can give everyone an individual experience, tickets are limited and cost £24.50 each. Or why not take advantage of our special "Bring A Friend" offer and buy two tickets for £40?
The price includes everything you need to make your wash bag, plus the opportunity to browse through, and buy at discount, Offset Warehouse fabrics. You'll receive two Neal's Yard products as described, a short consultation with Suprina, and the chance to test and buy additional products.

Do I have to be an experienced sewer?
Definitely not! The workshop is suitable for adults of all abilities. It's a great introduction if you've never sewn before, and satisfying for more experienced stitchers. We'll focus on the embroidery to begin with, and if you only manage to finish that during the evening, the written instructions will enable you to complete your wash bag at home – even if you don't own a sewing machine.

Format for the evening
When you arrive at the Hollywood Arms, head upstairs to the Blanchard Room. It's sumptuously furnished with comfortable chairs and sofas, and you can purchase tea, coffee, soft drinks – or something stronger! – from the bar. Tables will be laid for you to spread out with your embroidery, and Jaime will be around to help if you need it. For the speedy, there will be a machine set up to finish your wash bag. Please note that although there won't be time to include general sewing machine instruction in the evening, the Offset team will be delighted to help if we're not busy with the embroiderers. And don't forget to grab a few minutes with Suprina and take advantage of her extensive beauty knowledge and her expertise in the wonderful Neal's Yard products.
A match made in eco heaven
Offset Warehouse plus Neal's Yard is a winning combination, and a perfect choice for such a lovely evening. The two companies share the same ethos: to bring their customers products which are kind to the people who wear or use them, fair to the people who make them, and good for the long-term health of our planet. Offset Warehouse is committed to only selling organic or ethically-sourced fabrics, threads and trims, and Neal's Yard has been practising honesty and transparency in the manufacture of their natural and organic beauty products for over 30 years.
Our skin is the body's largest organ – the active barrier between us and the outside world. So, what could be better than to look after it with organic preparations which are safe and luxurious to use, and clothe it with fabulous, fashion-forward fabrics which contain no chemicals to harm us and are made responsibly?
What are you waiting for?
It's well documented that slowing down and learning a new skill – even for a few hours – can reduce stress levels and increase a feeling of wellbeing and satisfaction. Doing it in the company of like-minded people adds fun and friendship into the mix. This is an exciting opportunity to meet other amazing people, share ideas and learn. We look forward to seeing you there.
The Offset Warehouse Team
If you have any questions, please get in touch: info@offsetwarehouse.com