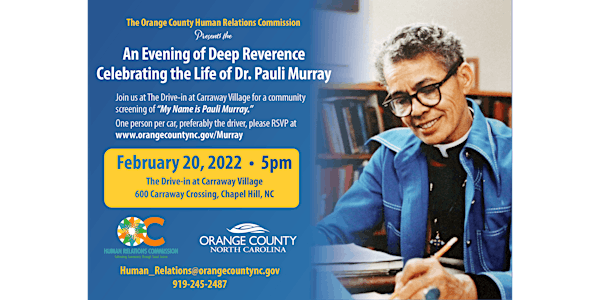 An Evening of Deep Reverence, Celebrating the Life of Dr. Pauli Murray
Location
The Drive-In at Carraway Village
600 Carraway Crossing
Chapel Hill, NC 27516
Join the Orange County Human Relations Commission for the screening of "My Name is Pauli Murray". One RSVP per vehicle.
About this event
The Orange County Human Relations Commission Presents: "An Evening of Deep Reverence, Celebrating the Life of Dr. Pauli Murray" at 5 p.m. on Feb. 20 at The Drive-in at Carraway Village. The ceremony will include a community screening of "My Name is Pauli Murray," an award-winning documentary that looks at the life and ideas of Murray, a non-binary Black lawyer, activist and poet who influenced Ruth Bader Ginsburg and Thurgood Marshall.
Parking is limited. Please R.S.V.P to reserve your spot today. This event is free.
Pauli Murray was the granddaughter of a slave and the great-granddaughter of a slave owner. Born in Baltimore and orphaned at an early age, she was raised in Durham by her maternal grandparents and an aunt, in whose first-grade class she learned to read.
She graduated at the top of her class from Hillside High School and with honors from Hunter College in New York. She was denied admission to the University of North Carolina in 1938 because of her race and to Harvard University because of her gender. These and other experiences spurred her to a life of activism, working to dismantle barriers of race and gender.
From sit-ins to integrate Washington, D.C., lunch counters in the 1940s, through her efforts as a founder of the National Organization for Women (NOW) in the early 1970s, Murray took challenges head-on, while generally avoiding the limelight.
At age sixty-two, when many people are planning retirement, Murray entered seminary and embarked upon a new career. In 1977, she was the first black woman in the U.S. to become an Episcopalian priest.
In performing her first Holy Eucharist at the Chapel of the Cross in Chapel Hill, where her grandmother, a slave, had been baptized, Murray finally believed that "All the strands of my life had come together."
Since 1990, the Human Relations Commission has bestowed the Pauli Murray Award annually to an Orange County youth, an Orange County adult, and an Orange County business that have served the community with distinction in the pursuit of equality, justice, and human rights for all residents.
The Orange County Department of Human Rights and Relations is dedicated to fostering positive human relations and eliminating discrimination based on race, color, religion, disability, sex, national origin, familial status, age (over 40), and veteran status.