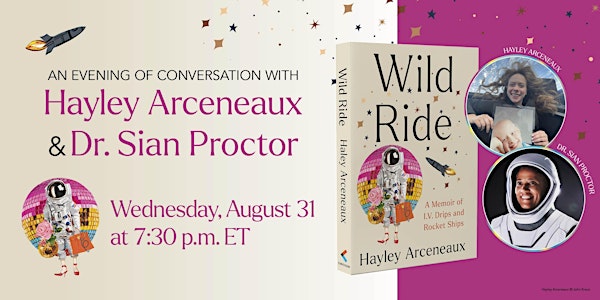 An Evening of Conversation with Hayley Arceneaux
Join us to celebrate the upcoming release of Hayley Arceneaux's memoir, WILD RIDE
About this event
Random House is pleased to present an evening of conversation with Hayley Arceneaux to celebrate the upcoming release of her memoir, Wild Ride.
In this warm and wonderful debut memoir, Hayley Arceneaux details how she overcame seemingly insurmountable odds (a cancer diagnosis at age ten and yearlong treatment) to grab hold of a life greater than she'd ever imagined: a dream job at St. Jude Children's Research Hospital as a physician assistant—followed by an invitation to go to space as a St. Jude ambassador, and all the rigorous training that mission required. Through it all, she reveals how resilience and faith can help us live life to the fullest. Arceneaux's uplifting story is the inspiration we all need today.
Join us on Wednesday, August 31 at 7:30 p.m. ET on Zoom for an exclusive virtual event with Hayley Arceneaux, where she'll appear in conversation with Dr. Sian Proctor about Hayley's book and their experience together in space aboard the Inspiration4. An audience Q&A will follow.
To reserve your spot, simply preorder your copy of Wild Ride from the retailer of your choice, and enter the order number from your receipt when registering for your ticket. Then sit back and enjoy the show!
**This is a virtual event that will be hosted on Zoom - you will need access to a computer or other device capable of sufficiently accessing the Internet. If you have not used Zoom before, you may consider referencing Getting Started with Zoom.**
By registering for the event you agree to be automatically signed up for the Random House Events and Spiritual Thought email newsletters. (Privacy Policy) and Terms of Use.