Event Information
Refund Policy
Contact the organizer to request a refund.
Eventbrite's fee is nonrefundable.
About this Event
From the eighth-century The Book of the Thousand Nights and a Night to the twentieth-century stories of Jorge Luis Borges, literature has shown us the possibility of other selves, worlds, and even universes. The quantum revolution and recent discoveries in physics and astronomy point to the jaw-dropping idea that our universe may be only one of many universes constituting an infinitely large multiverse. In this talk, Dr. Marcela Carena and Michael Zapata will discuss various theories about parallel universes and how they impact the ways in which we think about science, literature, and our own lives. It's at once humbling and stirring to think that our own expansive and often hidden reality might be stranger than fiction.
Event Details:
Thursday, May 28th, 2020, 6:00 pm - 7:30 pm, Chicago Public Library, Harold Washington Library Center, Cindy Pritzker Auditorium (lower level), 400 South State Street, Chicago, IL 60605.
Parking and Transportation:
The Harold Washington Center is easily accessible by most CTA trains and multiple bus lines .
For detailed travel information visit www.transitchicago.com or call the Travel Information Center at 1-888-YOUR-CTA or 1-888-CTA-TTY1 (TTY). For parking options, please visit https://www.chipublib.org/plan-your-visit-to-hwlc/parking-near-hwlc/.
Notice: As a guest of Chicago Council on Science and Technology (C2ST), you agree to be photographed, videotaped, or filmed and grant C2ST permission to put the finished footage/photography to any uses that it may deem proper including marketing, advertising (print, radio, and television) and PR-related activities.
We are dedicated to providing an inclusive environment for everyone. Please respect diversity in individuals and in cultures.
Featured Guests:
Dr. Marcela Carena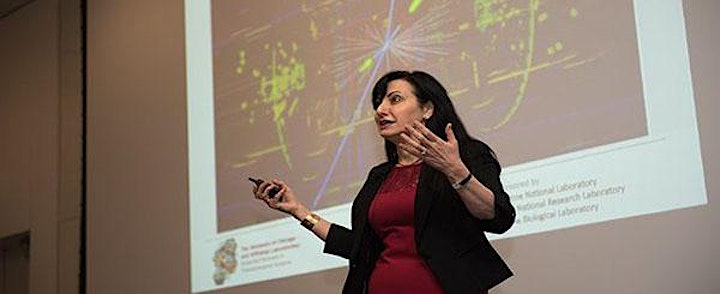 Marcela is a distinguished scientist and the head of the Theoretical Physics Department at the Fermi National Accelerator Laboratory in Batavia, Illinois. She received her Diploma in Physics from the Instituto Balseiro of Bariloche, Argentina, and her Ph.D. in Physics from the University of Hamburg. She was a John Stuart Bell Fellow at CERN, was awarded a Marie Curie Fellowship, and she was a CERN staff member in 1999-2000. She has been a Professor of Physics at the University of Chicago since 2008, where she is both a member of the Enrico Fermi Institute and the Kavli Institute for Cosmological Physics.
Her research explores the possible connections between Higgs physics, supersymmetry, unification, and dark matter. She has developed promising ideas to explain the matter-antimatter asymmetry observed in the universe, which are under scrutiny at the CERN Large Hadron Collider. Carena has worked closely with experimental physicists, creating and implementing strategies for testing the latest ideas for the mechanism of electroweak symmetry breaking. She was a pioneer in exploring the complementary interplay between direct searches for dark matter in deep underground experiments and searches for Higgs bosons at the LHC.
Michael Zapata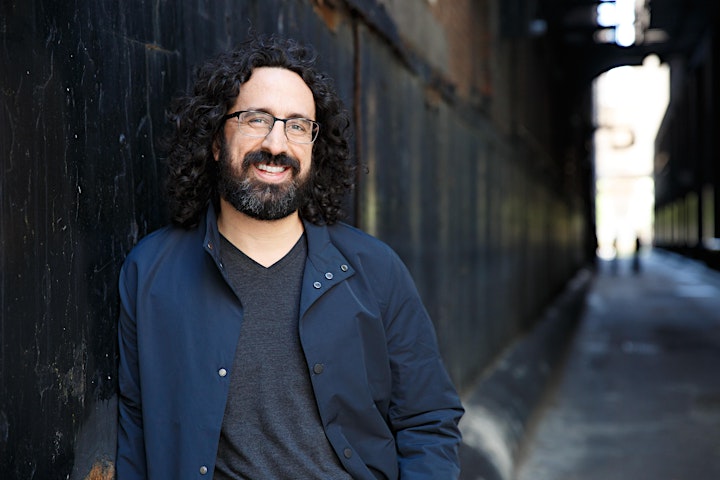 Michael Zapata is a founding editor of MAKE Literary Magazine and the author of the critically acclaimed novel The Lost Book of Adana Moreau. He is the recipient of an Illinois Arts Council Award for Fiction, the City of Chicago DCASE Individual Artist Program award and a Pushcart nomination. As an educator, he taught literature and writing in high schools servicing dropout students. He is a graduate of the University of Iowa and has lived in New Orleans, Italy and Ecuador. He currently lives in Chicago with his family. MichaelZapata.com
This program presented in partnership with: