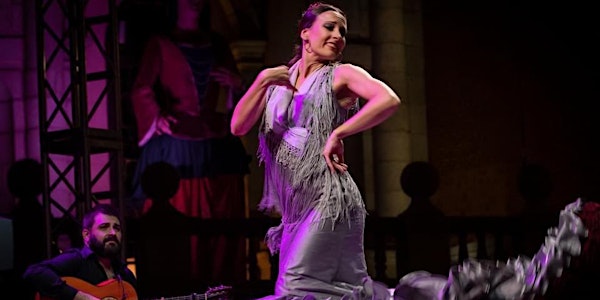 An Evening in Spain Flamenco Dinner
Noche de Flamenco at SER
When and where
Location
SER Restaurant 1110 North Glebe Road Arlington, VA 22201
Refund Policy
Contact the organizer to request a refund.
Eventbrite's fee is nonrefundable.
About this event
We cordially invite you to join us on Sunday, November 13 for an unforgettable evening of food, drinks and flamenco with the world-renowned Lucia Rubial and her dance company, visiting us from Spain for one night only from Spain.
The evening will include a special sherry and ham tasting from 5J Jamon Pata Negra, a welcome reception and a tapas tasting menu, in addition to the spectacular flamenco show.
Please scroll down to view our dinner menu and learn more about one of Spain's most beloved flamenco dancers, Lucia Rubial.
About The Event:
Guests will enjoy a cocktail reception with Jamon Pata Negra 5J, Manchego Cheese and Sherry Wine followed by a four-course Tapas Tasting Menu prepared by award-winning Chefs David Sierra and David Cardona exclusively for this event. Each course will be paired with our illustrious wines. Throughout the dinner, guests will enjoy the Luica Rubial's flamenco show
MENU
$150 per person including tax and gratuity.
6-6:45 Welcome Hour
Show 7-8 pm
Tapas Dinner 7-9 pm
First Course
Croquetas de Puchero
Josefina's Bechamel, Chx, Beef and Jamón
Ensalada de Tomate con Mango
Tomato Salad with Mango
Wine Pairing: Mar de Viñas 2021 / Albariño / Rías Baixas Mar de viñas
Second Course
Gambas al Ajillo (GF)
Shrimp, EVOO, Garlic, Cayenne
Cazón en Adobo
Fried Marinated Shark, Mojo Verde
Wine Pairing: Viña Real Crianza 2016 / Tempranillo / Rioja
Third Course
Rabo de Toro
Braised Oxtail with red wine reduction
Presa de Cerdo Ibérico Ahumada
Smoked Pork Shoulder, Papas Arrugadas, Mojo Picón
Wine Pairing: Vatan 2014 / Tinta de Toro / Toro
Fourth Course
Flan de la Casa
Homemade custard, whipped cream, berries
Churros con Chocolate
Traditional Spanish fried dough, chocolate
Wine Pairing :Bertola Minium / Jerez
About Lucia Rubial:
Lucía Ruibal Choreographer and Flamenco Dancer
"My dance comes from a mixture of styles that I performed while I was growing up. I try to search for the emotion expressed in each dance I perform, and in this way, I forge my own style."
Lucía Ruibal was born in Santa María (Cádiz). She studied classical ballet for fourteen years at the Conservatorio de Danza de Cádiz. While there, she also studied flamenco with master teachers such as Natalia Acosta, La Lupi, and Mercedes Ruiz.
She received an Advanced Bachelor's Degree in Flamenco Dance and Choreography from the Conservatorio Superior de Málaga (Advanced Conservatory of Málaga). Currently, Ms. Rubial has been enjoying a wide variety of appearances as a soloist and choreographer in a variety of productions, such as, "Maramente", which was Her first company presentation, "Flamenco de Hoy" with Carlos Saura, "Dionisio, la vid de las mil y una noches", with Rafael Amargo, Clitemnestrara" with the Producciones Equivocadas Company, "Al son de Ida y Vuelta", with the Company of David Nieto, And "Caminos de España" with Spanish Brass. Her intimate appearance was "Casa Rubial", in Which she shared the stage with her father, the guitarist Javier Rubial, and her brother, the percussionist, Javi Rubial.
She also performed in the productions "Junca" and "Tauromagia" directed by Mercédes Ruiz, and 'Los sones negros" the current production was created by the dancer Juan de Juan.
Throughout her professional career, Ms. Rubial participated in many festivals as well as flamenco tours. She began touring with The Casa Patas Foundation in 2017 which took her to Algiers, Tunisia, and Egypt where she performed in the production "Tacones Bordones", created by Rubén Puertas. She also performed at the FIA Festival in San José, Costa Rica, at the Circo Price in Madrid, at the Festival Flamenco Atlántico in Estoril, and in Flamenco Festival Wien, as well at the Flamenco Festival Traun, in Vienna, in the "La isla ciudad flamenco" series. Her most recent artistic collaboration was with the famous Spanish pop group Amaral in which she starred in the video "Soledad.
We are looking forward to seeing you on Sunday, November 13th for this exclusive event.
If you have any questions about the Menu or you have any Dietary Restrictions please let us know in advance. Thank you for your support.