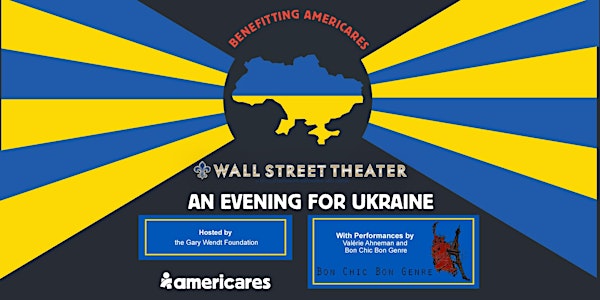 Location
Wall Street Theater
71 Wall Street
Norwalk, CT 06850
Join Americares for an evening dedicated to recognizing the humanitarian crisis in Ukraine.
About this event
Please join Americares for an evening dedicated to recognizing the humanitarian crisis in Ukraine. The proceeds from this event will benefit Americares, a health-focused relief and development organization that saves lives and improves health for people affected by poverty or disaster. Americares emergency response teams are on the ground in Poland, supporting health services for families affected by the humanitarian crisis in Ukraine. Americares has already shipped more than 110 tons of medicine and relief supplies to Ukraine valued at over $15.6 million, and more shipments are planned.
This event will feature performances by Valerie Ahneman and Bon Chic Bon Genre, as well as the Ukrainian National Anthem performed by Iryna Lonchyna.
We will hear opening remarks from Jenny Goldstein, SVP and Chief Development Officer, Americares.
Doors Open: 7:30 p.m.
Ticket Cost: $50
Donations: https://www.americares.org/SupportingUkraine
Sponsorship Levels:
$100,000 – Champion
Can bring critical health infrastructure to a disaster zone: A tent structure to store and protect medicine and serve as headquarters for a team of first responders in addition to mental health training for 100 health workers.
(2) seats on the 35th Annual Americares Airlift Benefit Flight to Puerto Rico on Saturday, October 1, 2022
Exclusive use of Opera Box (8) seats* with personal bartender for the duration of the performance
Prominently listed in Evening for Ukraine program
Listed on digital and in-person signage
$50,000 – Benefactor
Can cover full operation of an emergency medical team during a disaster for a day – that's 20 experts who can treat at least 50 disaster survivors every day.
Exclusive use of Opera Box (6) seats* with personal bartender for the duration of the performance
Admittance to Exclusive Meet and Greet with Former Miss. Ukraine
Listed on digital and in-person signage
$25,000 – Ambassador
Can put a generator in a disaster zone – after a hurricane or earthquake – to power equipment like coolers, diagnostic equipment and communications.
(10) Premium Seats for the performance
Prominently listed in Evening for Ukraine program
Listed on digital and in-person signage
$5,000 – Humanitarian
Can put a medical go-bag into the hands of a first responder. The contents of this bag are designed for the first 72 hours of emergency – with everything to treat 50 people a day in those critical first hours.
(5) Premium Seats for the performance
Listed in Evening for Ukraine program
Listed on digital and in-person signage
$500 – Compassion
Can add a satellite phone for emergency responses in a disaster zone – communication is critical – where is help needed, what help is needed? It's a call that saves lives and you can make it happen.
(5) General Admission seats for the performance
Listed on event collateral + program
$50 – Partner
Can help deliver essential infection prevention and control supplies such as hand sanitizing wipes for families and health centers.
General Admission for (1) to Evening for Ukraine
Please make checks payable to Americares Evening for Ukraine, and mail to:
Americares – 88 Hamilton Avenue; Stamford, CT 06902 Attn: Evening For Ukraine
Stock payments – please contact Vanessa Bendinelli (203) 658.9586 or
Sarah-Elizabeth Fonts (203) 658.9687
Many donor advised funds DO NOT ALLOW grants to be used for events. Please check with your provider for restrictions.
To be listed on our event collateral, sponsorship must be secured by June 5, 2022.
*Please note that the Opera Boxes at the Wall Street Theater are not ADA compliant and equivalent substitutions can be accommodated at these levels.
ABOUT JENNY GOLDSTEIN:
Goldstein brings to the position more than 20 years of experience in resource development and international and domestic program management. Prior to being named senior vice president and chief development officer, Goldstein served as vice president of individual philanthropy for Americares where she oversaw a team of development professionals stewarding relationships with supporters nationwide.
Prior to joining Americares in 2016, Goldstein served as the director of development at Digital Divide Data, a social enterprise organization that delivers digital content, data and research services to its clients while creating sustainable tech opportunities for low-income families in Kenya, Laos and Cambodia. Prior to that, she served as the director of donor engagement at American Jewish World Service where she was responsible for managing a portfolio of major donors and overseeing international donor and volunteer service trips."
ABOUT IRYNA LONCHYNA:
An "Honored Artist of Ukraine" and winner of many national and international awards and song and music contests, this superstar pop singer started singing, studying music and performing in the fourth grade. She has been a featured singer in many concerts, radio and television programs and festivals throughout Ukraine, Europe, Canada and the United States. She not only sings known traditional and modern songs, but also composes and arranges her own lyrics and music. She has authored no less than three albums: The "Strings of Love" (2006), "DoNot Forget Me" (2010); and "A Bouquet of My Songs" (2015). Among her immensely popular songs are: "Forget Me"; The Days Go By"; and "This is My Ukraine". Visit Ms. Iryna's facebook Page, https://www.facebook.com/iryna.lonchyna, and view her videos on YouTube: https://m.youtube.com/watch?v=ifJt-PopRyMand https://youtu.be/e7Qv08weCD4
ABOUT BON CHIC BON GENRE:
Jay Sweeney: Piano player, songwriter, singer and producer, Jay has had the opportunity to work with greats such as Bo Didley, Laura Branigan, Whitney Houston, The Tokens, Ray Charles, Rod Stewart among many others. While living in NYC, Jay's funky and melodic band packed the house every Monday night at Arthur's Tavern for well over 11 years. He also spent 6 years as house keyboardist for world famous CAFÉ WHA BAND. He was featured as a regular pianist/sidekick on the RUPAUL show. Jay has a very unique style and is a wonderful entertainer, whether as a musical director in a band or as a solo pianist.
Valerie Ahneman: French-born singer Valerie provides the French vocals for her band Bon Chic Bon Genre., which offers a change-of-pace ambiance from the usual cabaret sound evoking French flavors. She performs her show entitled "Souvenirs: 50 years of French and American Signature Songs" at colleges, libraries, festivals and private events. She also appears as a guest vocalist at different productions in the tri-state area. She was in the quarter finals of the show "Belgium's Got Talent' in Brussels, Belgium, a spinoff of the American show, "America's Got Talent". Valerie has collaborated with Jay Sweeney, her musical director and arranger on various projects, including her Christmas show with a French Twist, leading to various recordings available on social media platforms
Patrick Perone: Patrick Perone's incredible tribute to Elvis has made him one of the most sought after and popular Elvis Tribute artists in the New York area. He began his Elvis Tribute performances in 2007 in the Westchester music scene.
Thayer Barkley: Thayer began performing at the age of nine. Her experiences have included singing lead and background vocals for various R&B, Jazz and Gospel Groups. While in high school, Thayer was already recognized for her outstanding harmony and vocal abilities, and was selected for a program called "InterArts" where she received 3 years of accelerated musical training at Sacred Heart University in Fairfield, CT.
Harvey Morris: Harvey is an Emmy Award winning producer, songwriter, vocal arranger, professional drummer, actor and videographer. He has shared the stage & worked on projects with Stevie Wonder, Cameo, Ceelo Green, Adam Levine, Mos Def, The Main Ingredient featuring Cuba Gooding, Freddie Jackson, GQ, A Taste of Honey, Bobby Humphrey, Taylor Dayne, among many others. In his acting debut, Mr. Morris had the opportunity to work with Film Director, John Carney, actors Mark Rufflo, Keira Knightly, Catherine Keener, Hailee Steinfeld and Ceelo Green in the movie (Begin Again) which was released in the summer of 2014. In 2017, he had the wonderful privilege of working with Film Director, Michael Gracey, actors Hugh Jackman, Zac Efron, Zendaya, Yahya Abdul-Mateen II and Natasha Liu Bordizzo, in the movie, "The Greatest Showman." Most recently, Harvey has appeared in the Netflix series The Marvelous Mrs Maisel.
Flip Peters: Philip "Flip" Peters has been performing as a guitarist and singer since the early 1970s. As a member of the New York club date scene, Flip has been a house musician at The Rainbow Room at Rockefeller Center, The World Trade Center, The Plaza Hotel, The Waldorf Astoria and many other top venues in the New York area. He has performed with many of the top freelance Jazz and Classical musicians in the New York Metro area. Flip is bilingual and sings French and American standards. In addition to his busy playing schedule Flip maintains an active teaching practice, teaching classical and jazz guitar in several private schools and at County College of Morris.