An Evening at the House of the Temple Banneker Birthday Event.

Wednesday, November 9, 2011 from 6:00 PM to 10:00 PM (EST)
Event Details
Drs. Boyce Watkins and Bob Hieronimus Headline at the House of the Temple as the Washington Interdependence Council Inaugurates its Dialogue on Race Series.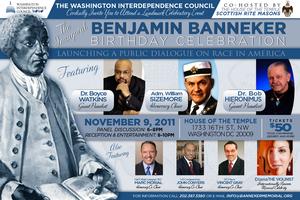 Washington, DC, Nov. 2, 2011 – DC Mayor Vincent Gray will be on hand to welcome Dr. Bob Hieronimus, celebrated author, artist, radio talk show host, as he joins America's top ranked black speaker, Dr. Boyce Watkins, who is the Chief Editor of AOL's Black Voices, television host, and college professor, in an Evening at The House of Temple on Wednesday, Nov. 9, from 6:00 to 10:00 p.m. The event is in celebration of Benjamin Banneker and Thomas Jefferson's exchange of letters which spurred a conversation on race in America over 200 years ago.   The Washington Interdependence Council is pleased to have Admiral William Sizemore, Grand Executive Director of the House of Temple, Scottish Rite Masons, as Honorary Chair of the Inaugural Event launching WIC's A Dialogue on Race in America series. 
On August 19, 1791, Banneker wrote his famous letter to Thomas Jefferson addressing the imperfections of the Declaration of Independence as it did not include the freedoms of African-Americans.  Jefferson responded back expressing high hopes for better race relations in America while informing Banneker that he was forwarding a copy of his almanac, which he had enclosed with his letter, to the Marquis de Condorcet at the Academy of Science in France.  These letters of exchange marked the beginning of a dialogue on race in America. The evening's program, which features a panel of brilliant and dynamic social commentators, will examine where we were are as relates to race relations, and offer suggestions as to what avenues we need to take towards reviving a serious dialogue on race relations now as we move forward in the 21st century.
Join us as we enjoy an evening of stimulating discourse and fun.
Let's celebrate the life, and birthday, of
America's First Black Man of Science and
A Man of Many Firsts
202.387.3380
When & Where

House of the Temple
Scottish Rite Masons
1733 16th St., NW
Washington, DC 20009


Wednesday, November 9, 2011 from 6:00 PM to 10:00 PM (EST)
Add to my calendar
Organizer
Administrators of the Benjamin Banneker Memorial and the
Benjamin Banneker Institute of
Math & Science.