An Evening at the Grolier, With Poet TINO VILLANUEVA, "So Spoke Penelope"
About this Event
THE GROLIER POETRY FOUNDATION AND FORUMS TRUST
Presents an Evening at the Grolier…
Featuring Poet TINO VILLANUEVA, Reading from So Spoke Penelope, 
Published by the GROLIER POETRY PRESS
Take a step off Plympton Street, walk through the doors of our Book Shop, and into the rich cultural world of the Grolier. The Grolier has been a home to poets and those who love poetry for almost a century. The walls of the Grolier are lined with photographs of our friends, and of poets who have read for us when we first opened in 1927, through the present. The legacy of all the poets who have read at the Grolier is palpable within these walls, bringing poets past and present together in our historic Book Shop.
Copies of So Spoke Penelope will be available and may be purchased with your ticket or at the event. Books will be signed by the author.
A RECEPTION WILL FOLLOW. 
Our reception will include music, Italian and Spanish food, Prosecco and fine wine, and dessert.
TICKETS ARE LIMITED. IF YOU WOULD LIKE TO ATTEND THIS EVENT, BE SURE TO PURCHASE YOUR TICKETS EARLY TO RESERVE YOUR SPACE. 
Please join us during this evening of celebration and support. You may also purchase a copy of SO SPOKE PENELOPE on our website or with your ticket. If you are unable to attend, please consider making a donation either through Eventbrite, or on our website: http://www.grolierpoetrybookshop.org/Donations.html
Your donation will support our cultural work.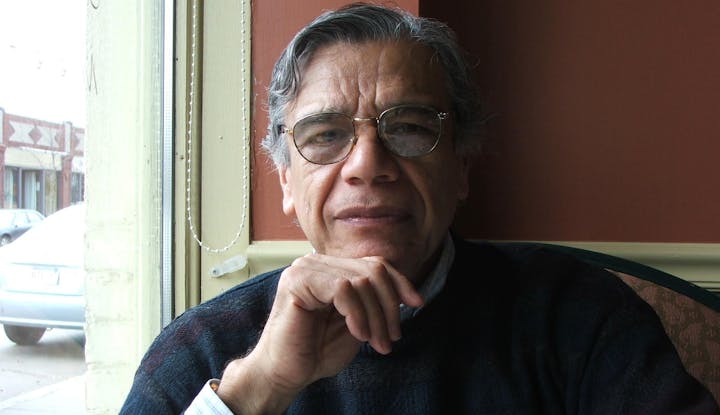 About the Author, Tino Villanueva
Tino Villanueva is the author of seven books of poetry, including Scene from the Movie GIANT (1993), which won a 1994 American Book Award. Six of his poems appear in The Norton Anthology of Latino Literature (2011). His latest, So Spoke Penelope (2013), has been translated into Italian and Spanish. One of his ekphrastic poems appears in the March 2016 issue of Poetry magazine. He recently retired from Boston University.
So Spoke Penelope has been translated into Spanish and Italian, with Greek and French translations underway. Maria Azucena Lopez Cobo will read excerpts from the Spanish translation. Livia Meneghin will read excerpts from the Italian translation.
About So Spoke Penelope
"...For what we have in So Spoke Penelope is a work many years in the making, a work indicative of a hard-won recognition on the poet's part, (as Werner Sollors has put it) that 'the whole range of human experience is contained in Penelope at Ithaca' ...With wisdom and an adept style, Villanueva has managed in this work to negotiate his way through the many polarities that bedevil us–– male vs. female, West vs. non-West, old times vs. new times."
-Ifeanyi Menkiti, Editor, Grolier Poetry Series & Director, The Grolier Poetry Foundation and Forums Trust
PURCHASE YOUR COPY OF SO SPOKE PENELOPE:
SUPPORT OUR MISSION.
Join us. If you are unable to attend but would like to support us, please consider making a donation so you can help us with our mission of keeping poetry alive, and celebrating the unifying voice of poetry.
As longtime poet friend David Ferry has said:

"The legend of the Grolier must continue so that poets, readers, and any who stop by can continue to experience the center of its magic world, that world inside the walls of the Grolier."
Join us. Become part of our legend. 

ABOUT US: The Grolier Poetry Foundation and Forums Trust is a 501(c)(3) organization. The Foundation, which serves as the anchor for the work of the Grolier, is the tax entity established to preserve our impressive legacy of cultural work. Originally formed as a private operating foundation, we are now transitioning to a public charity, and rely on fundraising activities like support from friends, donors, grants, and events to continue our mission. The Grolier Poetry Book Shop and the Grolier Poetry Press both support the Foundation's mission which is to keep poetry alive and to celebrate the unifying voice of poetry.