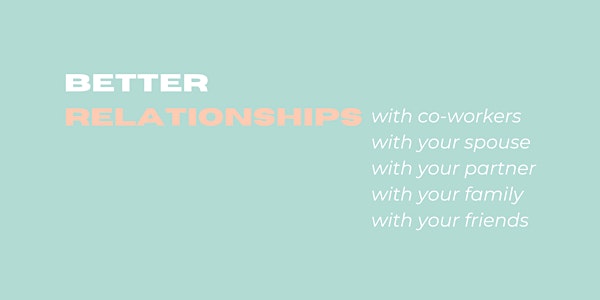 An Effortless Guide to Better Relationships
Learn about what gets in the way of the relationships we want to have. The change you will notice will be effortless and sustainable.
About this event
Do you also wish you had better relationships with people in your life?
We spend the majority of our week at work, often working with others. When the relationship to those people isn't great, it feels like it impacts our experience of work. Imagine if things could go smoother, there was less conflict and more peace at the workplace!
So many of us could benefit from smoother and kinder relationships with our spouse or partner. Imagine if conflict was dealt with in a more positive way and there was less stress and more love?
Relationships with family can be both beautiful and difficult. These are people we are often very close to but didn't choose. For many of us this involves triggers from childhood. What if these relationships could shift without you needing to confront the other person?
Friendships may not be the first think you think of when it comes to improving relationships, but these, too can often be deepened and improved. While this may not be the reason you decide to join this workshop, it may be a side effect you notice from participating.
My name is Samara and I am a certified transformational coach. Over the last years I have experienced a lot of shifts and growth within myself through my training as well as all of the workshops I have attended, books I have read and experimentation I have done within my own life. The thing that has really shifted the quickest and the most is my relationships with others. I have come to understand things about my own mind, how my experience is created and what has gotten in the way of me relating to people in my life the way I had wanted to.
I have been inspired for a while to create a workshop around this, as I believe this is a huge part of humans having a more enjoyable experience of life day to day.
This workshop will be informative, practical (with exercises) and hopeful.
What you take away with you from this workshop could allow shits to happen without much effort on your part (crazy, right?). Change is a lot easier than most of us think.
If you have any questions, feel free to reach out anytime.
I look forward to seeing you in the workshop!
Samara