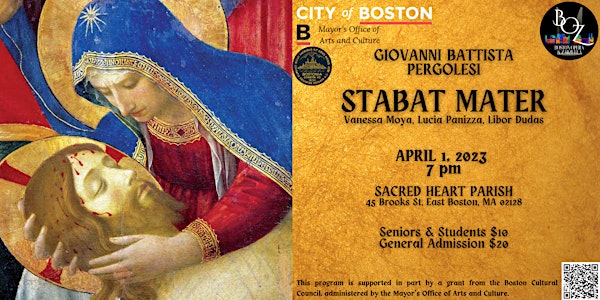 An Early Music Concert - Stabat Mater, G. B. Pergolesi
An Early Music Concert of Pergolesi's Stabat Matter by mezzo-soprano Vanessa Moya, soprano Lucia Panizza, and pianist Dr. Libor Dudas.
By Boston Opera & Zarzuela
When and where
Date and time
Saturday, April 1 · 7 - 8pm EDT
Location
Sacred Heart Parish 45 Brooks Street Boston, MA 02128
Refund Policy
Contact the organizer to request a refund.
Eventbrite's fee is nonrefundable.
About this event
An Early Music Concert of Pergolesi's Stabat Matter by mezzo-soprano Vanessa Moya, soprano Lucia Panizza, and collaborative pianist Dr. Libor Dudas.
Pergolesi's Stabat Mater is an Early Music masterpiece divided into twelve movements, including solos and duets sung by a soprano and an alto.
The Stabat Mater is a 13th-century Christian hymn to Mary, which portrays her suffering as Jesus Christ's mother during his crucifixion. The title comes from its first line, "Stabat Mater dolorosa", which means "the sorrowful mother was standing".
This hymn has been set to music by several Western composers, including Giovanni Battista Pergolesi who composed this magnificent work of art in 1736.
Dr. Libor Dudas, Historical Performance, pianoA native of Croatia, Libor Dudas began his piano studies at the age of 8. His professional career began at 14 when he gave his first organ recital in his hometown of Osijek. This was soon followed by performances in major cities of the former Yugoslavia and East Germany. A scholarship took him to the Hochschule für Musik und Darstellende Kunst in Vienna, Austria, to study organ and liturgical music. While in Austria he performed in Vienna, Innsbruck, and extensively throughout Bavaria and Italy. Upon receiving his Diploma with Distinction, Dudas moved to the United States to further his studies at the University of Notre Dame, where he received his Master's in Music. He went on to receive a Doctorate of Musical Arts in organ performance at the New England Conservatory of Music in Boston.
Dr. Dudas has studied organ with Rudolph Scholz, Craig Cramer, Gail Walton, William Porter, and Peter Sykes. He has premiered organ compositions by Boston composers James McDonald and Felipe Lara. His recording of Elgar's "Vesper Voluntaries" can be heard on the CD "Historic Organs of Boston" published by the Organ Historical Society. Dudas has been the Organist and Choir Director at Boston's Old North Church since 1998.
Dudas has studied harpsichord with Darlene Catello, Edward Parmentier, and Peter Sykes (with whom he also studied fortepiano). He recorded and premiered the harpsichord piece "Summer Mischief" by Michigan composer Matthew H. Fields. He has also studied conducting with Jeffrey Rink, Director of the Chorus Pro Musica, Boston.
As a harpsichordist, fortepianist and organist, Dr. Dudas has given numerous concerts throughout North America and Europe. Recent recitals on the fortepiano have included programs of Mozart and Beethoven sonatas and variations. He has presented a series of master classes in historical performance practice at the Music Academy in Osijek, Croatia. Most recently Dr. Dudas has performed recitals on harpsichord and organ in Austria, Croatia, Germany and Hungary.
In addition to being a solo keyboard instrumentalist, Dr. Dudas is also active as a vocal coach and collaborative pianist and teaches at the Longy School of Music, Boston Conservatory, and the Boston Archdiocesan Choir School. He previously served as the music director of the Fine Arts Chorale, where he conducted major works by Kodaly, Mozart, Mendelssohn, Schubert, Handel, Haydn, Poulenc, Langlais, Faure, Bernstein, Orff and Brahms.
Vanessa Moya, mezzosoprano Vanessa Moya is a Latina mezzo-soprano based in Boston who expertly uses her voice to sing music of both the past and present. A flexible artist comfortable in many styles and settings, she can regularly be seen and heard singing everything from contemporary opera to Handel oratorios.
Vanessa has performed across all eras of operas, including the roles of Gertrude Stein (After Life), Dritte Dame and Dritte Knabe (Die Zauberflöte), Cornelia (Giulio Cesare in Egitto), Cherubino (Le Nozze di Figaro), and L'enfant (L'enfant et les sortilèges). As an oratorio soloist, she has performed The Messiah, Vivaldi's Gloria, and as Mercurius in a staged production of J.S. Bach's Phoebus und Pan. Her upcoming performances include Caroline Norton (Angels of the House), Candelas (El Amor Brujo), Third Lady (The Magic Flute), and Arsamene (Serse). Vanessa holds a B.M. from Stetson University and will soon graduate with her M.M. from Longy School of Music of Bard College.
Lucia Panizza, sopranoLucia Panizza is a Uruguayan-American soprano, who graduated from University of Florida with the highest honors, as well as from Universidad de la República. In Uruguay, she attended Escuela Nacional the Arte Lirico, SODRE, and the Escuela de Música Vicente Ascone. The soprano was awarded two full scholarships by the Uruguayan Association of Musicians (SUDEI), and was later chosen to take part at a summer program at the Instituto Superior del Teatro Colon (Buenos Aires, Argentina). In the United States, she has engaged with The Opera Atelier, Miami Lyric Opera, Miami Classical Music Festival, Florida Opera Prima, La Zarzuela Inc., and Florida L'Opera & Zarzuela performing in their programs, concerts, and full productions. Furthermore, she participated actively in international summer opera programs including the European Music Institute in Vienna, and the Russian Opera Workshop. She also attended numerous Master Classes with such notables as Francisco Araiza, Ghenady Meirson, Juliana Gondek, Frederica von Stade, Deborah Voigt, Jake Heggie, and Manny Perez, among others. She is currently completing a Master of Music Degree in Vocal Studies at Longy School of Music in Boston, MA.
More About this Piece
"Pergolesi was never more popular than in the first generations after his early death, when his intermezzo La serva padrona (The Servant Mistress) sparked the Querelle des Bouffons in Paris and publishers found that attributing even the most lackluster music to Pergolesi would guarantee sales. Dying young may have placed the ultimate limit on his personal success, but it only enhanced Pergolesi's posthumous romance. His intimate deathbed piece, the Stabat mater, grew with his legend: In 1776 Hiller arranged it for four voices, added woodwinds, and "improved" the harmony; Paisiello and Salieri further augmented it; and by 1831 Alexey L'vov found that only full orchestra, chorus, and soloists would do for the imperial court chapel in Russia.
In purely functional terms however, Pergolesi's Stabat mater is vocal chamber music, not intended for public church services but for the private worship of a noble fraternity in Naples, the Cavalieri della Virgine de' Dolori. This brotherhood had been using Alessandro Scarlatti's Stabat mater for their Good Friday observances for a generation and desired a more stylistically up-to-date replacement.
Pergolesi accepted the commission, but was in poor health, as he seems to have been for most of his life. Pergolesi's two brothers and sister died in infancy, and the fact that he was confirmed when barely a year old suggests that he may have been critically ill himself at the time. A sketch by the Roman caricaturist Leone Ghezzi, done probably about two years before Pergolesi's death, shows the composer with a deformed left leg, and early accounts say he had tuberculosis.
In any case, his condition seems to have worsened in 1735. Pergolesi scored a modest success in Naples with the three-act comedy Il Flaminio, staged at the Teatro Nuovo in the autumn, but by November he was too weak to complete a serenata commissioned for the wedding of Prince Raimondo di Sangro. Early in 1736 he withdrew to the Franciscan monastery in the spa town of Pozzuoli, near Naples. Judging from the dispositions he made of his limited property, he did not expect to live long, and he died March 16, barely two months after his 26th birthday.
He did, however, complete the Stabat mater and a Salve Regina while in the monastery – it is uncertain which was his final work. Much of this account is unconfirmed legend, although the stories began almost immediately, and Alfred Einstein states that the manuscript of the Stabat mater shows clear signs of haste, at least in the final movement.
The liturgical use of the 13th -century poem "Stabat mater dolorosa" has varied over the centuries, and it has been set in the prevailing styles of every era. In Italy in the 18th century, the text was quite often set as a sort of chamber cantata with its own tonal unity, as in the setting by Pergolesi. The metrical poem is composed in pairs of three-line versicles rhymed aab - ccb, but in practice composers split the verses freely.
Indeed, Pergolesi creates an amazing variety of sounds and moods from this very formal text and his quite restrained forces. (Two solo voices, strings, and, in this edition, a continuo group of organ and lute. There are often only three real parts, with the violins doubling the voices and the violas doubling the bass line.) The first four movements of his setting each take only a single three-line versicle. The fifth movement is a big duet for which Pergolesi uses three versicles, the first two set in C minor as a cantilena over a throbbing accompaniment. Pergolesi begins the third versicle almost as an operatic cabaletta, changing meter and key, although he brings it back quickly enough to C minor, even including a strange noodling passage over a dominant pedal before the close.
Two arias follow, returning to Pergolesi's main aria texture of unison violins doubling the voice part, with frequent recourse to word painting. Pergolesi suggests the contrapuntal rigors of a three-voice fugue in the ensuing duet, however, allowing the bass line to participate. The composer takes the opportunity to paint the word complaceam ("might please") with burbling musical joy and aspiration.
The ninth movement is a large duet in E-flat major using five versicles. The ensuing alto aria, in G minor, sets two versicles, each different but related, and each imbued with starker drama of Passion music. The tenth movement also sets two versicles, the first as a soprano solo, the second as a duet. The dancing jauntiness of this piece, in B-flat major, reflects joy and confidence in the protection of the Virgin and the cross, leaving the observer "cherished by grace."
The final number is a duet, back in the F minor of the opening and the somber atmosphere of the Passion. The voices sing this final prayer on points of imitation against an accompaniment of flowing arpeggios. The Amen is the point where a grander piece would break into a double fugue, and Pergolesi fakes one quite ingeniously despite working with only three real parts, the violins again doubling the voices. There is even a miniature, proto-Beethovenian coda.
For musical progressives, this was the most stirring music imaginable. Padre Martini was only one of many conservatives, however, who found little to distinguish the Stabat mater musically from the comic La serva padrona. The musicologist Johann Nikolaus Forkel wrote that the "atmosphere of piety and devotion with which [Pergolesi] has been able to enshroud this composition has deceived the uninitiated amateur with its hypocrisy, and has won a fame for itself which is quite undeserved."
That was a rather bold statement from one of the early biographers of Johann Sebastian Bach, since Bach himself – hardly an uninitiated amateur – valued the work highly enough to arrange it for his own use in Leipzig within ten years of its composition. Bach adapted the penitential Psalm 51, "Tilge, Höchster, Meine Sünden," for the German text, and took Pergolesi's music mostly as he found it. He did liberate the viola part from its doubling of the bass line, and made rhythmic alterations as needed for the new text. He even composed new music where he felt the need, most notably extending Pergolesi's Amen fugue to twice its original length.
That should be the ultimate imprimatur, if any were truly needed. The gracefully balanced phrases, the clarity, and the operatic expressivity that so entranced the most modern musicians of the time were built over solid Baroque forms and enriched with enough polyphonic detail to please the most fastidious of masters. Bach surely appreciated both the pre-Classical lyrical plasticity and the old-school fundamentals that have continued to sustain this piece so popularly in the repertory. "
— John Henken
About the organizer
At Boston Opera & Zarzuela, a non-profit organization for the Performing Arts, we strive to enrich the cultural landscape within our community through performance, research, and education of the vast lyric repertoire, including Opera, Zarzuela, and Oratorio.
We inspire audiences of all ages through our performances and at the same time we educate the audience in the history and background of our beloved Performing Arts, thus contributing to the preservation and development of our musical heritage.
It is also an important part of our mission to provide singers of all ages and diverse backgrounds with the opportunity of developing and growing their artistic skills. From the young to the seasoned artist, everyone has an opportunity to audition and volunteer at Boston Opera & Zarzuela.
We are committed to counting on a multicultural and multiracial team, where individuals with diverse life experiences, gender orientations, and backgrounds are represented equally, thus improving and developing the interpretation of our music heritage, its style, and social impact.
We provide equal opportunities and fair treatment for all, regardless of race, ethnicity, national origin, gender, sexual orientation, socio-economic status, religion, age, or disability status. Newcomers to our art form are encouraged to contribute to our programming and are included in the decision-making process.