Description
An Early American Christmas:
Part of the Tasting at Dumbarton Series
Thursday, December 10, 2015 at 6 pm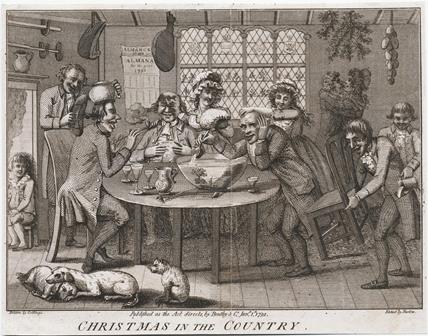 Christmas in the Country, 1791. Collings and Barlow
Learn about the traditions that have shaped how Americans have celebrated Christmas over time, from the Colonial days, to the age of the new republic, to the Victorian days. You'll discover that Puritans deemed Christmas Day as the perfect day to butcher hogs whereas those on the plantations in the South celebrated with food, music, dancing and games. The history of those notable Christmas candies, cakes, breads, drinks, and cookies will, of course be included in this culinary journey of the Christmas holiday. Participants will have the chance to taste an original version of a sugarplum, a Twelfth Night cake, a classic Christmas cookie, and for a beverage, spiced wassail!
---
This program will be held in the museum's Belle Vue ballroom. Please enter into the ballroom through the lower terrace. Dumbarton House is handicapped accessible, and there is limited parking behind the garden at 27th & Q Streets, NW.