An Astrology Update for January - June 2013

Thursday, January 24, 2013 from 7:00 PM to 8:30 PM (EST)
Event Details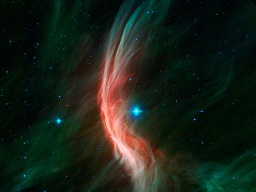 2013: A Changing Perspective ~ Phase 2
with Astrologer Pam Younghans
and Wellness Educator Elsie Kerns
Thursday, January 24, 2013
Teleclass will be Recorded for Replay
7pm to 8:30pm EST
(4pm to 5:30pm PST | 5pm to 6:30pm MST
6pm to 7:30pm CST)
Fee: $25
NOW

that we have reached the end of 2012, many are wondering "where to now?" Without that mountain peak to aim for and work toward, where does our trail lead?
AS WE MIGHT EXPECT,

there is not one concrete answer to that question that will be true for all of us. But, the planets tell us that 2012 has really only been the first phase of a major shift in our world, not the endpoint.
THROUGHOUT 2012

, and indeed, for many years prior, we have had a sense that something BIG has been underway on energetic/spiritual levels. Life experience has seemed to corroborate that internal knowing, as many of us have gone through a rapid succession of life-changing events.

As a result, we have been feeling a bit like the "runaway star" Zeta Oph, shown above, which is moving through space
at the rate of 15 miles (24 kilometers) per second.
My upcoming teleclass "2013: A Changing Perspective, Phase 2"

will
talk about what's going on astrologically for the first six months of 2013, which includes the next exact Pluto-Uranus square and a rare three eclipses in April and May. You have the option to join me via Webcast, Skype or Live on the call. The teleclass will be recorded so if you can't listen that day and time, you will receive the replay link.
We hope you will join us!
Organizer
Elsie Kerns as Wellness with Elsie offers educational webinars, tele-classes, Worksite Wellness, Energy Medicine Seminars/Coaching and Private Sessions. www.wellnesswithelsie.com