An artist, a farmer and a scientist walk into a bar...
Description
For his first work in Australia, presented by Kaldor Public Art Projects and Carriageworks, artist Asad Raza has collaborated with environmental scientists, biologists, gardeners and artists to develop a project that functions as a complex living network.
To mark the closing of this collaborative project, Kaldor Public Art Projects and Kandos School of Cultural Adaptation present the latest instalment of the ongoing series, An artist, a farmer and a scientist walk into a bar...
Within the immersive environment of The Clothing Store, landscape architect, educator and host Costa Georgiadis sits at the "bar" with artist Ian Milliss, farmer Erika Watson (Epicurean Harvest), scientist Tim Cavagnaro (University of Adelaide) and Imogen Semmler (artist, scientist and farmer) to discuss their diverse collaborative projects and the intersections between the three disciplines.
An artist, a farmer and a scientist walk into a bar... is a platform for productive collaboration and exchange. While each project has a unique focus, all are anchored by strong engagement with regenerative models of farming, rural/urban interactions, and the potential of arts-led collaborations to inspire fresh approaches to the environmental challenges we face today.
Join us on the evening of the Federal Election to share freshly harvested wild food, drinks and stimulating conversation on pressing environmental issues and the importance of collaboration and community.
Entry to the event costs $35 and includes food and drink.
Food prepared by Forage to Feast, a collaboration between renowned forager and environmental educator and KSCA member Diego Bonetto and stylist, designer, foodie and weed convert Marnee Fox.
Drinks provided by Trolley'd, who work in collaboration with Diego Bonetto to distil liquors infused with foraged weeds.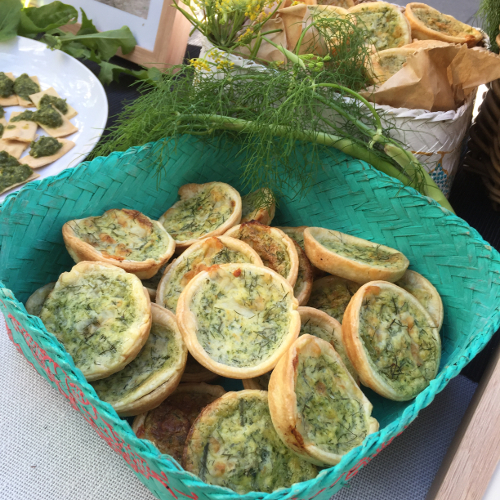 Image credits: Main photo by Chris Chen. Above photo by Marnee Fox.
FAQs
Who is appearing?
The panel will be moderated by Costa Georgiadis, landscape architect, educator and television presenter.
Speakers are:
Ian Milliss, artist
Timothy Cavagnaro, Associate Professor, School of Agriculture, Food and Wine, University of Adelaide
Erika Watson, co-owner, Epicurean Harvest
Imogen Semmler, creative producer, artist and emerging scientist


FAQs
What are my transportation/parking options for getting to and from the event?
Parking in the area is limited, and public transport is recommended. For more details on the venue, transport and accessibility, please visit the Carriageworks website.
Please note that the project is not fully wheelchair-accessible. A beach wheelchair is available for wheelchair users. Please see project staff for assistance on arrival.
Organizer of An artist, a farmer and a scientist walk into a bar...

The Kandos School of Cultural Adaptation (KSCA) is a group of artists and writers who came together to explore the idea of adaptive cultural change. Many of KSCA's activities revolve around the post-industrial town of Kandos, Wiradjuri country, in the Central West of NSW. However its members come from many places, and its projects bridge urban, regional and rural Australia. The current members of KSCA are Diego Bonetto, Sarah Breen Lovett, Laura Fisher, Gilbert Grace, Lucas Ihlein, Belinda Innes, Eloise Lindeback, Christine McMillan, Ian Milliss, Georgie Pollard, Kelly Reiffer, Imogen Semmler, Leanne Thompson, Kim Williams, Alex Wisser. You can read about how KSCA came into being here.

In 2019, Kaldor Public Art Projects celebrates its 50th anniversary and its achievements as the world's first public art organisation. For half a century, Kaldor Public Art Projects has created groundbreaking projects with international artists in public spaces, changing the landscape of contemporary art in Australia with projects that resonate around the world. To stay up to date with Kaldor Public Art Projects events and programs, please sign up to our mailing list here.