Description
What's there to live for?
Who needs the peace corps?
Think I'll just DROP OUT
I'll go to Frisco, buy a wig & sleep on Owsley's floor (F. Zappa)

An afternoon with Author, Friend, Neighbor and Storyteller:


ROBERT GREENFIELD

This appearance will be (mostly*) about Robert's latest book:
BEAR
The Life and Times of Augustus Owsley Stanley III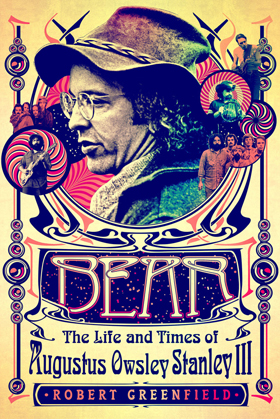 Augustus Owsley Stanley III, better known by his nickname, Bear, was one of the most iconic figures in the cultural revolution that changed both America and the world during the 1960s.
Owsley's high octane rocket fuel enabled Ken Kesey and his Merry Pranksters to put on the Acid Tests. It also powered much of what happened on stage at Monterey Pop. Owsley turned on Pete Townshend of The Who and Jimi Hendrix. The shipment of LSD that Owsley sent John Lennon resulted in The Beatles' Magical Mystery Tour album and film.
Convinced that the Grateful Dead were destined to become the world's greatest rock 'n' roll band, Owsley provided the money that kept them going during their early days. As their longtime soundman, he then faithfully recorded many of the Dead's greatest live performances and designed the massive space age system that came to be known as the Wall of Sound.
Award-winning author and biographer Robert Greenfield's definitive biography of this Grateful Dead legend masterfully takes us through Owsley's incredible life and times to bring us a full picture of this fascinating man for the first time.

From 1970 to 1972 Greenfield was employed as an associate editor with Rolling Stone magazine's London bureau. During this time he interviewed numerous musicians and writers, including Jack Bruce, John Cale, Neil Young, Elton John, Nico, the Rolling Stones, Jackie Lomax, Leon Russell, Stone the Crows,Woody Allen and Germaine Greer.

* Robert also co-authored Anyone Who Had a Heart, Burt Bacharach's refreshingly frank life story that reveals "a sex-obsessed perfectionist whose wives suffered for his art," according to the Guardian. (To that end, an unnamed Library staffer plans to see if Robert can share any insight as to the genesis of the breathtaking musical architecture behind mini-cathedral that is "Joannie's Forever.")
Organizer of An Afternoon with Robert Greenfield!
The Henry Miller Memorial Library is a public benefit, non-profit 501 (c) 3 organization championing the literary, artistic and cultural contributions of the late writer, artist, and Big Sur resident Henry Miller. The Library tries to do as little as possible since we are in Big Sur a place very well suited for doing nothing. It turns out to be difficult however because Henry Miller is egging us on to promote the things he believes make life worth living like good conversation, freedom of thought, good food, sex and art in all its forms; old, new, weird and varied! Welcome!