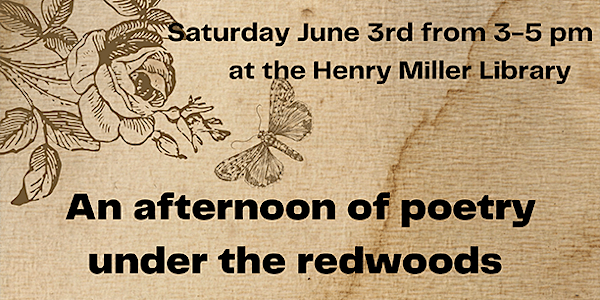 An Afternoon of Poetry
Please join us for an afternoon of poetry with Laura Bayless, Jennifer Lagier, Laura Schulkind, Peter Serchuk and Andrena Zawinski!
By Henry Miller Memorial Library
Date and time
Saturday, June 3 · 3 - 5pm PDT
Location
Henry Miller Memorial Library 48603 Highway One Big Sur, CA 93920
About this event
—An Afternoon of Poetry—
Please join us for an afternoon of poetry, cheese and wine among the redwoods at the beautiful Henry Miller Library with poets Laura Bayless, Jennifer Lagier, Laura Schulkind, Peter Serchuk and Andrena Zawinski. Or—if you are not in the area, you can join us online! Details follow.
When: Saturday June 3 at 3:00 pm
Where: The Henry Miller Library, 48603 CA-1, Big Sur, CA 93920
— or—
Tickets: The event is free and tickets are not required. But, it's great to know whose coming! So if you can, please RSVP here
Questions: Call (831) 238-2890
About the poets:
Laura Bayless is privileged to live in beautiful Carmel Valley and hike nature trails at Point Lobos. She is the author of a collection of poems and personal poetic essays, Persistent Dreams. Laura also explores creativity through collage and photography. She is an Associate Editor of the Monterey Poetry Review and co-edited Passion for Place, stories and poems about the Carmel River.
Jennifer Lagier lives a block from the Monterey stage where Janis Joplin performed and Jimi Hendrix torched his guitar. She has published twenty books, appears in a variety of anthologies and literary magazines, edits the Monterey Poetry Review, and helps coordinate the Monterey Bay Poetry Consortium Second Sunday readings. Website: jlagier.net; Facebook: www.facebook.com/JenniferLagier/
Laura Schulkind has two chapbooks with Finishing Line Press, The Long Arc of Grief (2019) and Lost in Tall Grass (2014), and numerous journal publications. Laura co-hosted the poetry series "Lines Online" for the Henry Miller Library, where she serves on the Board. Laura also co-edited the recently-released Lines Online collection. Learn more at: www.lauraschulkind.com
Peter Serchuk's poems appear in numerous journals and anthologies. His collections are Waiting for Poppa at the Smithtown Diner (University of Illinois Press), All That Remains (WordTech Editions) and The Purpose of Things (Regal House Publishing.) Peter co-hosted the Henry Miller Library Lines Online Poetry Series and co-edited the ensuing collection. Learn more at https://peterserchuk.com/.
Andrena Zawinski lives at water's edge on Alameda Island. Her four full-length books of poetry, several smaller collections, and book of flash fiction have been honored for social concern and spirituality, free verse and form. Praise for her latest collection, Born Under the Influence, with sample poems can be seen at: https://www.wordpoetrybooks.com/zawinski.html.
About the organizer
The Henry Miller Memorial Library is a public benefit, non-profit 501 (c) 3 organization championing the literary, artistic and cultural contributions of the late writer, artist, and Big Sur resident Henry Miller. The Library tries to do as little as possible since we are in Big Sur a place very well suited for doing nothing. It turns out to be difficult however because Henry Miller is egging us on to promote the things he believes make life worth living like good conversation, freedom of thought, good food, sex and art in all its forms; old, new, weird and varied! Welcome!