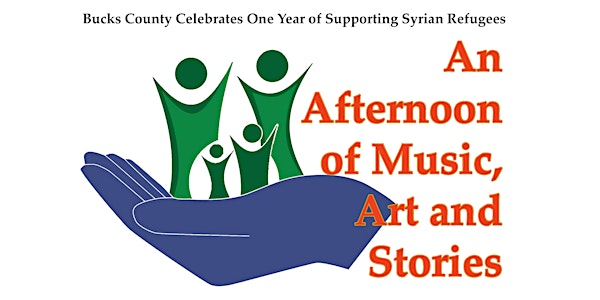 An Afternoon of Music, Art, and Stories: Celebrating Syrian Refugees
Description
Please join us in CELEBRATING a year with two brave young Syrian families,
And in KICKING OFF a second year of loving support.
More than 150 volunteers, donors, and community members have made this past year a wonderful success in helping two Syrian families settle into their new surroundings with trials and triumphs.
This celebration is to thank everyone who has helped to make it a success and to invite others to the rewards of knowing these families and supporting their growth in their new setting.
Your contributions will support *child care while the parents begin new employment, *car insurance so they can drive to work (cars are being donated!), and *continuing to subsidize their rent until they are able to fully take it over, as well as unanticipated needs.
JOIN OUR CELEBRATION

MUSIC: Jeff Dershin, Bucks County keyboard soloist brings a background in classical music, rock, theater, dance, and film to an interactive program for all ages.
Jack Kessler, Stan Slotter and Joe Tayoun will perform a combination of Arabic and Jewish music. Jack, Stan and Joe are members of Atzilut: Concerts for Peace, a unique ensemble that shows the path to peace thru creative collaboration among musicians of different backgrounds.
ART: A magnificent Nakashima table will be sold on LIVE AUCTION to support the Syrian families. Stunning stained glass, quilting, woodwork, ceramics, painting, donated by Bucks County artists and artisans will dazzle the eye and will be sold in our SILENT AUCTION. Do your holiday shopping while you support a wonderful cause.

STORIES: Hear directly from our Syrian families of their triumphs in the past year and their next steps in the coming year
FAQs
PROGRAM
Will I get to meet the Syrian families? Yes, they will be there. And you will see a multimedia presentation about their time in the U.S.

Are children welcome? They certainly are. Children grade school age and above should find the program interesting and enjoyable.
Who are the performers? Jeff Dershin will be our master of ceremonies. He will bring a warmth and charm to drawing everyone into the celebration. Jack Kessler, Joe Tayoun, and Stan Slotter will headline the program with music that speaks to the heart of our work: Jews and Arabs working together to make our world a better place.
ART

How do I participate in the art auction? There will be a live auction of a spectacular Nakashima table, as well as a silent auction with a pieces lovingly donated by Bucks County artists at a wide range of values. You should find something that fits your pocketbook. Come prepared to do some holiday shopping.
Do you take credit cards? We will be able to accept credit cards, checks, and cash.
FACILITIES
Isthe site wheelchair accessible? Yes, it is fully accessible.

Is there parking at this location? Kol Emet has abundant parking.

TICKETS

What if I can't afford a ticket. There is an option to pay what you can. Please come.
Do I have to bring my printed ticket to the event?Yes, please.

Can I update my registration information? Yes.

Is my registration fee or ticket transferrable? Yes.

Is it ok if the name on my ticket or registration doesn't match the person who attends? Yes,
Organizer of An Afternoon of Music, Art, and Stories: Celebrating Syrian Refugees
Bucks County Interfaith Coalition for Refugee Resettlement is an all volunteer group working together to support two  Syrian families.  Moustafa and Amal and their two daughters Yusra, age 4, and Rasha, age 1 1/2, arrived in November 2016.  Weaam and her two sons Sulaiman, age 10, and Abdulrahman, age 8, arrived in January 2017.   Having now gotten settled in their new homes and gained proficiency in English, the families are working toward financial stabililty.