Amy Fairchild, Jesse Terry and Michael Logen in Concert
When and where
Location
Trinity Presbyterian Church of Berwyn 640 Berwyn Avenue Berwyn, PA 19312
Description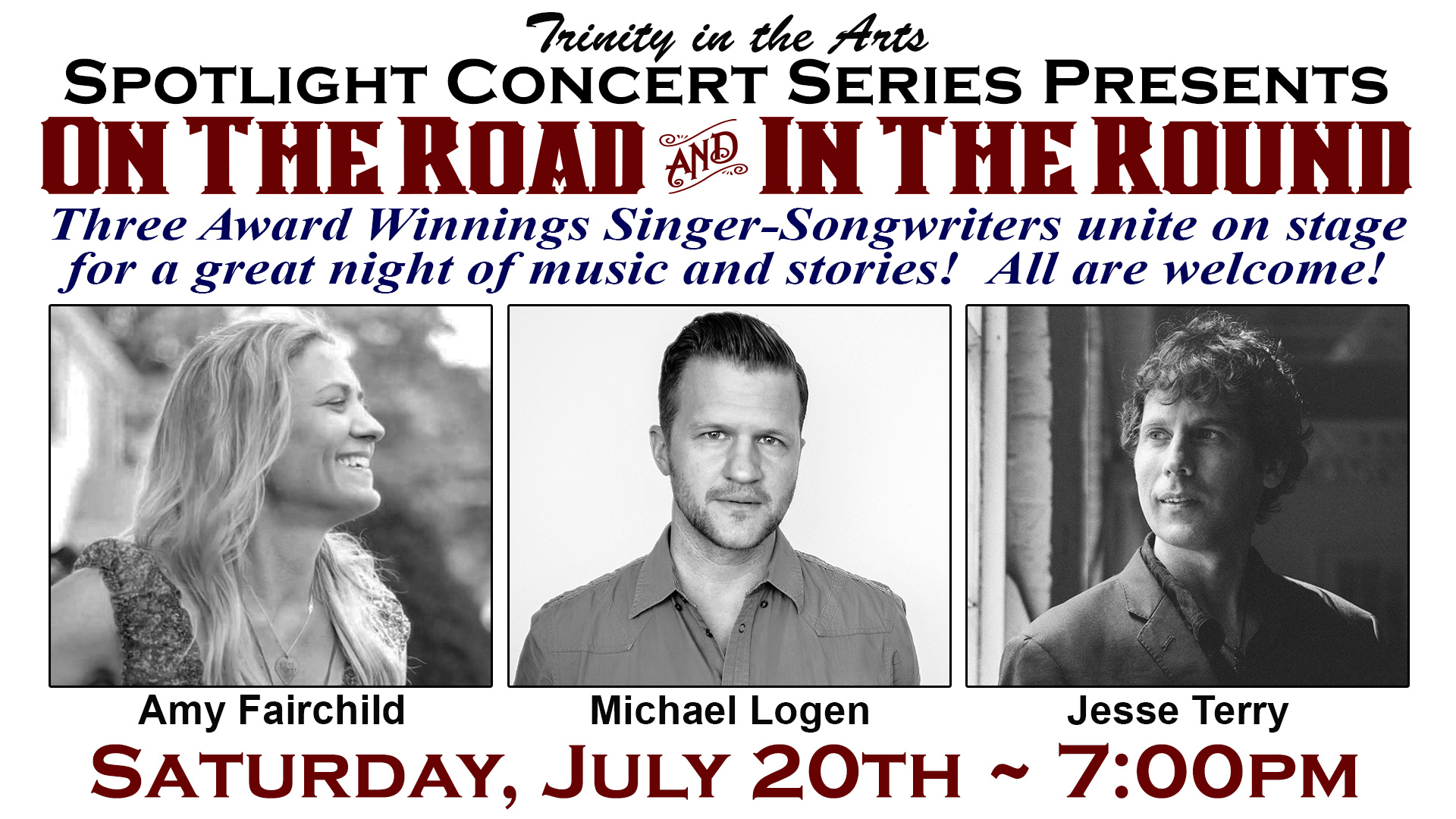 The Spotlight Concert Series at Trinity Presbyterian Church in Berwyn, PA is thrilled to announce the second concert of the season featuring three award winning singer songwriters on Saturday, July 20th at 7:00PM. Join us for "On The Road and In The Round" featuring Amy Fairchild, Jesse Terry, and Michael Logen. This intimate concert experience will allow you to enjoy performances of songs by those who wrote them as well as interpretations of songs that have inspired them. Be prepared to laugh and (possibly) cry as they bare heart and soul sharing stories behind their own original songs.
This is truly a great gathering of highly acclaimed musicians, so please join us in the sanctuary for this special evening of music and stories. The doors will open at 6:30 PM and the concert will begin at 7 PM. There is no charge for admission, but a free-will offering of $15-$20 per person is recommended.
Trinity Presbyterian Church is located on Berwyn Avenue, 1 block south of Route 30 (Lancaster Pike) in Berwyn, Pennsylvania. Parking is free. The GPS address for the main church parking lot is 51 Waterloo Ave, Berwyn PA, 19312. The church is one block from the Berwyn train station (Septa's Paoli-Thorndale line).
For more information about the event, contact John Ward at concerts@trinityberwyn.com, call 484-639-9273, or visit http://spotlight.trinityberwyn.com.

AMY FAIRCHILD:
Amy Fairchild is a multi-award winning songwriter living in Boston, MA. Right from the start of her musical career in Northampton, MA in 1996, this roots-pop beauty garnered high honors revealing a talented songwriter who deftly gets to the heart of the matter. She won the Lilith Fair Talent Competition in 1999 and took home a top Kerrville Folk Festival prize in 2001. She continued to bring home honors with the release of her 2002 record, "Mr. Heart" (produced by Adam Steinberg) including The John Lennon Songwriting Competition, Maxell Song of the Year and the Billboard World Song Competition. Dave Marsh said, "If there still was a recording industry, this would come out on a major label and would be such a big hit you'd be sick of her by now. Not many people make records this good." Amy shows no signs of taking her foot off the gas as she's just released her fourth record, "Nobody's Satellite" (April, 2017) again produced by Steinberg. Mike Greenblatt in The Aquarian Weekly says, "When singer/songwriter Amy Fairchild released her impressive 2014 self-titled cd, it was so good that I fell in love with her immediately. Nobody's Satellite is even better. Twenty years in she's just reaching her near-brilliant stride."
Website: www.amyfairchild.com

JESSE TERRY:
Jesse Terry is an internationally touring, award-winning singer-songwriter whose intimacy with audiences, sincerity, and approachability has solidified him as a favorite at festivals and live venues nationwide. With five full-length albums under his belt, The Runner, Empty Seat On A Plane, Stay Here With Me, Stargazer & Natural, Terry's lyrical mastery, emotional depth, and soothing voice have often been compared to the likes of Jackson Browne, Jason Isbell, Paul McCartney and James Taylor, reaching deep into listeners' hearts to envelope them in shared joy, sadness, love, and unrelenting hope. The Grand Prize winner of The John Lennon Songwriting Contest and The CMT/NSAI Song Contest, he has garnered worldwide acclaim including the elite honor of performing for US and NATO troops stationed at Thule Air Base in Greenland, and an official endorsement by Stonebridge Guitars International.
"His ability to craft memorable songs is complimented by his supreme ability to deliver them in a sometimes funny, sometimes gut wrenching, but always sincere and authentic manner," praises Dave Dircks, host of the #1 Acoustic Podcast on iTunes, Live at Deepwells. "At the core of it all, his personality – sunny naivety meets gritty wisdom – is what sets Jesse Terry apart…" Person by person, state by state, country by country, his fans, supporters, and colleagues have grown exponentially in the past few years, including at prominent festival gigs at Bonnaroo, Philadelphia Folk Fest, 30A Songwriters Festival and Falcon Ridge Folk Festival.
Website: www.jesseterrymusic.com

MICHAEL LOGEN:
A Grammy-Nominated Folk/Americana artist, Michael's unique sound and songwriting have earned him mentions in "Rolling Stone" and "Billboard" and have seen him opening for such artists as John Legend, John Hiatt, India.Arie, Jonny Lang and Mat Kearney. Michael has performed in every state in the continental US as well as in the UK, Denmark, The Netherlands, France and Spain.
His music can be heard on TV shows like, "Suits", "Parenthood", "Nashville", "One Tree Hill", "Beauty And The Beast", "The Fosters", "The Hills", "Heartland", NPR and BBC. Logen's folk song, "Couldn't Ask For A Better Friend" played prominently throughout the 2016 Rio Olympics when it was chosen by Folgers as the theme for their award-winning ad (which can be viewed here: https://vimeo.com/177253035)
Michael's songs have also been recorded by artists like Kelly Clarkson, Mat Kearney, Duck Dynasty, Brandon Heath, Jonny Lang, Will Hoge, The Greencards, Paul Carrack, Point of Grace and many more.
Website: www.michaellogen.com