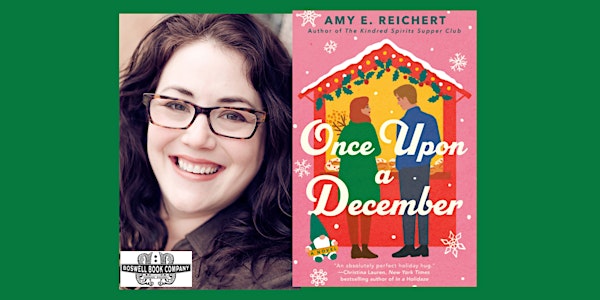 Amy E Reichert, author of ONCE UPON A DECEMBER - an in-person Boswell event
Amy E Reichert, author of ONCE UPON A DECEMBER - an in-person Boswell event
When and where
Location
Boswell Book Company 2559 North Downer Avenue Milwaukee, WI 53211
About this event
Boswell Book Company presents an evening with Amy E Reichert, author of Once Upon a December.
With a name like Astra Noel Snow, holiday spirit isn't just a seasonal specialty - it's a way of life. But after a stinging divorce, Astra's yearly trip to the Milwaukee Christmas market takes on a whole new meaning. For Jack Clausen, the Julemarked with its snowy lights and charming shops stays the same, while the world outside the joyful street changes, magically leaping from one December to the next every four weeks. He's never minded living this charmed existence until Astra shows him the life he's been missing outside of the festive red brick alley. After a swoon-worthy series of dates, some Yuletide magic, and the unexpected glow of new love, Astra and Jack must decide whether this relationship can weather all seasons, or if what they're feeling is as ephemeral as marshmallows in a mug of hot cocoa.
From Christina Lauren, New York Times bestselling author of In A Holidaze: "Delightful in every possible way! With Reichert's trademark bone-deep wisdom threaded beautifully throughout a riotous, otherworldly, and marvelously unexpected novel, Once Upon a December is an absolutely perfect holiday hug."
Amy E Reichert is the author of novels such as The Kindred Spirits Supper Club, The Coincidence of Coconut Cake, and The Optimist's Guide to Letting Go. She earned her MA in English Literature and serves on her library's board of directors. She is a member of Tall Poppy Writers.
Click here to order your copy of Once Upon a December. Signed copies and personalization available on pre-orders. Please note that signed copies will not be shipped until after the event.