Amy Bruckman- Online Collaboration: Creative and Civic

Thursday, January 26, 2012 from 4:00 PM to 6:00 PM (CST)
Event Details
Join us for a discussion with Amy Bruckman on Thursday, Jan. 26, at 4 p.m.
in the Digital Technology Center at Walter Library. 
ABSTRACT
Peer production of content has led to revolutionary successes like Wikipedia, YouTube, open-source software, and more. Yet we are still in the early days of understanding its potential, and how to deliberately engineer systems to make radically new things possible. Two types of online collaboration that are currently coming of age are creative and civic.  
In this talk, Bruckman will first discuss leadership in creative collaboration online.  How do groups of people work together to make creative products?  Collaborative modes include remix, benevolent dictatorship, and open collaboration.  How do these differ, and what constraints does each mode put on process and product?  Can a group of people who have never met work together to create a product which is initially only partially described?  What challenges do they encounter, and how can we help them overcome those challenges? 
Second, social media has controversial but potentially transformative potential for enhancing civic participation. She will explain how the site iHollaback.org raises awareness of street harassment, and how this social movement has exploded to 40 cities worldwide in one year.
Finally, Bruckman will present new work in which she and Eric Gilbert are helping Public Broadcasting Atlanta to increase civic participation through our redesign of publicsquareatlanta.org.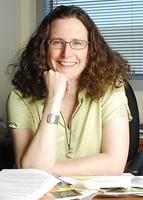 BIO
Amy Bruckman is an Associate Professor in the School of Interactive Computing  at the Georgia Institute of Technology. Her research focuses on peer production of content online. She studies how to create a motivating and supportive context for creation and sharing, and learning through this process.

Bruckman received her Ph.D. from the MIT Media Lab's Epistemology and Learning group in 1997, her M.S.V.S. from the Media Lab's Interactive Cinema Group in 1991, and a B.A. in physics from Harvard University in 1987.  In 1999, she was named one of the 100 top young innovators in science and technology in the world (TR100) by Technology Review magazine. In 2002, she was awarded the Jan Hawkins Award for Early Career Contributions to Humanistic Research and Scholarship in Learning Technologies.
When & Where

Digital Technology Center room 499, Walter Library
117 Pleasant Street SE
Minneapolis, MN 55455


Thursday, January 26, 2012 from 4:00 PM to 6:00 PM (CST)
Add to my calendar
Organizer
Interdisciplinary Graduate Group on Social Computing
Amy Bruckman- Online Collaboration: Creative and Civic