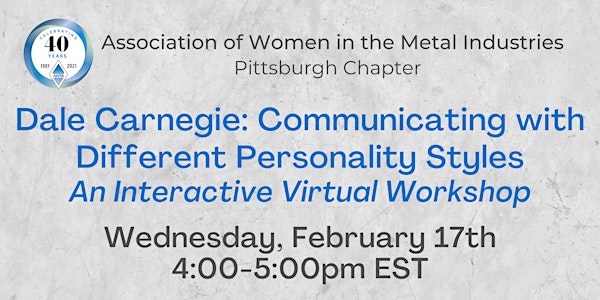 AMWI Pittsburgh - Dale Carnegie: Communicating with Different Personalities
Please join AWMI Pittsburgh Chapter for a Dale Carnegie interactive workshop on 'Communicating with Different Personality Styles'!
About this event
Many behavioral psychologists have researched the theory that people's behavior can be roughly classified in four groups. No one is purely any style, and no style is better or worse than another. Each tendency has strengths and weaknesses. By recognizing our dominant style and developing the ability to identify traits in others, we can change our behaviors to interact with a wide variety of personalities. This is especially helpful when when interacting with someone who sees things differently than you do.
In this mini session we will discuss the four dominant personality styles and help participant to recognize their style. This is an important element to help reach across barriers, adjust when appropriate, and connect with others to foster collaboration and reduce conflict.
Be prepared to participate and expand your thinking! On the Zoom platform, reminder to be camera ready please too!
Learning Objectives:
• Identify your own Personality style and how you react under pressure
• Modify your behaviors to be able to connect with people of different styles
Primary Competencies: Communication, Conflict Resolution, External Awareness
Related Competencies: Adaptability, Influence, Interpersonal Skills