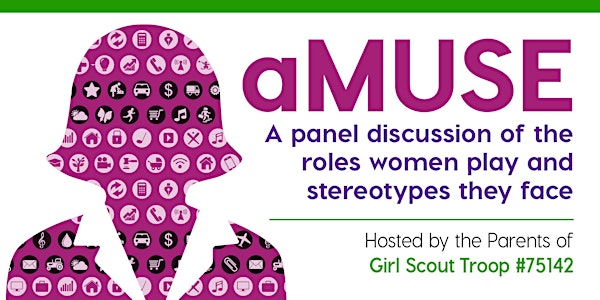 aMUSE: A panel discussion of the roles women play and stereotypes they face
When and where
Location
Fountaindale Public Library - Meeting Room B 300 West Briarcliff Road Bolingbrook, IL 60440
Refund Policy
Contact the organizer to request a refund.
Description
On Sunday, March 20, 2016 from 3:30pm to 5:30pm in Meeting Room B at Fountaindale Library (300 W. Briarcliff Road, Bolingbrook, IL 60440), The Parents of Girl Scout Troop #75142 (http://girlscouttroop75142.scoutlander.com/) will host aMUSE: A panel discussion of the roles women play and stereotypes they face. The panel discussion's purpose is to explore the roles that women play in life and within their communities; the stereotypes that women encounter; and how the media contributes to the perpetuation of stereotypes about women. The panel discussion will be followed by a "meet and greet" dessert reception. Panelists will include Laurie Underwood (Designer on Project Runway - Season 14 and Owner and Designer of Wanda Grace); Jenna Kandah (5th grade teacher at Oak View Elementary School), Sherri Lynn Hale, Esq. (Attorney at Law); Michelle Relerford (General Assignment Reporter and Fill-In Anchor for NBC Chicago), and Jihan Murray-Smith (Owner of Tea & Crumpets Chicago). This event will be open to those who are ages 9 and older.
Scouts from Troop #75142 will serve as moderators for the discussion, and the event will provide a vehicle for the fulfillment of the requirements for their Reach Out Award as they venture through their aMUSE journey. Monetary proceeds from the event will be donated to Girl Scout Troop #75142.
Girl Scouts began over 100 years ago with one woman, Girl Scouts' founder Juliette Gordon "Daisy" Low, who believed in the power of every girl. Girl Scouting builds girls of courage, confidence, and character, who make the world a better place. Our mission sounds simple, but it ultimately changes lives by building girls of courage, confidence, and character, who make the world a better place.
Girl Scout Troop #75142 is comprised of four ambitious, fun-loving girls (ages 10 to 12) who reside in Bolingbrook, IL. During September 2015, the Scouts ventured to Camp Timber-Lee in East Troy, WI for a weekend Mother-Daughter Retreat. The Retreat provided quality time for the Scouts to bond with one another and their mothers while embarking on new adventures and challenging one another to step outside of their "comfort zone" and build confidence. The Scouts and The Parents of Troop #75142 have made a commitment to forge stronger bonds with one another and to positively impact our communities during 2016. With your support, we can reach those goals!