Actions and Detail Panel
AMTA-NE State Convention 2017
Fri, Mar 31, 2017, 8:00 AM – Mon, Apr 3, 2017, 4:00 PM CDT
Description
The theme for our first ever AMTA- NE State Convention is: Connecting Members, Elevating Success. This year's convention has many great offerings for all massage therapists! The information that follows is what you need to know if you are thinking about taking advantage of these wonderful education opportunities. We hope you will be able to join us!
Location
Embassy Suites by Hilton Omaha La Vista Hotel & Conference Center  
12520 Westport Pkwy, La Vista, NE 68128
Phone: (402) 331-7400
Schedule of Events
Friday, March 31st
Registration 8:30am- 8:55am

Chikly Health Institute , Lymphatic Drainage Therapy Level 1: 9am-5pm

(w/ break for lunch)
Saturday, April 1st
Chikly Health Institute, Lymphatic Drainage Therapy Level 1: 9am-5pm

(w/ break for lunch)
Sunday, April 2nd
Chikly Health Institute, Lymphatic Drainage Therapy Level 1: 9am-5pm

(w/break for lunch)

Amy Williams: Energize Your Massage! 8:30am-11:30/2pm- 5pm

Chapter Member Meeting with lunch Noon

Student Massage Therapist Day

Vendors 10am- 3pm
Monday, April 3rd
Chikly Health Institute, Lymphatic Drainage Therapy Level 1: 8am- 3:30 pm

(w/break for lunch)

Amy Williams, Energizing Your Massage 9am- 12pm/1pm-4pm
***
Class Information
Chikly Health Institute: Lymphatic Drainage Therapy 1: (4 day workshop)
Our instructor for the Lymphatic Drainage Therapy 1 workshop, which will be held on March 31st through April 3rd, will be Arlene Garcia, LMT, LTC, LLCC. Arlene has taught Lymph Drainage Therapy classes for the Upledger Institute, the International Alliance of Healthcare Educators (IAHE) and the Chikly Health Institute (CHI) since 2009. She is a study group leader for the Brain Curriculum for the International Alliance of Healthcare Educators (IAHE) and the Chikly Health Institute(CHI). She apprenticed with Molly Clark, PT and Dr Chikly for Lymph (LDT) techniques.
Early Registration: Through February 24th, 2017
$495 for AMTA Members
$595 for Non-AMTA Members
Registration after February 25th, 2017
$545 for AMTA Members
$645 for Non-AMTA Members
Cancellation Policy
All refunds are subject to processing fees up to $36 depending upon type of registration. All refund requests must be emailed to lora.vanetten@amtane.org or by phone at 402-202-3231 by the dates listed.
100% refund ends February 24th, 2017
50% refund ends March 1st. 2017
25% refund ends March 17th, 2017
After March 17th, 2017, no refunds will be given.
In case of emergency, registration may be transferred to another person.
Lymph Drainage Therapy 1 (LDT1): Fluid Dynamics - Lymphatic Pathways - Anatomical Integrity is approved for: 24 CEUs for massage therapists - NCBTMB Approved Provider # 451238-10
24 CCU's for PT and PTA by Procert/APTtitude and ProCert
Supplies
We need one massage table for every two class participants. If you have a massage table available, bring it. You may not use your table but we don't want to be short.
Attire
Bring comfortable, loose fitting clothes. Some of these approaches require to touch an exposed skin, we encourage you to bring a bath towel, lab clothes, and appropriate undergarments so that you are comfortable.
Short finger nails are required for some techniques.
Due to potential chemical sensitivities of your classmates, please refrain from wearing perfumes or oils to class.
***
Energizing Your Massage: w/ Amy Williams (2 day workshop) SUNDAY APRIL 2ND AND MONDAY APRIL 3RD ONLY!)
Join us for two days of tools techniques and hands on body processes you can use with YOUR massage or as a stand alone energy healing treatment.
Learn tools to clear other people's energies from Your body with greater ease than ever before.
Discover the ease that adding Energetic awareness can bring to your sessions and how it can increase your effectiveness.
Each morning you will learn and experience an Access Conscious® Energetic Body Process that you can add to your practice with or without massage. You will learn it in the morning and trade that process in the 3 Hour Class.
Each afternoon you will learn more tools and skills for Energizing Yourself and becoming more Energetically Conscious with your Massage. Then you will trade Massages and integrate these new ways of being with the Massage you already know and have ease with.
You will experience how adding a new type of awareness can super charge your body and your client's experience!
**Amy Williams, LMT, CFMW ,BP, BPF is a Certified Access Consciousness® Bars & Body Process Facilitator
April 2nd- 8:30 am-11:30 pm (3 CEUs)
Introduction to "Energizing Your Massage"

Discover Conscious Massage tools to increase your longevity and effectiveness as a therapist.

Your will Learn the Hands on Energetic Body process:
MTVSS -Multiple Terminal Valence Sloughing System
This Access Consciousness hands on Body Process can be run during massage on both therapist and client. What if you could receive a treatment while you were working—all day long??
This process has numerous applications, you will learn:
Whole body treatment for Muscular and Skeletal Systems and More!

How to use it for Exercise

Immune system positions

Using MTVSS on individual Organs and all Body Systems.
Participants learn and trade to experience gifting and receiving the Access Consciousness® Body Process for 45-60 mins each in the class.
April 2nd - 2pm-5pm (3 CEUs)
The Thymus Exercise -
Learn Basic "Consciousness Tools" to create more intuitive awareness in your Massage Sessions.
The thymus gland is part of your immune system until you hit puberty, and then it "turns off". It's a vestigial organ. By doing the "Thymus Exercise" the thymus gland will start to activate again. Originally, the thymus gland was the source for intuitive awareness. It was blocked and diminished as a way to limit awareness. Hence came the activation of the third eye for this information. With this class the Thymus will start to regenerate and become stronger. It is the center from which we gain energy.
After learning the "Thymus Exercise" you will swap massages from this Energized state and if you have taken the morning class you can also run that process on yourself, your client or both while massaging.
Practice this energy play in a supportive environment where you can really "Get the feel of it" before you take it into your office, both on and off the table!
April 3rd- 9am – 12pm (3 CEUs)
Your will Learn the Hands on Energetic Body process:
Zero Sum of Trauma
Zero sum of trauma is a hands-on body process for when the body or being has been traumatized. It undoes the effect of cumulative trauma on the body. The need for it occurs with repeated trauma when a person gets used to the pain they are living with and experience more and more trauma until debilitation occurs.
This can be applied for physical trauma or mental emotional trauma. Accidents, injuries, repetitive use, traumatic experiences emotions and PTSD.
The zero sum trauma process undoes whatever locks the trauma into place.
This stays within a massage therapist's scope of practice as we are simply allowing the energy that is locked in the body to be released with our touch and the energy of the body process.
Participants learn and trade to experience gifting and receiving the Access Consciousness® Body Process for 45-60 mins each in the class.
April 3rd- 1pm -4pm (3 CEUs)
Access Consciousness Bars® & Massage
Access Consciousness® "The Bars" is a hands-on process that dissipates stress from the system. We store energy and information in the body that creates stress and pain. The Bars are 32 points on the head that when touched clears this type of energy from Body and Mind like defragging your Brain & Body hard drive.
In this class, you will learn a few of these points that you can use for yourself or your clients. You can immediately apply this in your practice either as part of a session or just for a few minutes at the beginning or end of a massage.
In this "Bars Taster" you will be taught the location of the Bars for Healing and Body and a few others. You will also learn a powerful set of points called "Restructuring of Bodies that re-sets the body to a "new normal" after the work you have done for the client during any type of session massage OR Energy work. You can even use them on yourself after you receive a massage or chiropractic adjustment to have the benefits last longer.
After participants learn the points, all will trade Massages with each trading pair's choice of whether they would like Bars, Massage or both combined. It's all your choice!
Early Bird Pricing register before March 10th, 2017
AMTA Members
$80 per session
$150 full day
$300 full 2 days
Non-AMTA Members
$90 per session
$170 full day
$340 full 2 days
Pricing after March 11th, 2017
AMTA Members
$85 per session
$160 full day
$320 full 2 days
Non-AMTA Members
$95 per session
$180 full day
$360 full 2 days
***
FREE LUNCH
Sunday April 2nd Lunch – Join us Sunday for FREE LUNCH
SOUTH OF THE BORDER BUFFET
salads: mixed green salad | with assorted,toppings & cilantro vinaigrette,roasted corn & black bean salad,cucumber salad
entrées: tacos | spicy ground beef with crispy taco shells,fajitas | grilled sliced seasoned chicken breast, seared peppers & onions, served with soft flour tortillas
toppings: | diced tomatoes, shredded lettuce, sour cream, salsa, guacamole, shredded cheese, sliced jalapeño & pico de gallo
enchiladas: | cheese & onion
sides: tortilla chips & cilantro salsa, spanish rice, refried beans
dessert: assorted dessert display
*Please note that LUNCH will not be provided everyday. However, there are lunch options available inside or close to the Embassy Suites Convention Center.

Our hope for this convention is for it to be a great learning experience and time for socializing. On Sunday, even if you can't attend the classes, we hope you still join us for lunch and the chapter meeting and to browse and converse with the vendors, and of course, catch up with your fellow massage therapists!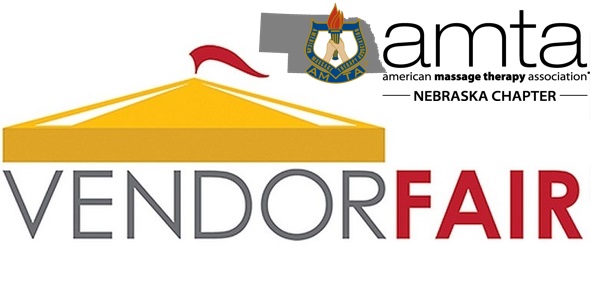 Open Call to Vendors for 2017 AMTA Nebraska State Convention
AMTA Nebraska is still accepting vendor applications for the 2017 State Convention. AMTA Nebraska is looking for any and all vendors whose products and services would be marketable to the massage therapy industry. Our Vendor Fair will be on Sunday February 2nd. If you know of or hear of a business that might benefit from marketing their products and services towards Nebraska's massage therapist's please forward my information to them or share your thoughts with me.
Sincerely,
Mitchell Lowry-Lee, LMT
AMTA-NE: Board Member
pr@amtane.org
Date and Time
Location
Embassy Suites by Hilton Omaha La Vista Hotel & Conference Center
12520 Westport Pkwy
La Vista, NE 68128