Description
Holiday Inn-City Center. 1-800-HOLIDAY or 1-765-423-1000
ask for AMTA Indiana Chapter rate $119, per night.

BONUS! Lunch is included on Friday, Saturday and Sunday


Howard Nemerov: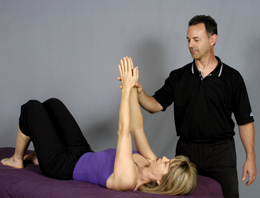 The Nationally-certified Nemerov Method of Neuromuscular Therapy enhances therapeutic outcomes for massage practitioners and their clients. Injuries resolve faster with less pain, while practitioners obtain more comprehensive results with less effort. For therapists, this means increased client referrals and longer careers. When integrated with existing skills, the Nemerov Method resolves a cause of musculoskeletal function currently unaddressed by traditional manual therapies.
While the entire training is a total of 60 contact hours, it's divided into three 2–3 day segments. High-level learning objectives are:
Module 1 (6Ces), 4/5/19 9am-4pm, lunch included

1. Learn how Motor Control theory integrates with your manual therapy skills.
2. Learn how muscles get recruited to compensate.
3. Gain basic skill in assessing and correcting core compensation.
4. Learn functional muscle testing.
Module 2 (7Ces) 4/6/19 9am-5pm, lunch included

1. Learn why hip muscles are part of core function.
2. Learn how muscles sharing a fascial band can compensate for each other.
3. Learn how pregnancy and traumatic injury weakens pelvic floor function, and how to reprogram it.
Module 3 (7Ces) 4/7/19 9am-5pm, lunch included

1. Learn how foot and ankle pain may relate to core instability.
2. Learn how plantar fascia symptoms may relate to hip and knee compensation.
3. Learn how bunion symptoms may result from compensation.
4. Learn how piriformis syndrome may relate to abdominal and hip compensation.
Students also receive electronic books of the update and expanded, photo-illustrated Nemerov Method and functional muscle testing manuals.
For an introduction to the Nemerov Method, please view this three-minute video:
https://www.youtube.com/watch?v=v8uqbDV7zxo&feature=youtu.be
For an overview of the Method's approach: https://nemerovmethod.amtamembers.com/about-the-nemerov-method
---
Gina McDonald
I have been doing what I love for more than 20yrs. I went to massage school in Alexandria Indiana. Teaching over the past 10 years has helped me stay sharp and devoted to our field. If there a better way to help our clients meet their goals, I make it my mission to share this with other passionate healers in our field. Please join me in my next classes where we will all learn something and continue in our journey of growth and discovery! I look forward to meeting you!
Massage Mediums – The Goldilocks zone 3ce, 4/5/19-2-5pm, lunch included

We will learn to match your session's goals with the correct choices of massage mediums. We will tackle maximizing the use of topical ointments with menthols, or other organic materials. We will answer the questions of which product is right for the job, how much product do I need, and when to not use any products.
Many therapists pride themselves on customizing their session to meet the needs of the client. This class helps you achieve this on a new level!
Side-Lying Massage Class 8ce, 4/6/19-9am-6pm, lunch included

We will learn effective techniques, proper positioning, and correct draping for side-lying massage sessions. Client will love how comfortable they get to be while receiving an excellent service.
With many different muscle issues, you will learn techniques to confidently reach your client outcomes for the side-lying position.
Movement Therapies – Muscle Lengthening 7ce, 4/7/19 9am-5pm, lunch included

Whether you are easing muscle tension or releasing a knot, learn to lengthen the muscles during your massage while keeping your client properly draped.
Move your clients' muscles without adding to their discomfort during a massage.
AMTA Events
4/4 Chapter Board Meeting 1pm
4/7 Chapter Business Meeting and Elections 12pm