Description
5 p.m.: Doors open, visit exhibitors, refreshments, social time
6 p.m. – 7 p.m.: Business Meeting

7:15 p.m. – 9:15 p.m.: Education (2 CEUs) – Self-Care Tune-Up for the Massage Therapist, Presented by Nikki Arel, LMT
Course Description
Self-Care Tune-Up for the Massage Therapist
Correct your body mechanics and breathe new life into your massage therapy practice. As LMTs work in the field, many develop poor body mechanics and some 'lazy' habits along the way. In this 2-hour self-care class, Massage Therapists will be guided in a series of posture/position correction exercises and breath work that lighten the toll on their hands and bodies while gaining depth in touch.
Nikki Arel, massage educator, yoga instructor and long-time Thai Massage Therapist, will challenge therapists to identify bad postural habits and make corrective modifications to lessen the demand on their bodies in both seated and standing positions. Massage practitioners will be taught ways of positioning their bodies to meet the demands of therapeutic work through yoga flow movements, core strengtheners and very specific breathing exercises, including Kapalabhati.
Wear loose, comfortable clothing to actively practice body-rocking, hip orientation, and stretching techniques alongside the instructor.
Bring pen/paper for note taking. No tables needed.
Presenter Bio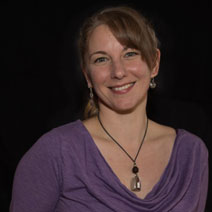 Nikki is a 2005 graduate of the Spa Program from the former CCMT in Newington, CT. She has achieved and maintained National Board Certification since that time. She is a 12+ year member of the AMTA-CT Chapter and has been on the CSMT Team, both charity and emergency divisions since 2005. She is a Team Leader on both and very active at the EMS Expo and Legislative Awareness Day each year. Currently she serves as the Government Relations Chair and as a Delegate. Additionally she obtained her 200-Hour Yoga Teacher Certification in 2010 and teaches two early morning yoga classes at Samadhi Yoga in Manchester. In working with military and volunteering her time to assist Vets, Nikki gained her certifications in adaptive and trauma-sensitive yoga with Warriors At Ease as well as traumasensitive meditation techniques. She has volunteered for many years with the Vietnam Veterans Memorial Fund, assisting with The Wall That Heals and helping to bring this traveling Vietnam Wall to Manchester in 2014 as well as participating in a number of Reading of the Names events in Washington DC. She is now a part-time cadre for VVMF, traveling the country and working with the local volunteers to present this memorial. For 5 years, Nikki has worked on small cruising yachts in Alaska, on the Columbia and Snake Rivers, and in Baja, Mexico; she also spent time at a local Massage Envy. Nikki has studied extensively in thai massage and medicine, throughout the USA and in Chiang Mai, Thailand. She assists and teaches thai massage, was an assistant/tutor/then instructor at CCMT/Steiner/Cortiva from 2003 through 2018 and teaches A/P and Kinesiology for yoga instructors. Since 2007, she has maintained a full-time massage practice with offices in Manchester and West Hartford, focused on thai massage.
Education is free for AMTA-CT members. Education Policy for FREE Classes
Should you register for a Free AMTA-CT Chapter education workshop and be unable to attend, you MUST cancel your registration no later than 72 hours prior to the start of the class. Those registrants who fail to cancel and do not attend the workshop will be prohibited from attending any Free AMTA CT Chapter education workshops for 12 months.
If you are not an AMTA-CT member and would like to attend the education:
For out-of-state AMTA members, the cost is $30 (plus fees) to attend.

For non-members to attend the cost is $50 (plus fees).
Refund Policy
Refunds up to 7 days before event
ADA assistance is available upon request.