Sales Have Ended
Ticket sales have ended
Thank you for registering! We look forward to seeing you!
Sales Have Ended
Ticket sales have ended
Thank you for registering! We look forward to seeing you!
Description
AMTA-Arizona Chapter presents Peggy Lamb with 3 massage CE opportunities April 27th-28th. Choose 1, 2, or all three highly recommended classes, focusing on the neck, low back and hip, and the Quadratus Lumborum and Piriformis muscles. On Saturday, April 27th, the chapter meeting and elections will take place over the provided lunch. There is no cost for the lunch, but please RSVP so we may have a head count. We look forward to seeing you in April. Below are the details for the workshops and meeting:
Pain in the Neck! (3 hours) Saturday, April 27, 8:30 am - 11:30 am
Neck pain is one of the common problems we see as massage therapists. Learn deep tissue, myofascial and stretching techniques for all the neck muscles including those pesky scalenes!
AMTA-Arizona Chapter Annual Meeting (lunch provided) 12:00 pm - 1:30 pm
Stretch Your Clients!-Lower Back and Hip (3 hours) Saturday, April 27, 2:00 pm - 5:00 pm
Increase the effectiveness of your massages and make your clients happier by including stretches! Learn table stretches for the quadratus lumborum, piriformis, iliopsoas and more. Classes also cover the value of stretching in lower back problems, piriformis syndrome and psoas syndrome.
The Dastardly Duo- Releasing the Quadratus Lumborum and Piriformis (6 hours) Sunday, April 28, 9:00 am - 4:00 pm
These two muscles can wreak havoc with the lower back and hips. Learn the anatomy and kinesiology of these two muscles plus assessment tests and powerful release techniques.
Take your skills to a new level and get ready for that wait-list practice!
Peggy Lamb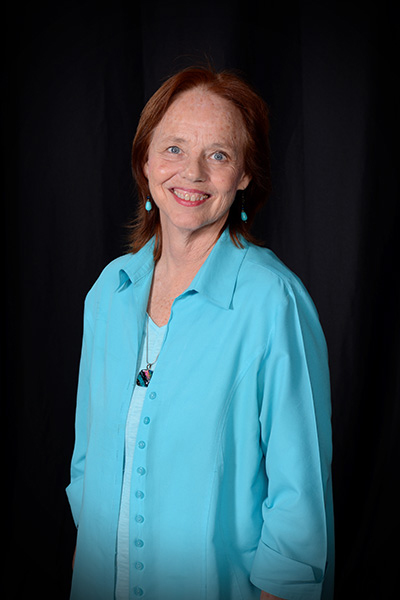 Peggy Lamb will tell you she is a massage therapist. She is a massage therapist, but she is so much more than that. When Peggy confronts a problem, she doesn't just solve the problem for herself. She will solve the problem for others, and try to insure that the problem isn't a problem for all her clients. When she tore a rotator cuff, she learned about shoulders, about how they move, how the function, and how they function well. Not only did she completely recover from her injury, she wrote a book "Releasing the Rotator Cuff" so other massage therapists can help their clients with shoulder injuries. When faced with a back injury, Peggy worked to recover from that, and recover she did. Not content to just overcome her own injury, she wrote another book "The Core of the Matter", with content geared to help others, and other massage therapists, with back problems. Peggy doesn't just fix issues that come up in her life, but she fixes those issues for others. Peggy Lamb is not just a massage therapist, she is an author of four books, a creator of four DVD instructional sets, a teacher of massage therapist, a leader in her field. All of this comes from one feeling…..the desire to touch, to heal, and to be touched. She brings her eclectic and extensive background into her teaching for an interesting and enlightening learning experience. Her website is massagepublications.com and she welcomes emails at info@massagepublications.com.