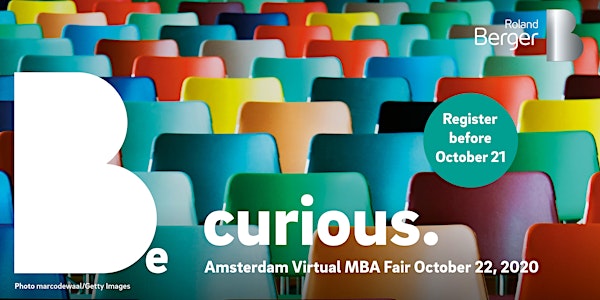 Amsterdam MBA Fair 2020
The 14th annual Amsterdam MBA Fair will be held as a virtual (online) fair on Thursday, 22 October 2020 from 6.15-8.45PM / 18.15-20.45 CET
About this event
Thursday, 22 October 2020 - Amsterdam MBA Fair 2020
Are you a young professional with a few years' work experience in the public or private sector? Do your ambitions extend beyond the Netherlands? Are you considering a graduate business degree (e.g. MBA or Master of Business Administration) from a top-ranked international program to take your career to the next level?
The choice of school is critical to making your MBA a success. Factors which you should take into account include international reputation, specialization, one vs. two year program, US vs. Europe, alumni relations, campus etc. Most important is that you make the right choice for YOU!
Ivy Circle Netherlands with the support of Roland Berger offers you this unique (online) opportunity to meet Admissions Directors and alumni from the world's top graduate business schools. During the fair, you will have the opportunity to ask questions about an MBA in general, compare schools and programs, learn more about those you're most interested in and see which best fit your competencies and ambitions. To help you make the right choice for YOU!
This year's participating graduate business schools:
Chicago Booth School of Business
Duke University's Fuqua School of Business
Kellogg School of Management (Northwestern University)
Stanford Graduate School of Business
Wharton School of the University of Pennsylvania
Agenda
Thursday, 22 October 2020
18.15 - 18.20  Check-in (ONLINE)
18.20 - 18.55  Welcome/Introduction of participating business schools
18.55 - 19.00 Break
19.00 - 20.40  Virtual Breakout Sessions
Candidates can join up to 3 consecutive online sessions with different schools (30 minutes each, followed by 5 minute breaks). Admissions Directors will give a short overview of their schools/programs followed by Q&A. (You will be asked to indicate your 5 preferred schools during the registration process to help us plan the sessions). 
19.00 - 19.30 Virtual Breakout Session 1
19.30 - 19.35 Break
19.35 - 20.05 Virtual Breakout Session 2
20.05 - 20.10 Break
20.10- 20.40 Virtual Breakout Session 3
20.40 - 20.45  Closing
Download the flyer
For more information go to: www.ivycircle.nl/ivy-circle-mba-fair-amsterdam
Fulbright Webinar (in Dutch): An MBA in the US. Dutch speakers can prepare for the Amsterdam MBA Fair with a webinar held by Fulbright Commission in the Netherlands on Wednesday, October 21 during 7.30-8.30PM. Are you curious to find out what it is like to do an MBA in the US? Fulbright staff will inform you about the different types of MBAs, the application procedure, and how to finance your MBA in the US (including details of the KHMW-Eizenga scholarship). A panel of MBA graduates will share their experiences. To register: https://fulbright.nl/events/een-mba-in-de-vs/