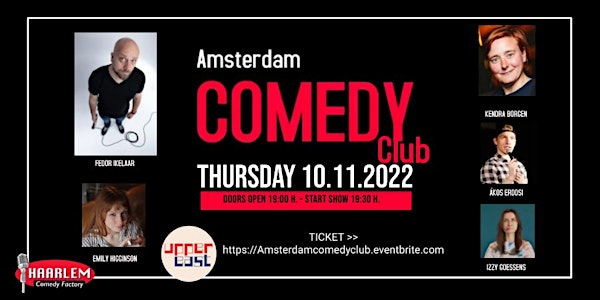 Amsterdam Comedy Club
Great comedy show in English in trendy and cozy Upper East in Amsterdam
When and where
Location
Upper East Laan van Kronenburg 7 1183AS Amsterdam Netherlands
About this event
Let's break the week with some fun! Join a great comedy show with an exciting line-up of international and locally based comedians that will take to the stage to offer you an eve full of laughs.
We have a line-up of established names and new talent from all over the world: Kendra Borgen (Alaskan-Canadian); Fedor Ikelaar (The Netherlands); Ákos Erdősi (Hungary); Izzy Goessens (The Netherlands); Emily Higginson (U.S.A.).
Show is 100 % in English.
Program
- 7:00- 7:30 PM: Doors open & Drinks. 
- 7:30-8:45 PM: Amsterdam Comedy Club Show
- 8:45-onwards: Drinks for those who want to have a chat and a drink.
Comedians
Fedor Ikelaar
Join Fedor on his laughter-filled, insane journey across the globe. With a combination of sharp wit and other foolishness, he shares his experience from living, working and failing abroad.
Fedor Ikelaar is a born and raised Dutchie, who always felt a bit out of place in the Netherlands. After years of moving from one country to another he finally ended up in Nepal...where he felt even more out of place. Surrounded by spiritual Nepalese, occasional opium dealers, forgotten hippies and millen-nials trying to find themselves, he lost himself more and more but remained captivated by the madness of it all. Stand-up comedy turned out to be the best outlet for this constant cultural amazement. For the past years he has been performing across the globe from Cape Town to Calcutta. Stitching together his world-travelled experience, from growing up in both the Netherlands and France to traveling the world and ending up high in the Himalayas. With his unique perspective he manages to make his fumbling abroad in exotic places highly relatable and enjoyable.
Kendra Borgen
Born into a Reagan-era hunter-gatherer society in Alaska, Kendra started playing saxophone at age 8 inspired by the musical stylings of Lisa Simpson. After surviving the treacherous journey down the infamous Alaskan-Canadian hi-way in 1999 to study music in Oregon, she left the US in 2004 in search of a better life (and an affordable Master's degree), buying a one-way ticket to Amsterdam never to look back and has been entertaining folks in Amsterdam ever since. Come listen to Kendra's journey from the hilariously rugged outback of Alaska to the chaos of Amsterdam's canals.
Ákos Erdősi
''I was born in Hungary but grew up in Poland, so I speaks both languages fluently. Which results in that nobody understands me. But I will do my best for you, I promise. People here call me an alcoholic, but back in Eastern Europe, where I come from, this drinking load counts as 'below average'.Currently I am studying political science at University of Amsterdam and my aim is to make Hungarian politics flourishing by making corruption legal to everybody.
Izzy Goessens
Izzy is an English-speaking Dutch comedian who emerged onto the stand-up scene about a year and a half ago. Her comedy, self-described as: a bit delusional, a bit sassy but with friendly BSE (Big Sister Energy), won't help you make sense of the world. Izzy has been performing at comedy shows throughout Amsterdam and London.
Emily Higginson
Emily Higginson is a young comedian from America, but don't hold that against her. Friends have described Emily as "an average performer" and "kind of funny I guess". Emily has described herself as "very tall" and "extremely funny".
Venue
Upper East is located at the Kronenburg Business Park near Campus Uilenstede in Amstelveen. For a long time, the building was used by Vrije Universiteit as a dependance. In the former classrooms you now find a great mix of creative start-ups and inspiring companies. Tonight, Upper East will be transformed into a stage for our international comedy show!
Comedy special offer! 1 free drink!
We will have a comedy arrangement that day especially for the attendees of the comedy show. On presentation of their ticket, they receive a free drink* when eating a main course in Bar Il Caffè (just next to the comedy venue Upper East. Food bookings are via the website: www.il-caffe.nl
Tickets
Online tickets: € 11 p.p. (exclusive Eventbrite transaction tax). Tickets at the door:  € 15,00 p.p. Make sure you don't miss it and buy your tickets online.