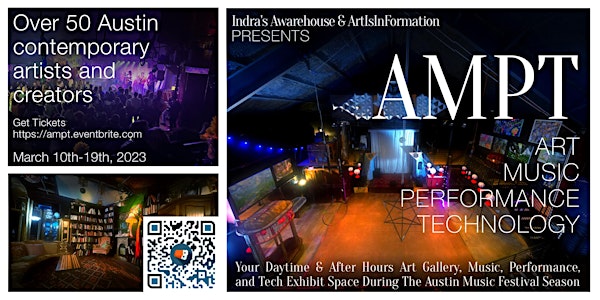 Multiple dates
AMPT at Indra's Awarehouse - Art Music Performance Technology
AMPT at Indra's is Your Daytime and Nighttime Art Gallery, Music, Performance, and Tech Exhibit Space During The Austin Music Season!
Date and time
Starts on Friday, March 10 · 2pm CST
Location
Indra's Awarehouse 7904 FM 969 Austin, TX 78724
Refund Policy
Refunds up to 7 days before event
Eventbrite's fee is nonrefundable.
About this event
AMPT is an experiential art gallery, performance space, tech expo, and hub for creativity and innovation during the Austin music festival season.
Join us for a showcase of art and information! Activations with local artists, exhibits, tech innovation, themed spaces, and creative services. Experiential lab for multimedia arts, music, light, performance, and movement. We'll be showcasing multimedia arts, demoing resident technology projects, and creating immersive experiences all week long.
March 10th - 19th, 2023 | Indra's Awarehouse | 7904 FM 969, Austin TX. 78724 (Closed Mon / Wed)
Daily, Group, and All Access Memberships: https://ampt.eventbrite.com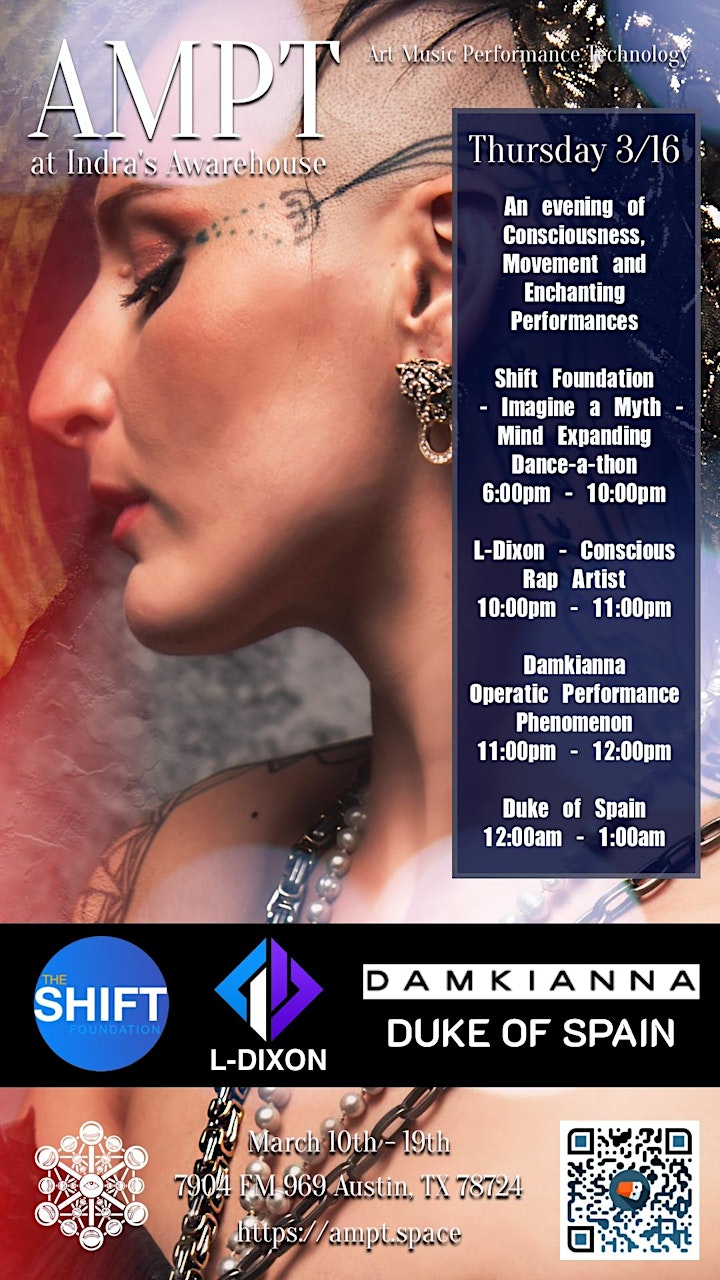 Thursday 3/16: An evening of Consciousness, Movement and Enchanting Performances
ART MUSIC PERFORMANCE TECHNOLOGY
5pm - Ramiro Romani - Detoxifying Our Technology and the AbovePhone
6pm - Shift Foundation - Imagine a Myth: Co-Creating our Parallel Reality & Finding Divinity Within Dance
10pm - L-Dixon - Conscious Rap and HipHop Flow
11pm - Damkianna - art, music, technology immersive ceremonial theater
12pm - Duke of Spain - Live Music Production and Performance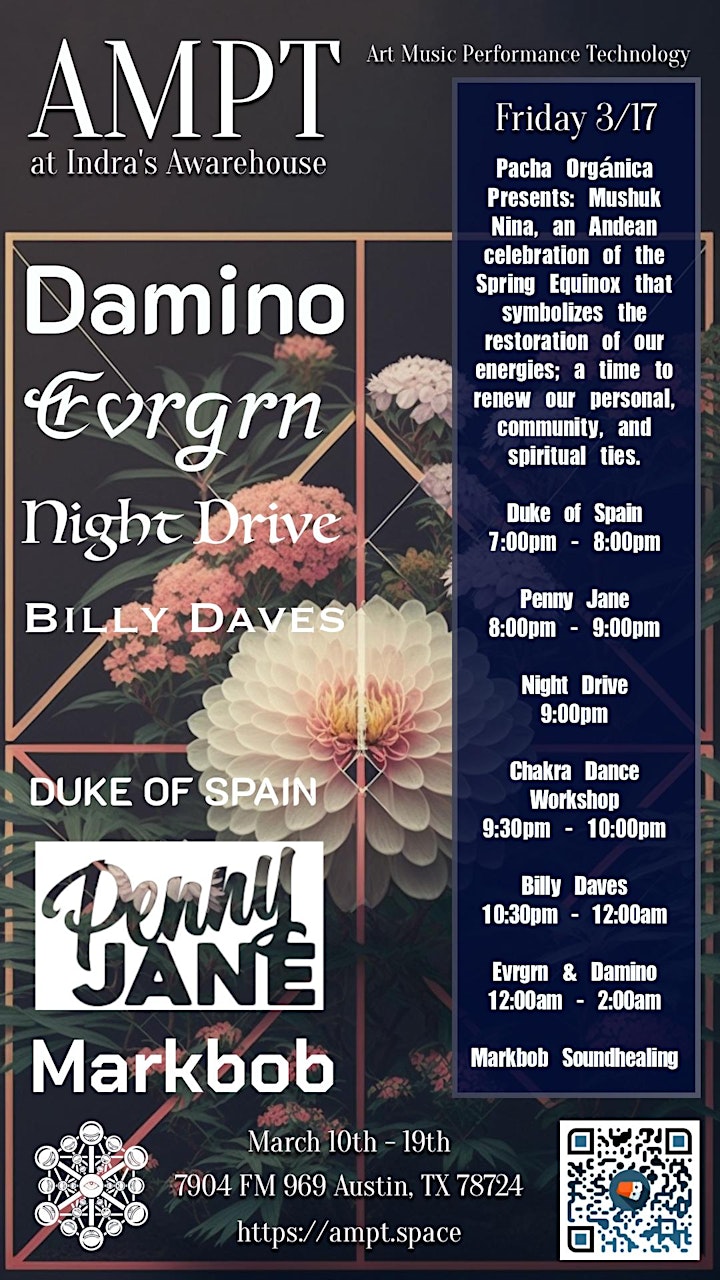 Friday 3/17: Pacha Orgánica Presents: Mushuk Nina, an Andean celebration of the Spring Equinox that symbolizes the restoration of our energies; a time to renew our personal, community, and spiritual ties.
7pm - Duke of Spain
8pm - PennyJane
9pm - Night Drive
9:30PM - Chakra Movement Workshop
10:30pm - Billy Daves
12am - Evrgrn & Damino
2am - Markbob Sound healing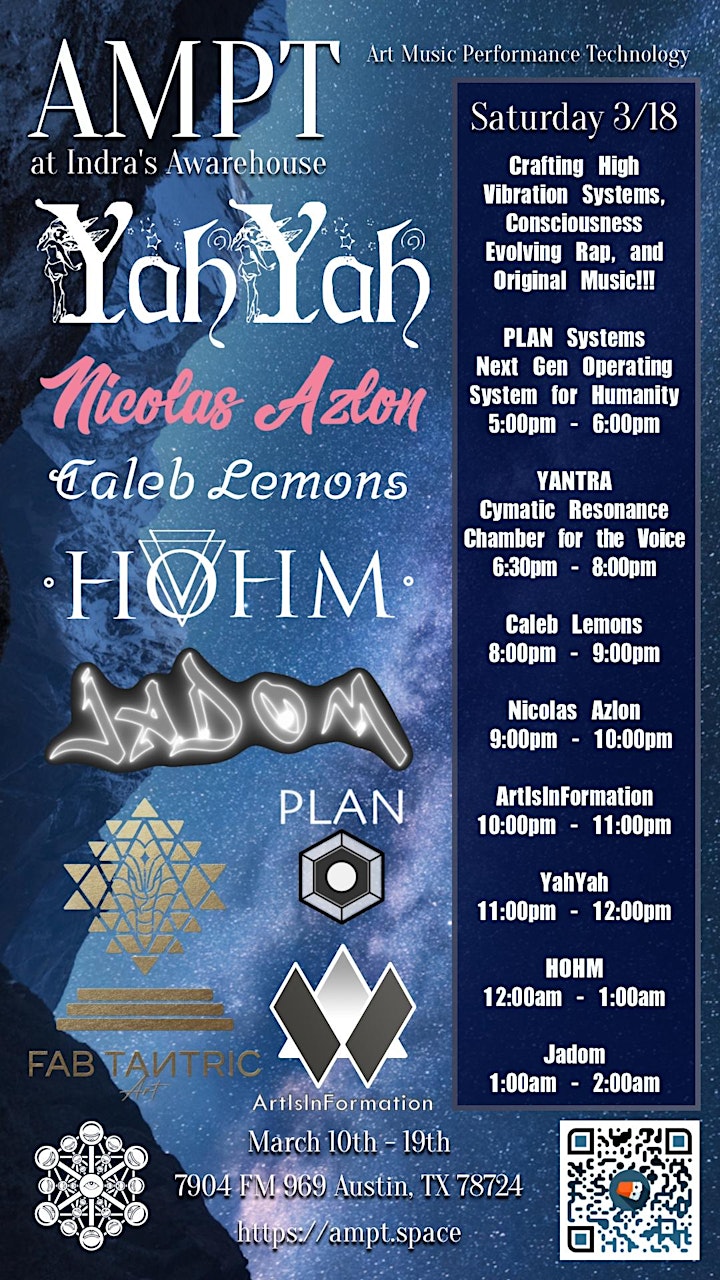 Saturday 3/18: Crafting High Vibration Systems, Consciousness Evolving Rap, and Original Music!!!
5pm - PLAN Systems Presentation - Next Generation Operating System for Humanity
6pm - YANTRA - a cymatic resonance chamber for your voice by FABTANTRIC Art
8pm - Kaleb.Lemons - Vocalist/Songwriter , Drummer, & Media Producer in ATX
9pm - Azlon - High Vibe Music Producer and Rap Artist
10pm - ArtIsInFormation - Digital Multimedia Producer and Technology Integration Specialist
11pm - YahYah omgitsyaya - A quickly emerging genre of conscious hip-hop
12am - Hohm / CloudPeople - Artist, Music Producer, Mastering Engineer, Sound Healer
1am - JADOM - DJ & Producer, Singer/Songwriter, Multi Instrumentalist
Thank you everyone for supporting our events at Indra's Awarehouse!
✨🌟✨🌟✨🌟✨🌟✨🌟✨✨🌟✨🌟✨🌟✨
Indra's Awarehouse is a highly adaptable multi-use art and events warehouse for live music, exhibits, interactive art, events, meetings / gatherings, aerial performances, gallery showcases, and future technology all under one roof! Indra's Awarehouse has become a cherished part of East Austin's historic arts heritage at a time when Austin is experiencing rapid changes. For over ten years, the space has been a beacon and studio for ecstatic dancers, aerialist, acrobats, as well as performance arts.
Discover more about Indra's Awarehouse: https://indras.house
Indra's Awarehouse Memberships: https://indras.house/membership-account/levels
Booking the Awarehouse: https://forms.gle/LRQTqdhxMdAsQj2h6
To apply as an artist, performer, daytime activation, musician, exhibiter, evening showcase, live art, volunteer or other activation for this event, please fill out the artist /performer form and we'll get in touch:
AMPT Participant Application: https://glufzt645wi.typeform.com/to/Qxky5S6x
We're passionate about local Austin art, and seeing our optimism for the future reflect in the people, environments, and technologies that we gather to thrive.
We invite artists, performers, innovators, craftsmen, and experts to apply to bring your creations and solutions. If you're into Multimedia, Technology, Music, Live Arts, Workshops, Creative Services, or Showcasing your work, we want to hear from you.
Visit ArtIsInFormation or Indra's Awarehouse via FB or IG:
Indra's Insta: www.instagram.com/
Indra's FB: https://www.facebook.com/indrasawarehouse/
ArtIsInFormation Insta ~ www.instagram.com/artisinformation
ArtIsInFormation FB ~ www.facebook.com/artisinformation
About the organizer
Indra's Awarehouse is a multidisciplinary arts house set to infuse the community with experiences which inspire our culture to collaborate and create!