Event Information
Performers
Location
Eddie's Attic
515-B North McDonough St.
Decatur, GA 30030
About this event
A collection of Atlanta and the region's top talent selects and performs "three perfect songs" of their choosing from Rock & Roll's greatest legends. In celebration and support of the Decatur Education Foundation.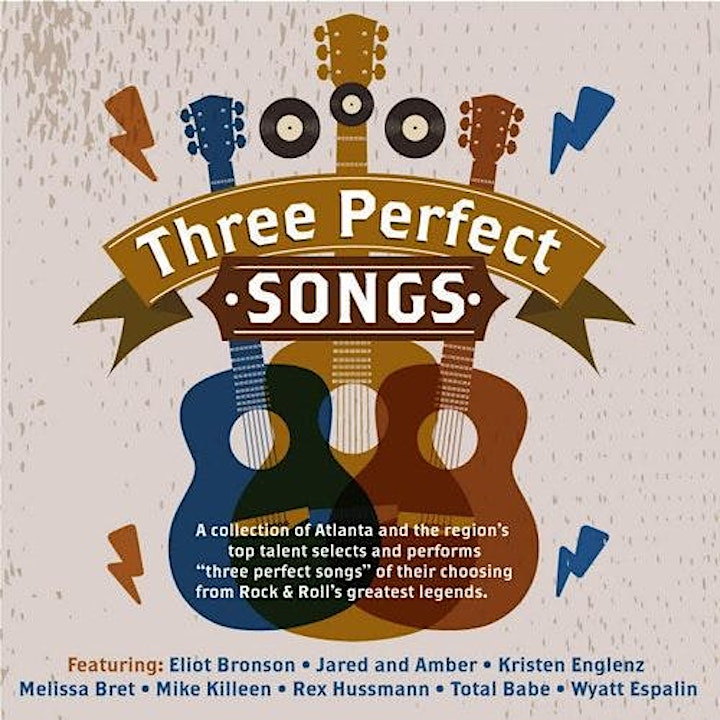 Jared & Amber
Jared & Amber are in love with each other and with music. So naturally, they started making music together. Both went to school for music and quickly decided music was great and school was not. In 2006, they got married. They moved to the lovely city of Decatur in 2011 to pursue music together full-time. Since then they have had the pleasure of playing TedXAtlanta, writing for other artists, winning Eddie's Attic 37th Songwriter Shootout, and being named one of the top 7 bands in Atlanta by AXS. Amber is also part of The Wishing Jar, a children's lullaby project that was the featured children's show with Amplify Concerts this year, as well as a part of the Decatur Book Festival.
Kitty Snyder
Kitty Snyder is a folk-dream-pop singer-guitarist who got her start in Athens, GA and now lives in Atlanta. In Athens she was on the indie label "pitch-a-tent records," which also is the home to Cracker and Camper Van Beethovan, both of whom she has toured with extensively. Her songs have been called "introspective soundscapes, dreamy & vulnerable" and have won her the honor of opening for artists such as Arlo Guthrie & Alejandro Escovedo. Her charisma is evident in the intimate way she shares her experiences through lyrics and melody, perfect for the Eddie's Attic listening room. Listen to some of her music here: https://www.kittysnyder.com
Total Babe
Emily Backus and Meg Brooks became Total Babe thanks to some determined and encouraging mutual friends, some light internet stalking, a musical blind date, and a shared affection for songs that make your soul say "oof"—the punch-in-the-gut, roar-in-the-throat, tug-on-the-heartstrings, tell-yourself-the-truth, joyful-noise songs. Schoolteachers by day, Emily and Meg have the earliest bedtimes of any band you know. Their forthcoming EP, TB, is slated for release in January. They have the best moms ever, and can be found sharing the #TeamMom gospel at facebook.com/totalbabeATL .
Mike Killeen
Originally from Athens, Georgia and now calling nearby Decatur home, Mike Killeen has released five full-length albums and an EP—and shared the stage with alt-country luminary Jay Farrar, Grammy Award winners The Blind Boys of Alabama, and southern rock legends the Marshall Tucker Band. He counts Bob Dylan, Nirvana, Vic Chesnutt, and Uncle Tupelo among his formative influences.
Killeen's most recent effort, "Ghost," was produced by Ken Coomer (Wilco, Uncle Tupelo) at his Cartoon Moon Studios in Nashville and released in 2019 on Saturn 5 Records to worldwide distribution. "Ghost" features Killeen's strongest set of songs to-date, and his collaboration with Coomer builds on his Americana roots, with a collection of tracks that straddles the lines between genres, including folk rock, pop rock, indie rock, and alternative rock. Killeen penned and contributed lead vocals for all nine songs, and played electric and acoustic guitars, harmonica, and piano. Coomer said of Killeen: "Mike Killeen can take you to that place, the place of a lost love, that yearning we all have for someone, or he can paint the picture of human loss, that deep line that runs between life and death."
On "Ghost," expert accompaniment from Joe Garcia on lead guitar, Ted Pecchio on bass, and Coomer on drums—as well the textural presence of keyboards, mellotron, mandocello, loops, and well-placed harmonies by Kristen Englenz and Nathan Beaver—give the album its hard-to-label, but easy-to-embrace vibe. The lead single, "She Called Me Last Night," kicks off the album and points to Killeen's active return to writing, performing, and recording new music after a long gestation, with the closing lyric, "If you believe in this thing, and all that it means, it will follow you wherever you will go." Other highlights include "Siren Call," "You Ain't Settling Anymore," and "Decatur Cemetery (Section 14).".
Killeen's immediately previous work, "Poverty is Real," was also released on Saturn 5 Records. Produced by Will Robertson, the record is a more muscular presentation of Killeen's songwriting than found previously, with crunchy electric guitars and raucous crash cymbals appearing throughout. BeAtlanta.com called Poverty is Real, a collection of "beautiful arrangements and meaningful lyrics." The title track was included in Salvatore Alaimo's documentary, "What is Philanthropy," alongside songs by Patti Smith and Ziggy Marley.
Performers
Date and time
Location
Eddie's Attic
515-B North McDonough St.
Decatur, GA 30030