Description
Amplify Her San Francisco Premiere - a Feature Documentary, Graphic Novel and Motion Comic Series

Music heals, right? Depends on the depths of the wounds. In Amplify Her, three Electronic Dance Music artists battle demons from their painful pasts to emerge as beacons in the global festival scene. Blondtron, Applecat and Lux Moderna overcome isolation, illness, and gender bias to give life to their creativity.
This visually dynamic film weaves animated motion comics created by the characters and 21 female creatives from around North America to offer intimate access into the colourful worlds of emerging female artists. Rather than ask the expected: "why aren't there more women in this male dominated scene?", we wonder: "what is unique about feminine expression and how might we all benefit when it flourishes?"

Partner sponsor: Keyframe Entertainment + Co-presented by: Bioneers
REVIEWS
"The directors' intentions are unimpeachable; we need more in-depth, inspirational works that examine women artists from a female perspective" - Dave Segal, The Stranger
"The film's outstanding cinematography provides a vivid framework for the stories of these remarkable women to unfold, and the top-notch soundtrack creates an evocative viewing experience. - Little D, Betty and Kora
" My heart is richer, and so is my mp3 player. " - Chris Burlingame, The Sun Break
SPECIAL EVENT - ONE NIGHT ONLY
The Amplify Purple Carpet Tour is coming to San Francisco for ONE NIGHT ONLY. Walk the purple carpet & get your picture taken. As a purple carpet stop we have many surprises including many guest appearances from the filmmakers, and several of the music producers/DJ's!
Doors 7:00pm screening starts at 8:00pm
*Pre-buy your tickets now, or pay $20 at the door (cash-only). Your pre-sale ticket also gets you into the After Party - for FREE.*
Our 144 page graphic novel is hot-off-the-press! Get one with your VIP movie ticket, or purchase separately at the event.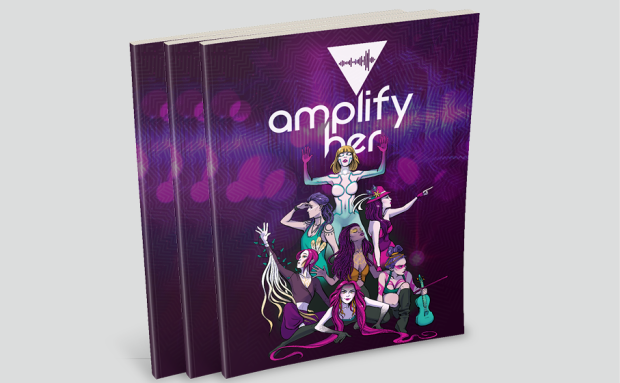 AFTER PARTY @ PUBLIC WORKS LOFT
After the film screening, head to the official after-party. Your screening ticket gets you FREE ENTRY to the event. (Others pay $10 at the door or online)
Featuring artists from the film WALA, A Hundred Drums, AppleCat along with ALIA and HÄANA.
Full details:
WHERE: Public Works SF, 161 Eerie Street
TIME: 10pm-late
ADMISSION: Free with your screening ticket
OR $10 at the door or online.
~~~~~~~~~~~~~~~~~~~~~~~~~~~~~~~~~~~~~~~~~~~~~
KEYFRAME will also be showcasing Fifer Garbesi's "¡Viva La Evolución!" and HelloEnjoy's "Fantasynth" in the Castro Theater lobby:

~ Fifer Garbesi's "¡Viva La Evolución!" is a 360° Documentary set in Havana, Cuba. As American culture and Electronic Music streams into Cuba for the first time in 50 years!

~ HelloEnjoy's "Fantasynth" is an audio-reactive experience designed for Virtual Reality. Glide through a procedurally populated environment that comes alight with Electronic Music. Featuring the song Chez Nous by N'to.
~~~~~~~~~~~~~~~~~~~~~~~~~~~~~~~~~~~~~~~~~~~~~~
Organizer of Amplify Her - San Francisco Purple Carpet Premiere