Description
Our kick-off conference, Nuestra Voz laid the foundation for increasing Latino civic engagement and representation. The next phase of our movement will convene 100+ leaders from the community to find new, innovative ways to build coalitions and inspire connections to strategically amplify Latinx collective power.
You are invited to attend Latina Circle's second conference, Amplify: Moving from Intention to Acción, a convening to strategize the key issues we face as a community in order to build a larger coalition. The conference will take place at Egan Research Center Amphitheater at Northeastern University.
Join us for the first-of-its-kind conference for all Latino-serving community organizations, social impact groups and power building advocates who are interested in building bridges of action across Massachusetts.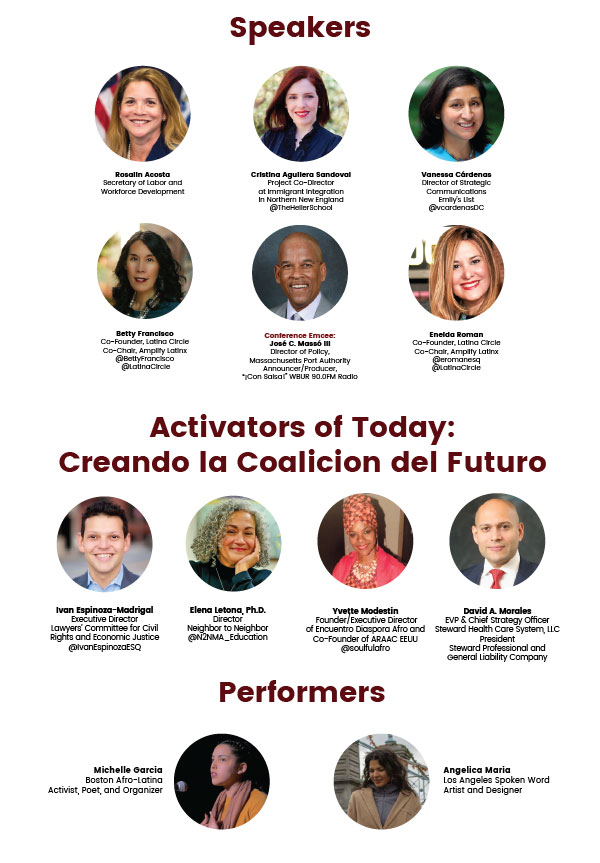 For FULL AGENDA, please view our Amplify Conference page HERE.
Get your tickets to the conference below:
$50 for Non-Partners (Corporate)

$30 for Non-Partners (Non-Profit)

$25 for Partners

$15 for Students
Due to the nature of the this event, the strategy sessions will be most successful with a group smaller than 120. Please get your tickets early in order to reserve your organizations spot at the convening. All tickets include continental breakfast and lunch.

For DIRECTIONS & PARKING: http://amplifylatinx.co/our-events/amplify-conference/#directions
The conference is hosted by Latina Circle, in collaboration with the Latino Student Cultural Center at Northeastern University, and other Latino and civic engagement organizations.
BECOME A PARTNER
As a Partner, your organization will be spotlighted on the Conference page, in our marketing emails, and on social media. You will also have an opportunity to promote your organization and connect with 100+ participants at the partner showcase lunch session. There is no fee to be a partner. In return, we ask partners to invite their members and staff to the conference to learn about leadership and civic engagement. To learn more, click here.

VOLUNTEER
Attend for free by serving on our team of volunteers at the conference? Select the Volunteer ticket at registration and a member of our team will reach out to you.