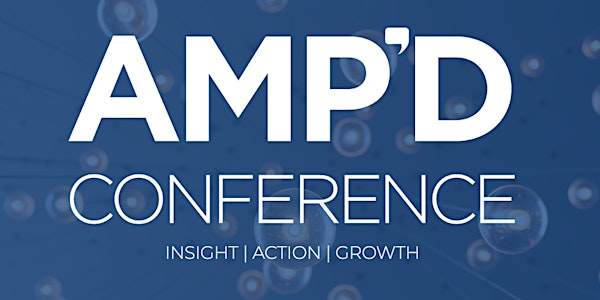 AMP'D Marketing Conference
When and where
Location
Bluemont Hotel 1212 Bluemont Avenue Manhattan, KS 66502
Refund Policy
Contact the organizer to request a refund.
Description
A speaker-led conference to bring insight and practical applications to marketing a business. Read full details: https://ampersandbusiness.com/ampd/
The AMP'D Conference is designed to create an atmosphere that helps marketing professionals & small business owners gain marketing insights that are applicable for business growth.
Topics will include
Search Marketing

AI & Marketing

Inbound Marketing

User Experience

And More
Tickets
Conference Schedule
Keynote Speaker: Tiffany Pham, Founder & CEO of Mogul, bestselling author, judge on TLC entrepreneur tv show

Tiffany Pham is the Founder & CEO of Mogul, a global platform enabling women worldwide to achieve their goals and realize their full potential. A coder, she developed the first version of Mogul, which now reaches millions of women from over 196 countries and 30,470 cities worldwide. Headquartered in NYC, Mogul was named one of the 100 Most Exciting Startups by Business Insider, Best Website for Finding Top Talent by Inc. Magazine, Top Website for Marketing Your Company Online by Forbes, and has been honored by City of Fort Worth, City of New York, and City of Paris.
Tiffany was named one of Forbes "30 Under 30" in Media, Business Insider "30 Most Important Women Under 30" in Technology, ELLE Magazine "30 Women Under 30 Who Are Changing the World," Good Housekeeping "Awesome Women Award" Winner, "Alice Paul Equality Award" Honoree, Cadillac "IVY Innovator" Award Winner, SmartCEO Magazine "Smart CEO Award" Winner, "Innovation & Inclusion Award" Winner for Social Entrepreneurship, NY Business Journal "Woman of Influence" Winner, Tribeca Film Festival "Innovation Award" Fellow, and SE "Top 100 Social Entrepreneur."
Tiffany is a Judge on the TLC TV show "Girl Starter," produced by Al Roker, and Co-Host of the show "Positive Pushback" from the Producer of The View. She speaks on a quarterly basis at the United Nations to present gender policy recommendations, as well as MSNBC, Bloomberg, Viacom, Microsoft, AOL, Prudential, SXSW, Harvard Business School, Wharton Business School, Scripps Research Institute, Paris, Berlin, Vienna, Panama & Dubai.
Previously Director of Business Development at CBS, Tiffany handled strategic initiatives and partnerships for more than 150 digital properties for CBS TV stations and radio stations across 29 US markets. For her contributions, she received the 2013 CBS Digital Media "All-Star" Award. She has also worked with HBO, Credit Suisse, and Goldman Sachs.
An award-winning film producer, Tiffany also co-produced the hit feature film GIRLFRIEND (Toronto '10; Gotham Film Audience Award Winner), CHILD 31 (Warsaw '12; endorsed by Celine Dion, Annie Lennox, and former UK Prime Minister Gordon Brown), HERMIT (Provincetown '13; Accolade Award Winner), TWENTY FIVE (Independent Series Awards Nominee '14), FUNNY BUNNY (SXSW '15), AWOL (Tribeca '16), and CONVERSATIONS IN LA (Emmy '18). She also oversaw the theatrical release of ARCADIA (Berlin '12; Berlin Crystal Bear Award Winner, starring Oscar nominee John Hawkes).
She is author of the Wall Street Journal bestselling book YOU ARE A MOGUL and GIRL MOGUL. She is also co-author of the book From Business Strategy to Information Technology Roadmap: A Practical Guide for Executives and Board Members (published by CRC Press). She is a graduate of Yale University and Harvard Business School.
Learn More About AMP'D Conference Speakers
Learn More About the AMP'D Conference
Need boss approval? Download this professional development request form.