Amp Up Your Personal Power: You're Awesome and There's Proof to Back It Up!...
Description
Join us for a powerful, and maybe slightly uncomfortable, experience as we tap into all of the ways in which YOU'RE AWESOME! It's so easy to focus on what we need to improve, what we dislike about ourselves or negative feedback we've received from others. In a way, it's part of the way we're wired.
So…. IT'S TIME FOR SOME NEURAL RE-WIRING!!
In this intimate experiential workshop you will:
• Learn how to become a more powerful presence
• Shift your internal dialogue to something that supports you
• Create new empowering beliefs that will serve you in your life and work
• AND walk away with a BIG page full of ways in which YOU ARE AWESOME!
Supplies are provided. All you need to do is show up and be ready to celebrate yourself!
ABOUT OUR HOST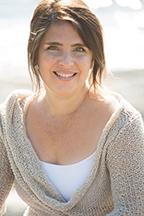 Life Purpose Coach & Reiki Practitioner
Watch Andra on HHW TV
Andra Wochesen has been called a lighthouse for others and a compassionate navigator through uncharted waters. She brings over 20 years experience in the education and self-development field to her coaching practice and encourages men and women to take inspired action steps to live their life with purpose.
She's taught schoolgirls about self-esteem, designed and facilitated workshops, lead experiential retreats, and trained dozens of Pilates Instructors. She's also appeared on the radio and authored a guided journal. As a Certified Life Coach and Passion Test Facilitator, she works with groups, individuals, professionals, and entrepreneurs, intuitively incorporating a variety of techniques to help her clients clarify their direction and assemble a roadmap for the journey.
Andra learned a great deal from her own challenge of career transition. She walked away from a secure teaching career and took a leap of faith to follow her passions. The experience planted the seeds for her coaching practice. Through multiple learning channels, Andra is continuously strengthening her skills at connecting the mind, body, and spirit. Her enthusiasm is fuelled by her love of adventure travel with her husband, supporting orphaned elephants in Africa, and the beauty of nature that lives just outside her door.
To learn more about Andra visit: http://www.andrawochesen.com
Date and Time
Location
Bloor West Homeopathic and Wellness Clinic
2428 Bloor Street West
Toronto, ON M6S 1P9
Canada