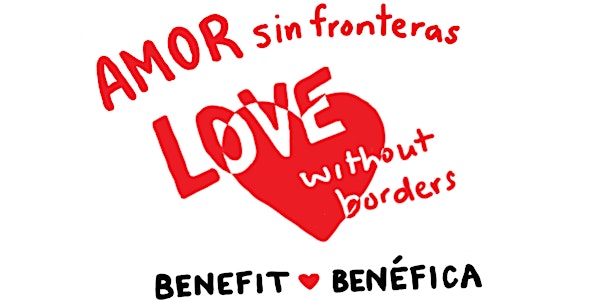 Amor Sin Fronteras Benefica/Love Without Borders Benefit
When and where
Location
4370 Argyle Terrace NW Washington, DC 20011
Description
PARTY LIKE YOU CARE ABOUT IMMIGRANT RIGHTS!
SAVE THE DATE
Global Music, Performance Art & Provocative Poetry!
Delish Dishes, Desserts & Drinks
All proceeds benefit front line organizations:
Give today (write Amor sin Fronteras/Love without Borders) or give later:
CAIR COALITION
Donate here:
https://www.caircoalition.org/donate
CAIR Coalition offers legal hope to the children and thousands of adults languishing in detention in the DMV area. Detainees may be seeking asylum from violence or torture or long term US residents with strong community and family ties. People freed by CAIR's attorneys can be found celebrating in the CAIR office!
DMV SANCTUARY CONGREGATION NETWORK
Donate here:
https://give.faithinaction.org/team/DMV

We are a network of congregations in the DC/MD/VA region that are providing support and solidarity to neighbors and friends who are detained, deported or profiled. Our faith will not allow us to permit the criminalization and scapegoating of immigrants and people of color. Congregations accompany people to ICE check-ins and legal hearings; set up Rapid Response networks to respond when raids happen and press ICE to leave the schools, jails and courts, etc.
Alejandra Pablos is an immigrant rights warrior who is now fighting her own deportation order. In January 2018 she was arrested in front of the Department of Homeland Security building in Virginia while leading chants at a peaceful protest, which gave ICE an excuse to flag her as a "risk" due to a prior, irrelevant, non-violent conviction in Arizona years ago for which she was already excessively punished. Join her 20,000 petitioners and supportive organizations, and donate for legal fees and living expenses.


ORIGINAL POETRY READINGS BY
3 Poets from 3 continents:
Leeya Mehta
Maricielo Ampudia
Bijou Barry
MUSICAL PERFORMANCES BY:
Asking for Ale
The Creiglows
The Creiglows
are a new music duo created by Jessica and Jeremiah Creiglow, focusing on songs of hope, love, and joy, sung with achingly sweet harmonies set to soulful, folky guitar playing. Look for their debut album "Come Home" due out later this year.
Members of the Washington International Chorus
A group of singers from the
Washington International Chorus
will draw upon its choral repertoire and philosophy: "Transcending mere language, live choral performance allows audiences to experience the beauty, complexity and distinctiveness of living cultural heritage. At the same time, it serves as a reflection of positive cultural encounters and exchange, in which diverse traditions and languages communicate through art and come together through song."
Son Cosita Seria
A play on words in Spanish, "Son cosita seria" literally means "a serious small thing," but it can also be translated into "they are real serious matter." The first word, "Son," is also a reference to "Son jarocho," the music that this collective plays and which originates in Southern Veracruz, Mexico.