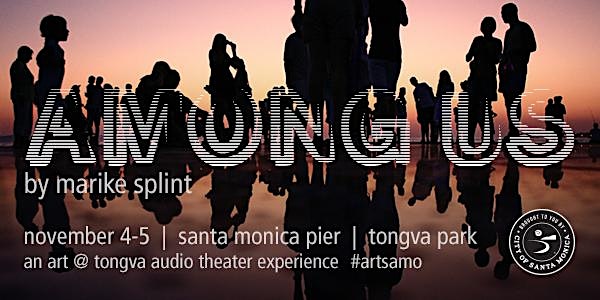 Among Us
When and where
Location
Santa Monica Pier 200 Santa Monica Pier Outside the Merry-Go-Round, by the Soda Jerks sign Santa Monica, ca 90401
Description
An auditory performance in public space presented by City of Santa Monica Cultural Affairs.
Among Us is an audio-theater experience where you and the city take the stage. Go from the bustle of the Santa Monica Pier to the green surroundings of Tongva Park while listening to meditative prompts that reveal what may lie beneath the surface of daily life.
Among Us explores the tension between our urge to belong and our desire to be free. How do you relate to strangers in the street? What can you imagine about the lives of the people brushing by? The experience moves from observation to participation, culminating in a theatrical game that gradually illuminates our hidden social structures.
Among Us takes you through familiar places and invites you to look deeper. This is a journey made up of observations and choices, where what you reveal is up to you…
Marike Splint is a Dutch theater maker, based in Los Angeles, specializing in performance in public space. Fascinated by the theme of belonging, she explores the relationship between people, places, and identity. She has created shows in sites ranging from a bus driving through a transitional neighborhood to wide open meadows, taxicabs, train stations and hotel rooms. Her work has been presented by festivals and theaters all around the world, such as Urbane Kunste Ruhr (Germany), Oerol Festival (The Netherlands) and the Live Arts Exchange Festival (USA). Splint received her MFA in directing from Columbia University and currently serves as a faculty member in the Department of Theater at UCLA.
Credits
Concept, direction and text: Marike Splint
Sound Design: Arnoud Traa
Voice: Thomas Dudkiewicz
Software developer: Sylvain Vriens
Production assistant: Izzy Miller
Original version produced by: Roma B. & Oerol Festival
Produced by Los Angeles Performance Practice. Production assistance from Dyson & Womack.
Among Us is supported by Dutch Culture USA / A program of the Consulate General of The Netherlands in New York.
---
Meeting Location: this run of "Among Us" is sold out; join our email list for future iterations at http://smgov.net/artsignup
Length: The experience is two hours, and will include a 30 minute intermission.
Pro Tips: Comfortable shoes and sun protection is recommended. FOR SUNDAY NOV 5 AUDIENCES: Note daylight savings time end and plan accordingly. Among Us sessions may be photographed or filmed.
Parking & Transportation: By Metro - From the 4th St. Santa Monica Downtown station. By car - park at the Civic Auditorium lot at 333 Civic Center Dr; $5 all day on weekends and plan to walk three big blocks. Buses: visit bigbluebus.com or metro.net for more information.
---
By registering for this program via this eventbrite page, you consent to receiving occasional email about Cultural Affairs events from culture@smgov.net. You can unsubscribe, or change your preferences at any time using the "unsubscribe" or "manage preferences" links on these emails. City of Santa Monica, Cultural Affairs Division programs can be found at smgovnet/arts. #ArtSaMo
Art@Tongva is an ongoing series of intimate and informal events in the six-acre civic garden in downtown Santa Monica.
City of Santa Monica Cultural Affairs: A division of the City's Community and Cultural Services Department, Cultural Affairs works to sustain Santa Monica's creative economy and facilitates access to arts and cultural opportunities for residents. This includes offering grant programs for Santa Monica-based arts and culture organizations, schools and individual artists, producing a wide range of cultural programs and facilities citywide including Art@Tongva, Annenberg Community Beach House, Beach=Culture, Camera Obscura Art Lab, Jazz on the Lawn and Miles Playhouse among others, and managing the City's extensive collection of public art ranging from murals to interactive installations.. arts.smgov.net #ArtSaMo