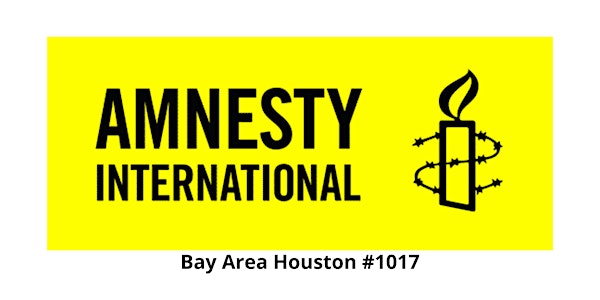 Amnesty International Bay Area October meeting
Join us this month to learn about human trafficking in Houston and what *you* can do about it.
About this event
This month we are holding a panel discussion with several experts on human trafficking, including:
JB Rice, Executive Director and Co-founder of the Texas Counter Trafficking Initiative, a small team of Private Investigators that focus on the location and recovery of DMST victims. In addition to juvenile trafficking recoveries we also provide a safe exit for adults who outcry, provide law enforcement with street level intel in order to aid in their investigations, locate witnesses and connect victims with service providers. He has been active in this fight for the past eight years. The majority of his efforts are in the "field."
Sara Jayne joined United Against Human Trafficking January 2020 but has been involved in the fight against human trafficking since 2008. As the Education Coordinator, she gives anti-human trafficking training to communities and frontline professionals to unite people in the fight against human trafficking. Since working with UAHT, she has worked alongside survivors and national anti-trafficking organizations to enhance programs, training, and the anti-trafficking movement in Houston. She works to integrate gender equity, racial justice, and empowerment into the areas of prevention, awareness, and education. Sara has been recognized by the Human Trafficking Rescue Alliance and numerous community organizations for her dedication to fighting human trafficking. Before coming to United Against Human Trafficking, she worked at the American Red Cross preparing communities and responding to disasters.